Discover more from Why is this interesting?
A daily newsletter for the intellectually omnivorous, from Noah Brier & Colin Nagy.
Over 21,000 subscribers
Why is this interesting? - Monday, April 15
On Disney+, streaming competition, and synergy
Noah Here. Last week Disney announced the official release date (11/12/19) and price ($6.99 per month or $69.99 a year) for its Disney+ streaming service. The company's stock jumped over 10% the next day on the news. Not surprisingly, it looks a lot like Netflix.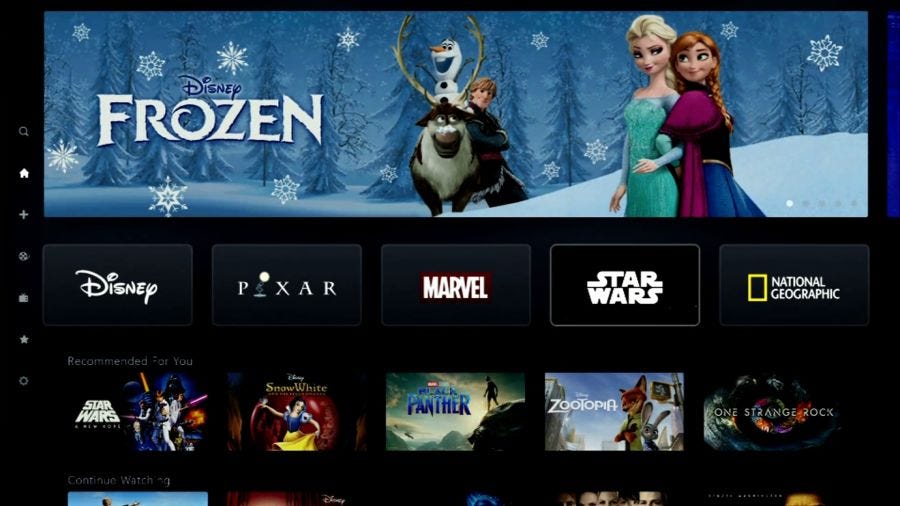 Why is this interesting?
As the parent of two toddlers, I've easily spent $100 a year buying Disney movies on Google Play. (I use Google Play because the streaming backend for the service is YouTube and all your purchases are available there as well, making it the only service that's fully available on every platform.) Since Disney began ending deals with other streaming providers and announced its plan to launch its own service a few years ago, I've had a strong belief the service would do well.
If you're a parent the math for the new service is going to be pretty simple (Disney movies are basically $20 each to buy on the major platforms). That, of course, is just for the Disney kids stuff and doesn't take into account any of the Marvel, Star Wars, or other IP that will ultimately be housed on Disney+ (it's going to take some time for all the deals to expire, so Disney-owned media will be coming to the service incrementally).
Matthew Ball, who focuses on streaming for Redef, wrote a big piece on the service a few weeks ago (before the pricing and official lineup was announced). He laid out a few strong arguments for why the service will succeed (35MM+ US Homes Have Kids and US home video sales of Disney content average $2.6-3.0B per year), but the most interesting was the synergy™:
"With Disney Cruise Line vacations costing more than $5,000 for a family of four, Disney+ need have only a marginal impact on cross-selling its subscribers to blow away the isolated lifetime value of a Disney+ subscription. Disney will also be able to use Disney+ to directly sell film tickets (cutting out brokers such as Fandango), reduce the share of its vacation packages that are sold by travel agencies (which also take a large cut of revenues), grow its direct-to-consumer merchandise sales (v. selling through Amazon), reduce its marketing spend via on-platform advertising and user-interest level targeting, and so on."
Disney has a bunch of business with direct access to its customers, but its most famous and biggest reach segment is all mediated through stores, theatres, and streaming services. By getting direct access to those folks they'll be able to upsell in all the ways Ball describes, but also use those other business as lead-gen for Disney+. Here's Ball again: "Buy a cruise or theme park pass? Free year of Disney+. $300 tote bag? Disney+. Buy a DVD or video game? Here's a three-month free trial."
Finally, the obvious question is what effect it will have on Netflix and I assume the whole point of the price is to make sure the answer is none. At $6.99 a month, I imagine the idea is that people are comfortable with it alongside Netflix. Over time as Disney builds up its user base and library, it can explore raising the prices just like Netflix recently did. Netflix CEO Reed Hastings doesn't seem too worried. Here's what he said last year after being asked on an earnings call about the possibility of a Disney/Fox marriage: "... they're also putting together a Disney direct to consumer service, which we think will be very successful because Disney has super strong brands. And so, we'll see. We don't see it as a threat to us any more than Hulu has been, but it's a great opportunity for them." (NRB)
Chart of the Day:
From that same Matthew Ball piece on Disney+, here's Disney's revenue, income, and margin by segment. (NRB)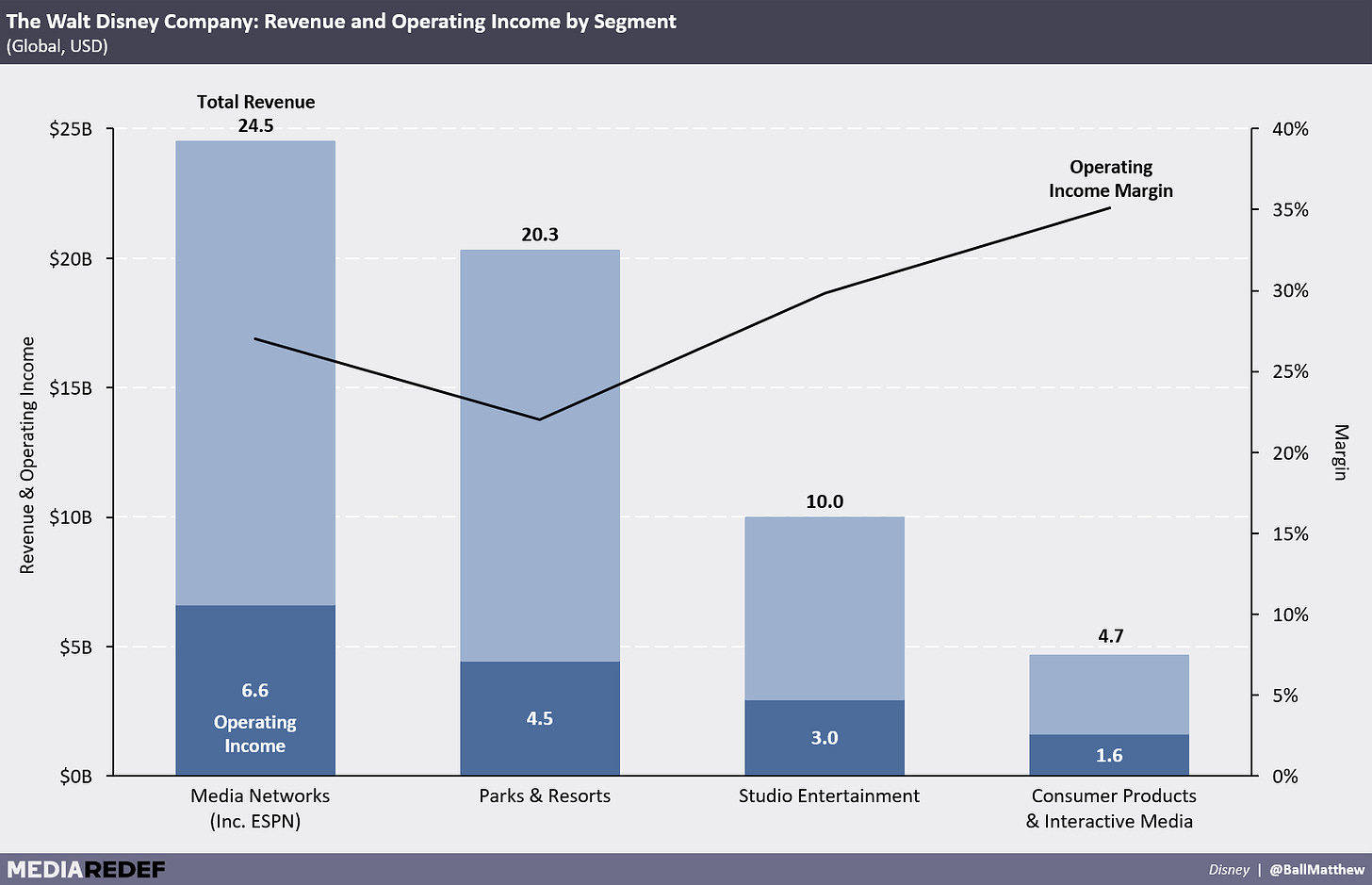 Quick Links:
Thanks for reading,
Noah (NRB) & Colin (CJN)