Discover more from Why is this interesting?
A daily newsletter for the intellectually omnivorous, from Noah Brier & Colin Nagy.
Over 21,000 subscribers
Why is this interesting? - The Designing Clean Edition
On ride sharing, communal spaces, and restoring consumer confidence
Reilly Brennan (RPB) is a partner at Trucks Venture Capital and an adjunct professor at Stanford University. He recently wrote about advanced driving systems and automated vehicles in The Autopilot Edition for WITI. His weekly newsletter, FoT, is read by most everyone in transportation. 
Reilly here. Recently, we've seen global taxi, ride-hailing, and public transportation ridership drop by over 70% in the wake of COVID-19. The cause is, of course, that the majority of the world's population isn't leaving the house. But in places where shelter-in-place orders aren't restricting travel, those shared spaces are seeing softer revenue numbers than expected. 
To regain consumer confidence, taxi operators such as Didi in China are communicating with users in-app about safety and cleanliness protocols for both the driver and rider (the former wrapped in a protective plastic shell and required to have a temperature check within the past 24 hours, the latter recommended to wear a mask). These are design and communication tactics far beyond what Uber and Lyft are currently doing in the US and provide peace-of-mind that's likely responsible for Didi's ridership rebounding over the past month.
Why is this interesting?
Shared environments like taxis used to have limited consumer expectations around cleanliness. But how will a consumer define "clean" during this pandemic? Didi's solution is mostly focused on the human component of the interaction but doesn't explicitly discuss how surfaces stay safe. 
"To clean" has a straightforward definition, almost trite compared to the rigor of disinfecting and sterilizing. From the CDC, in ascending order:
Cleaning removes visible dirt and debris

Disinfection destroys most pathogenic and other microorganisms

Sterilization destroys all microorganisms, including substantial numbers of resistant bacterial spores
In the midst of the pandemic, consumers are wary of any surfaces outside of their homes. Barely any are considered clean, even fewer disinfected or sterilized. Today on our streets, people bear the responsibility by covering themselves completely—a prophylactic against the out-of-home world. But re-opening and re-acclimating to shared spaces will require a shift of responsibility in the other direction: eventually, we're going to have to trust the world again.
That return will be bumpy. Consumers who use the term clean might have expectations closer to disinfected. They'll want to know they're the first person to use a surface since it was cleaned, so environments will have to also communicate a level of readiness. The higher-order task for these shared spaces—taxis, sporting arenas, airports, restaurants—will be to communicate their state of clean and get explicit about their protocols. We're bound to see new technical approaches to cleaning (UV lights), but also new communication design as well (consider visible changes such as Hypercolor, but for clean surfaces instead of hot ones).
Service industries have performed these magical design tasks for decades. Consider the following, across a range of markets and complexities: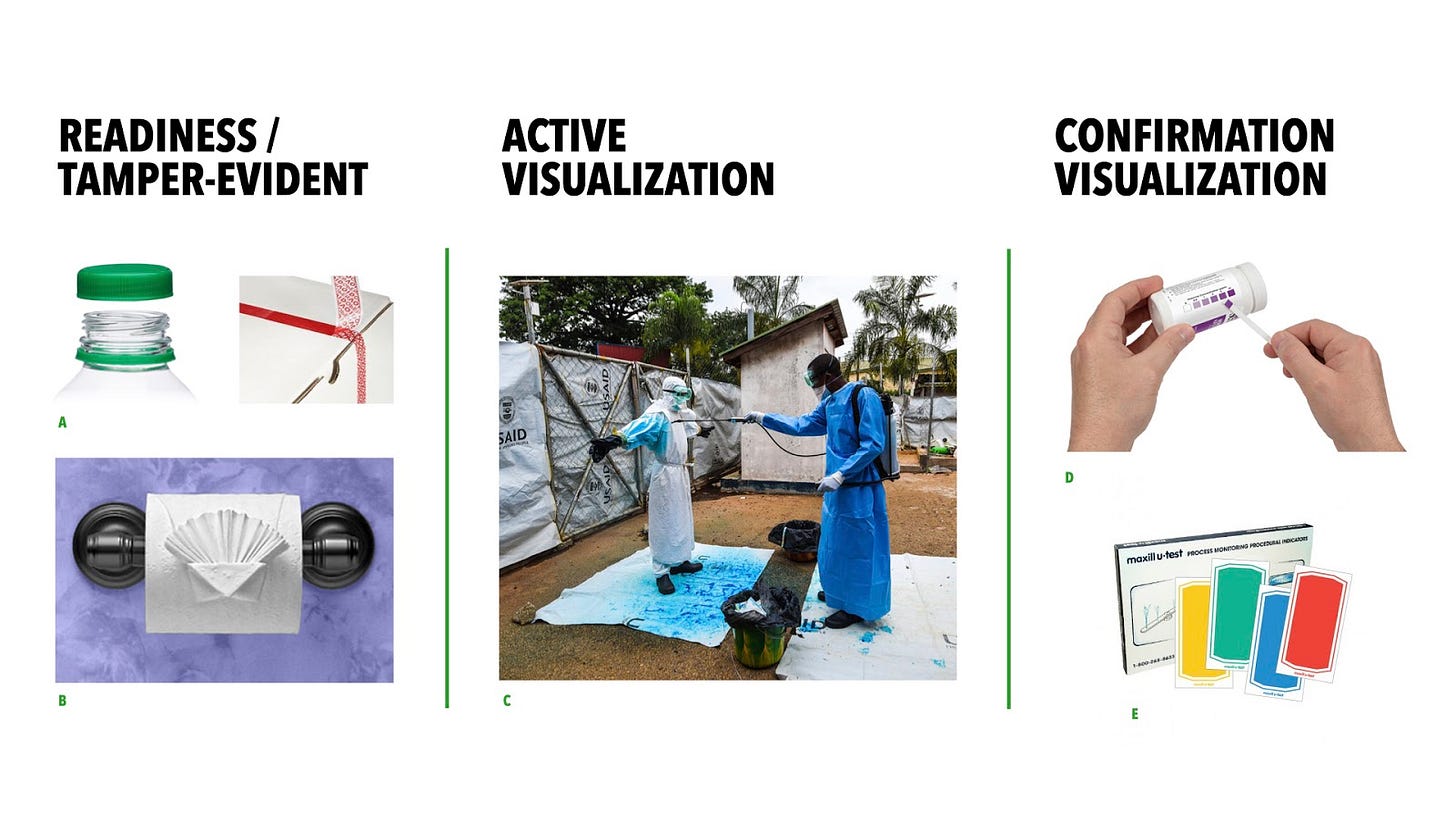 From left: A) tamper-evident seals prove if something has been used before the intended consumer; B) hotel toilet paper folding assures guests that the bathroom has been cleaned; C) Highlight powder was invented as an additive to bleach and disinfectants for frontline workers battling the Ebola outbreak; D) chlorine indicator strips are used in labs to measure the concentration of free available chlorine in sanitizing solutions; E) Color indicators confirm the cleaning efficacy of an ultrasonic bath. 
The business of getting back to "normal" will require new science and new design communication. To fill the void of trust around cleaning, expect the best-performing companies to over-communicate how they're clean and why you can start feeling safe again. (RPB)
Newsletter of the Day: 
Matt Levine's Money Stuff has the distinction of being both a super insider-y finance newsletter (Levine was a former investment banker and M&A lawyer) but is also a really fun and informative read for the layperson. It is astounding how many people working in creative realms far away from finance love his stuff. Levine is also consistently hilarious with often technical analysis (e.g. explaining derivative structuring on specific deals) punctuated by dry wit and really vivid ways of explaining complex things. For a taste, read this on WeWork. There's a hint of Scott Galloway, but with more subject matter expertise and less ego. I'd love to see this jump from the page onto a dedicated TV show. It would surely liven up the coverage of the financial markets that can be a tad boring at times. (CJN)
Quick Links: 
Thanks for reading,
Noah (NRB) & Colin (CJN) & Reilly (RPB)
---
Why is this interesting? is a daily email from Noah Brier & Colin Nagy (and friends!) about interesting things. If you've enjoyed this edition, please consider forwarding it to a friend. If you're reading it for the first time, consider subscribing (it's free!).