Why is this interesting? - The Climate Investing Edition
On coal, climate change, and investing
Noah here. It's easy to tell a good WITI topic by how much it bounces around my brain, and this FT Lex piece about betting against companies who are on the losing end of climate change is just one of those ideas. While it's focused on making short-term bets against polluters, the broader idea is about climate change investing. Here's a bit from the article:
Shorting opportunities start with hydrocarbons suppliers. The governor of the Bank of England has warned these could have substantial "stranded assets", meaning swaths of their resources may be worthless.

You could say the same of holiday groups whose resorts will become uninhabitably hot in summer. From there, it is only a short hop to airlines. A transatlantic round trip generates more than a tonne of CO2 equivalent per passenger, conservatively priced at $70. Electric airliners are a pipe dream, given battery weights. So much for low-cost carriers.
Why is this interesting?
Much of the conversation about climate change and finance starts from the long side of the equation. These are where the big, optimistic stories lay. You can invest in things like electric cars or alternative energy (or both at once with Tesla) which are trying to move us off our reliance on fossil fuels.
Alternatively, you can read the more negative hot winds and invest pessimistically in things like human displacement or food shortages:
Consider what might happen to food production. As precipitation patterns change and oceans become more acidic, outdoor environments will become less reliable and "more and more intolerant for crops or fish," according to Liqian Ma, managing director at Cambridge Associates in Boston. Demand will increase for technologies that allow indoor agriculture and even aquaculture.
But all those are still longer term bets. Shorting the companies who are moving against the tide is a different approach, with fossil fuels at the top of the list to bet against. Of course the big question with any short bet is the timing. As opposed to buying and holding where you have time to let things play out, in a short, being early is the same as being wrong. Coal seems like the most likely loser in the near-term. As I linked to in yesterday's edition, the insurance company Chubb is no longer "selling new insurance policies to companies which build or operate coal power plants, or those which generate more than 30% of their revenue from coal mining or supplying coal-fired electricity." Interestingly, the Chubb move also speaks to the difficulty of being an insurer in a world where climate is no longer following the predictable patterns of the last 400,000 years.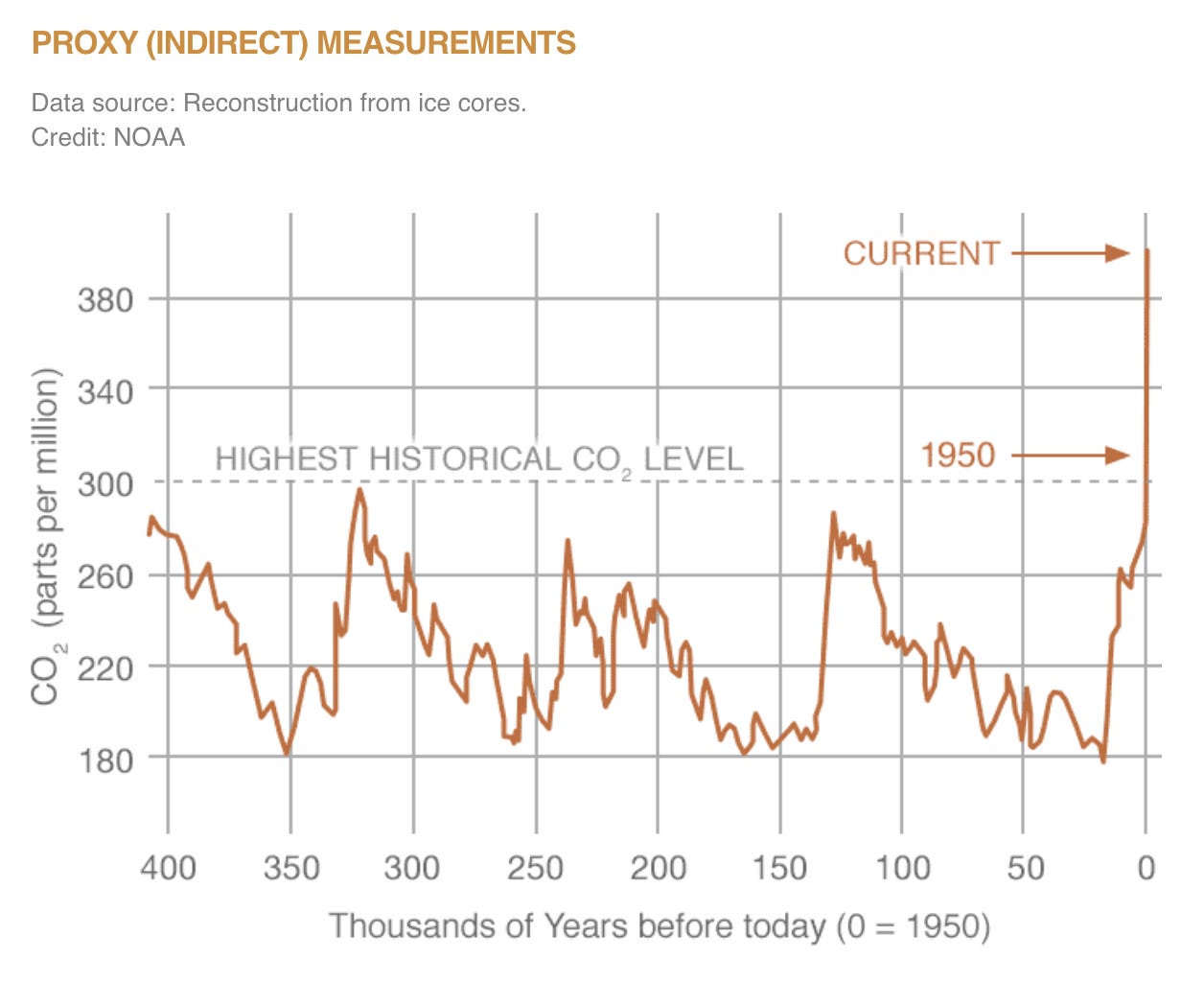 So what would a balanced climate change portfolio look like? Investor Jeremy Grantham offered this illustrative set of investments in a recent talk at the London School of Economics: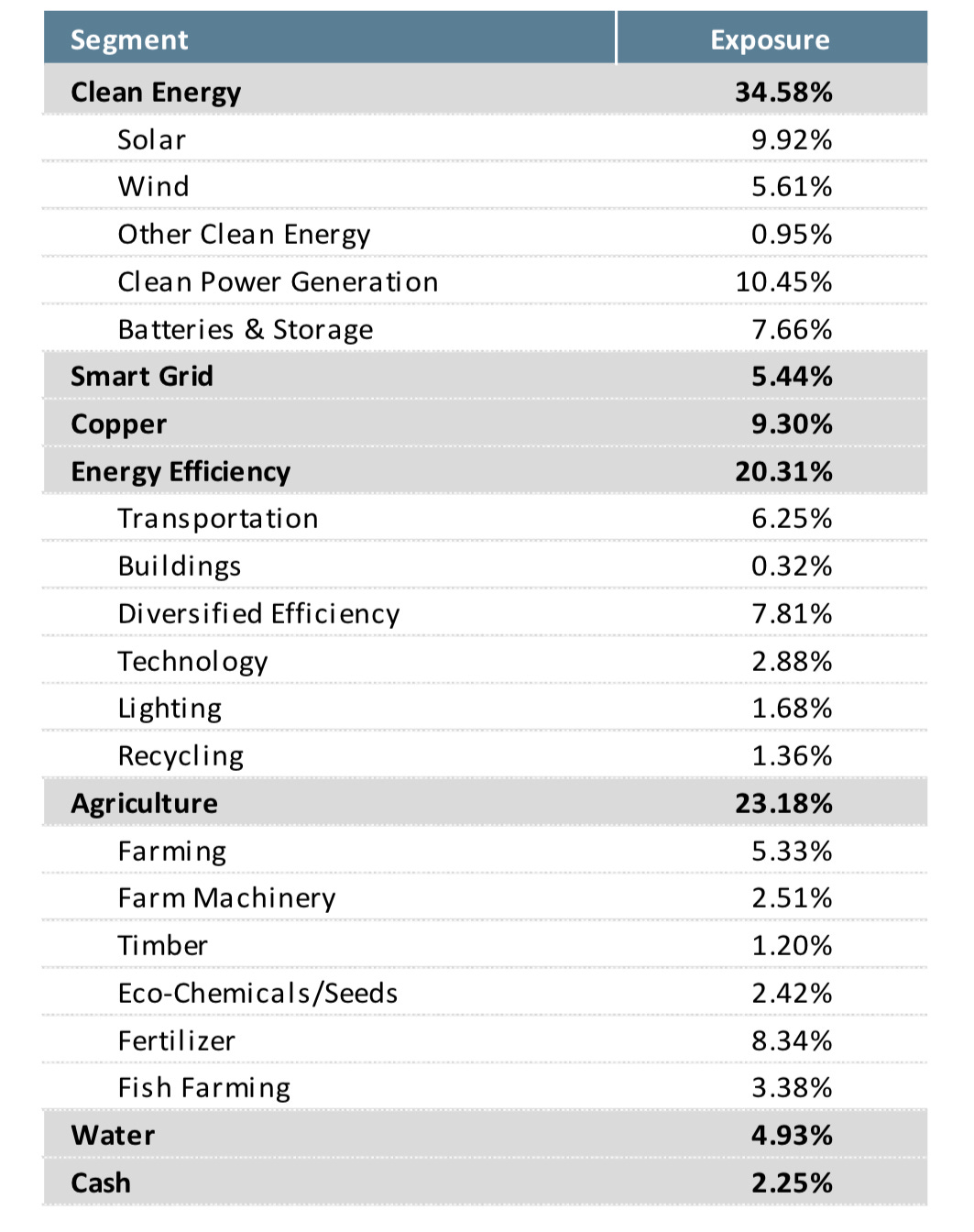 The most notable element to me is fertilizer at 8.3 percent. We are going to need a lot of it if we have any hope of feeding everyone.
If all of this sounds a bit crass, sorry. But, as one of the investors from this Bloomberg article points out, until everyone buys into this there will be some opportunity. "There is not a single other country where anybody smart isn't a believer in these things … If you can see something that other people just refuse to see, and you can make decisions on that basis, I suspect over the longer term that is going to put you in good stead." It's obvious that for many of these bets to win, we all need to lose. But the hope is that before that happens, governments and businesses will respond to the one thing they consistently respond to: money. While this can't be a market solution alone, at this point anything that moves us in the right direction seems worth trying. (NRB)
Chart of the Day:
The same presentation from Jeremy Grantham has an impressive visualization on the effects of erosion on available soil. Apparently you need three to four good inches of soil for planting crops. In 1850 Adair County, Iowa had 14 inches. Today there are less than 5.5 inches left. (NRB)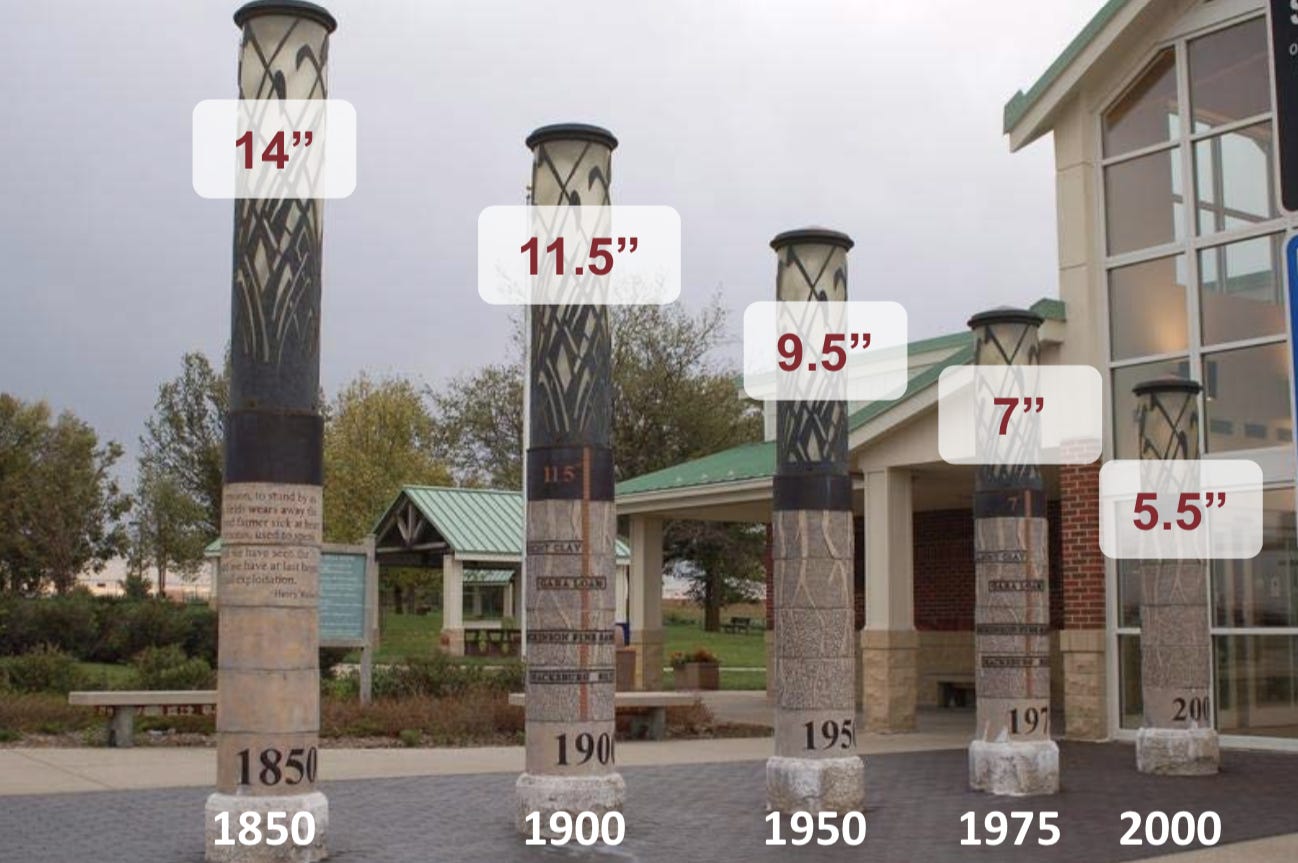 Quick Links:
Thanks for reading,
Noah (NRB) & Colin (CJN)