Discover more from Why is this interesting?
A daily newsletter for the intellectually omnivorous, from Noah Brier & Colin Nagy.
Over 21,000 subscribers
Why is this interesting? - The Climate Tourism Edition
On climate, tourism, and trying to visit glaciers before they melt
Anita Schillhorn van Veen (ASVV) is a Strategy Director with TBWA/Chiat/Day in Los Angeles after a decade of New York agency life. She loves digging in to culture, data and story - and also crushes on fiction writing, with a few short stories and essays floating around on the internet and in actual physical books.
Anita here.  Lately I've been watching YouTube videos of glaciers crashing into oceans. 
It's research for a short story I'm working on, and it's fascinating. Blue-white glaciers break from tall ice plateaus with a loud rumble, lean slowly and crumble into the sea. Bigger glaciers flip over, the black ice at the bottom lifting like a whale's head out of the water. 
Most of these videos are from scientists and nature photographers, accompanied by sombre narration about global warming. They validate my terror that our poles are melting, and these videos confirm the global warming narrative, that we're in dire straits when it comes to climate change.
And some of these videos are different. Home videos by tourists in boats. The sound of camera shutters clicking and excited chatter in multiple languages as the ice breaks and tips into the sea. It's the same chatter I've heard on whale watching tours, the astonishment of having seen the elusive thing one set out to see. The sense of a safari to see something that not everyone will be able to see. 
This narrative, one of climate change tourism, was new to me. 
Why is this interesting?
We're pretty aware of the ravages of climate change and the melting of the glaciers. Just in case you're not, check this video where we see a chunk the size of Manhattan crumbling off of a glacier, and this database of images comparing the ice melt, and this chart about the acceleration of global warming (which has managed to survive on the NASA website in spite of efforts to purge climate change data from US government sites).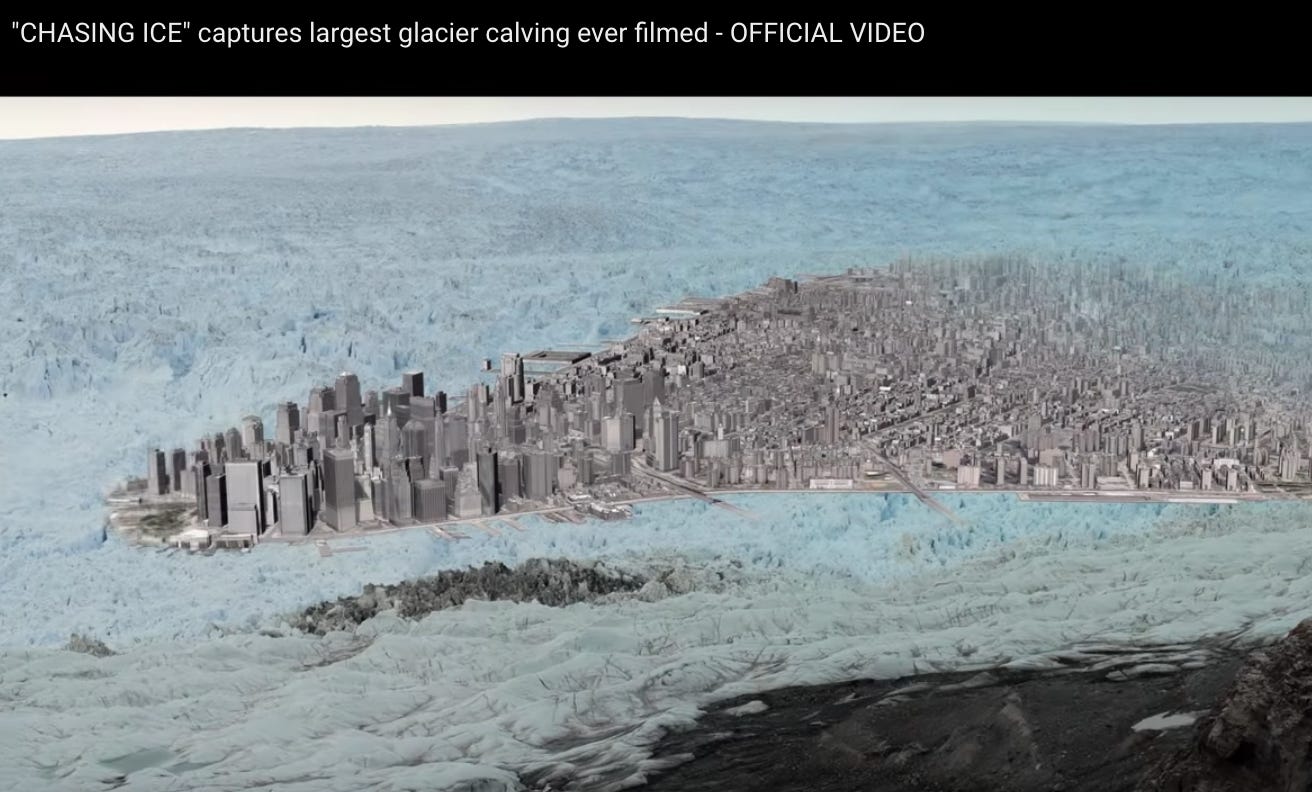 But how many of us are willing to travel thousands of miles to see the last of the glaciers? More than you think. Iceland's tourism industry employs a sixth of its people, much of it geared towards hikes up disappearing glaciers and dips in glacial lakes. Tourism to Antarctica is on the rise. There are dozens of tour operators offering cruises to the Poles. 
There's a pre-apocalyptic FOMO afoot that's so popular it's got a name: last-chance tourism. And it's a Forbes top travel trend of 2018, with tourists rushing to glaciers, ice caves, and even mountains before they're inexorably altered. 
As reported in Ensia, "Chamonix [in the Alps] is a mountaineering mecca. But melting permafrost is causing the vanish of iconic routes, such as the Bonatti pillar … People want to climb those itineraries before they disappear or become too dangerous." 
The desire to witness the most awe-inspiring elements of nature is an inborn human tendency. Awe is good for the brain, says research, and people are seeking out the awe-inspiring before it's lost. 
In the 19th century Caspar David Friedrich, a German landscape painter, exemplified the sensation of awe with his epic paintings of landscapes that loom over the viewer. His work inspired a timeless influential essay on the sublime by Edmund Burke, who differentiated between beauty, which is benign, and the sublime, which is dangerous and terrifying.
Whatever is fitted in any sort to excite the ideas of pain, and danger, that is to say, whatever is in any sort terrible, or is conversant about terrible objects, or operates in a manner analogous to terror, is a source of the sublime; that is, it is productive of the strongest emotion which the mind is capable of feeling.
This definition seems even more fitting today, now that landscapes are not just places where we humans can feel small and at the mercy of nature, but the landscapes themselves are threatened and at the mercy of human nature. 
But the mediated nature of travel today doesn't leave much room for awe. The rabid clicking and chatter from the tourist video on YouTube reveal there's little concern for Burke's 'pain and danger'—it's tourism as consumption. The story of the tourist's experience overshadows the gargantuan horror of climate change itself. It shrinks the magnitude of what's happening from a global crisis to an experience for the gram. 
Tourism is always a double-edged sword. It brings awareness and even funding to issues that have otherwise been abstract and far away. At the same time, the tourist has an indelible imprint on the landscape she witnesses: the carbon it takes to get there, the wear and tear of traffic, the disregard for the local rules in order to get that perfect Instagram post. 50% of cruise passengers to the Antarctic felt that their travel itself did not impact climate change, a depressing statistic for the idea that bearing witness will shift mindset and behavior. 
Last chance tourism relegates the horrors of climate change to part of the experience economy - one with a zillion externalities that we're only starting to collectively examine, thanks in part to the fearless young climate change activist Greta Thunberg, who has opted to sail rather than fly to climate change talks to avoid a carbon impact on the environment. On this level, we're all complicit; I'm happiest when I'm on a plane to somewhere new and game my mileage points with the best of them. But there's a brute irony in racing to see the dying parts of our world with no consideration of one's individual accountability. (ASVV)
Chart of the Day:
In better news, the pi keeps getting larger. (ASVV)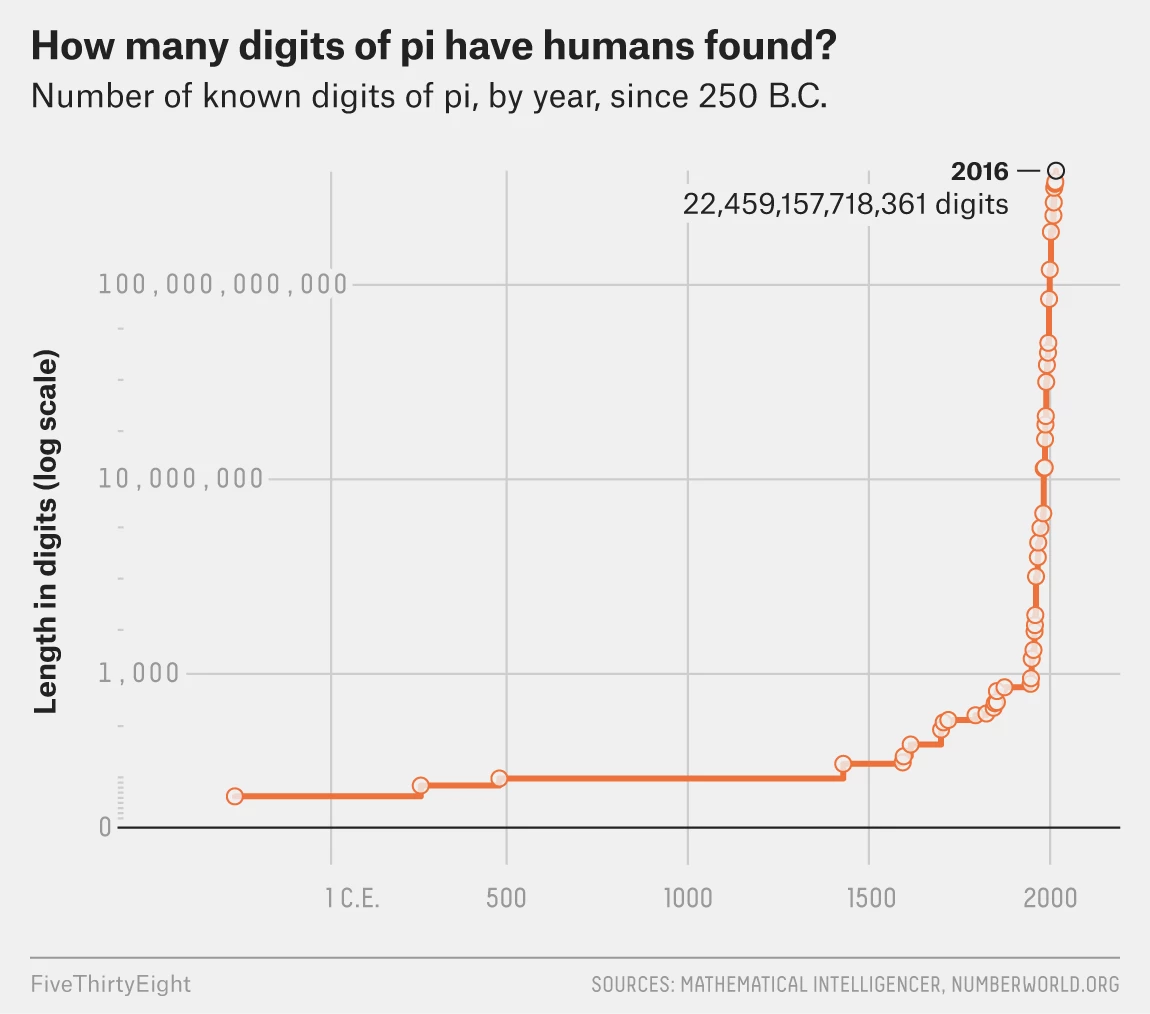 Quick Links:
Thanks for reading,
Noah (NRB) & Colin (CJN) & Anita (ASVV)