Discover more from Why is this interesting?
A daily newsletter for the intellectually omnivorous, from Noah Brier & Colin Nagy.
Over 21,000 subscribers
Why is this interesting? - The Competition Edition
On racing, winning, and influencers
Eric Matthies (EM) has worked as a director, producer, and consultant across a number of genres—from large scale installations to major motion pictures, broadcast specials, web series, multi-platform content packages, site-based VR, world-building R&D, live events, and traditional documentaries.
Eric here. In the late-80's/early-90's, I was enthralled with the idea of racing bicycles. My inspiration was one part the excitement of winning and another part the awareness that winning could garner perks like being asked to join a team. Getting the uniform, bike, and stickers that came with sponsorship seemed like a neat form of social currency. It was clear that the way to achieving sponsorship was through results at the finish line. I did ok in a few races, poorly in a few more. I never got sponsored or asked to be a part of a team. I wanted to win, but I didn't particularly enjoy the process. Eventually, I figured out that I had a better time riding my bike on my own terms. Racing wasn't my thing. 
I continue to ride and follow the sport. I have friends who race, some at elite levels in niche disciplines. Like many, they struggle to square the costs of their passion with the costs of living. I've started to notice a new trend emerging in the competitive cycling networks, one in which winning races is secondary to building a social following to gain sponsorship.
In cycling, the stain of winning through cheating—with drugs, mechanical assistance, or simply massive amounts of technological investment—has worn away interest levels. Sponsors have taken note and shifted how they choose to represent their brands accordingly. It would seem they've also borrowed from their action sport industry cohorts (skateboarding, surfing, sport climbing, and the like), who have long been ahead of the curve when it comes to reliance on imagery and story rather than contest results to sell products. The trend for companies looking to sponsor a particular cyclist seems to be bending away from who is the fastest and towards strong narratives and follower counts. Racers used to have names reflective of their all-or-nothing instincts—The Cannibal, The Pirate—and sports journalists penned mythic tales about these uber-athletes and their feats of speed and daring. Today, racers self-promote, often with more focus on their van-life adventures than competitions. In this profile, professional TJ Eisenhart states, "I'm not showing up at these races with a mean mug on my face ready to tear up some legs… I'm showing up wanting to meet the people and understand why they're doing the races."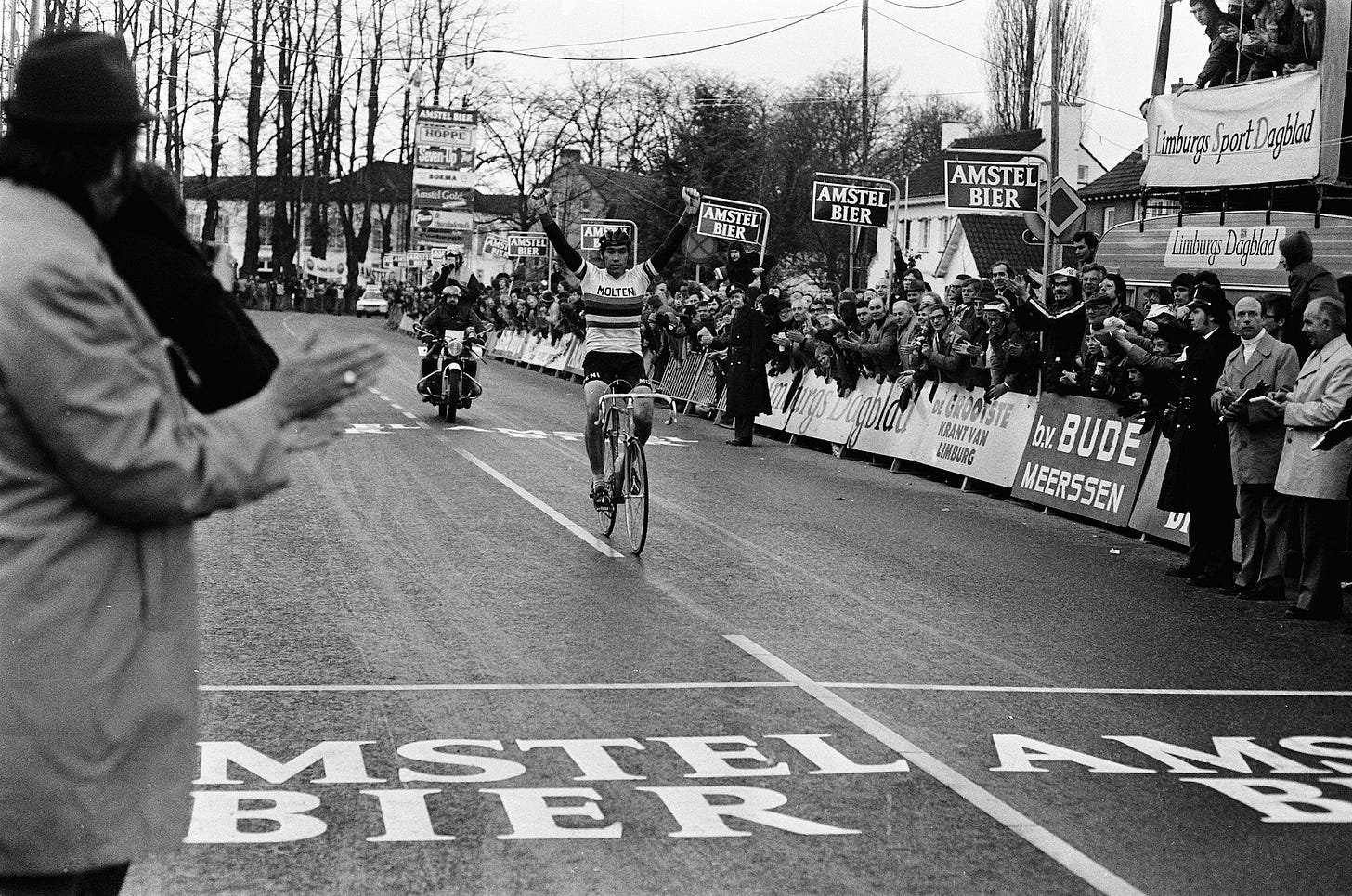 "The Cannibal" Eddy Merckx winning the 1975 Amstel Gold Race
Why Is This Interesting? 
Eisenhart is representative of a very different mindset from the one you'd expect of elite athletes. Sponsoring brands have traditionally gained exposure by giving equipment, clothing, and fiscal support to athletes they can reasonably assume are showing up to win. This was true because the audience equated competitive results with quality products, thus ensuring that the rolling adverts coming across finish lines represented money well spent. Today, the same brands that once looked to score-sheets among the criteria used to sponsor a racer are shifting toward finding likable characters with unique stories and large platform followings to generate interest in what gear they carry into battle. 
Enter the rise of social-currency competitive cycling. Able-bodied racers who accept all the trappings of a sportive lifestyle—the sponsor provided state-of-the-art gear, the paid entry fees, the hash-tagged travelogue, the team-branded warmup suit—yet they claim as part of their manifesto that they "aren't racing to win." For them, the contest is not for the cash prize, but the cultural cache, not for the podium placement, but for a place in the mediated social pantheon. 
From personal experience competing in a variety of sports, if there weren't some glimmer of imaginative desire to win, it'd be unlikely to find oneself before sunrise, shivering at the sign-in table with an entry fee clutched in a coffee-stained hand. Sure, there's all that humble new-age talk about testing oneself, and how showing up is already a victory—but if you're going to pin a number on, I promise somewhere inside is the desire to win the damn race. 
Andrew Vontz is a two-time second-place finisher in a grueling race known as The Dirty Kanza Half Pint. It's 100+ self-supported miles across the shale farm roads of Kansas, one of the earliest events in a new format of bicycle competition known as gravel racing. Andrew has no sponsors, counts his wife as his support crew, and self-funds his race efforts. He has a great podcast episode called 'Losing The Dirty Kanza Half Pint.' For racers like Andy, athletes who say things like "I'm not here to win" elicit an ear-piercing blend of howling laughter and murderous competitive desire. 
Showing up at any event is a major outlay of equity: emotional, financial, and otherwise.  Not showing up to win would be a very poor return on that investment. It also wouldn't be very sporting. (EM)
Recommend of the Day: 
Lately, I've been recommending a book to friends and family; James Geary's fine-tuned look at the meaning, use, and value of wit titled Wit's End. (EM)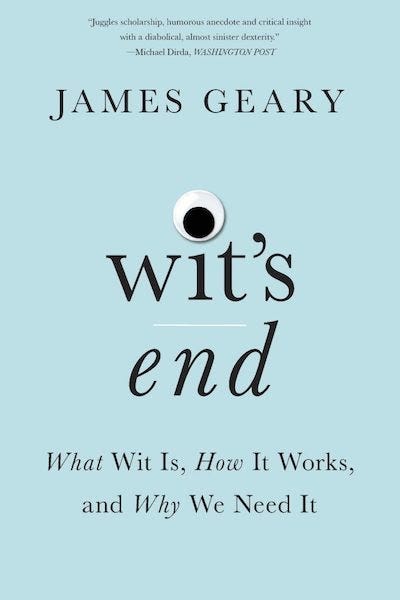 Quick Links:
Thanks for reading,
Noah (NRB) & Colin (CJN) & Eric (EM)
---
Why is this interesting? is a daily email from Noah Brier & Colin Nagy (and friends!) about interesting things. If you've enjoyed this edition, please consider forwarding it to a friend. If you're reading it for the first time, consider subscribing (it's free!).