Why is this interesting? - The Davos Edition
On gatecrashing, capitalism, and human observation
Colin here. As Davos gets underway, I am reminded of a fond memory: The time Benjamin Palmer and I semi-gatecrashed the event. There was a moment in time when it was possible to show up and just float a bit, without having a fancy delegate badge like WITI contributor and Davos-pro Felix Salmon. The idea was introduced to us by people that did it every year for purposes of fun (and networking) and we figured, why not? We were coming from another meeting in Europe and thought of the entire thing as a ruse that might yield some good stories or some creative business. The result was a strange whirlwind of a trip, in a place where bold-faced global leaders slip on the ice-covered pavement in front of you, where security is strong but oddly porous, and luxury brands preen and beckon for the attention of one of the most rarefied audiences in the world. Plus, in terms of prospecting, we swam so far upstream in our business (advertising) we barely knew where we were.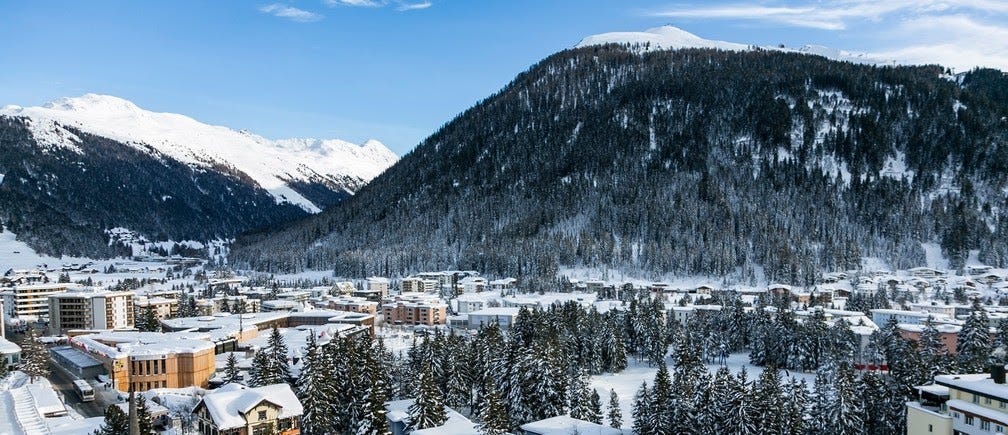 On this trip, at a piano bar where everyone convened late at night, we watched the C-level executives and hot startup founders embarrass themselves doing karaoke renditions while weaving between private security henchmen, hedge funders, and the coterie of hangers-on (recognizing that we were squarely in the third category). The bar was a strangely egalitarian place, where you didn't have to have a delegate badge, but also felt like a hyper-capitalized version of Mos Eisley Cantina. In the smoke-filled haze, I first met Nick Paumgarten, who wrote Magic Mountain for The New Yorker, the definitive piece on the weirdness that is Davos. Paumgarten has the unique ability to drop into a place (be it The Masters or Berlin's infamous techno club Berghain) and somehow seem at home, capturing the sensibility of the place with an eye and ear that makes his writing a pleasure to read. Here's how Nick described things that year: 
The participants have their preferred hovering areas. Wandering the center in search of people to talk to was like fishing a stretch of river; one could observe, over time, which pools held which fish, and what times of day they liked to feed. Jamie Dimon, running shoes in hand, near the espresso stand by the Global Leadership Fellows Program, in the late afternoon. Fareed Zakaria, happily besieged, in the Industry Partners Lounge, just before lunch. The lunkers would very occasionally emerge from their deep holes (there were rumors of secret passageways) and glide through the crowd, with aides alongside, like pilot fish. (The W.E.F. says that Davos is an entourage-free zone, but this doesn't seem to apply to the biggest of the big wheels, like heads of state.) It is said that the faster you walk the more important you are.
Why is this interesting? 
Putting aside the obvious and very fair criticisms of Davos—the .1% discussing inequality and the preponderance of private jets flying in to talk climate change to name just two—it is some of the most interesting people-watching in the world. You simply don't get to other opportunities to observe this concentration world power outside carefully presented contexts. Those lucky enough to hang around get a chance to witness see the hidden proclivities and odd habits of some of the world's biggest newsmakers (and what songs they like to belt out when they are three sheets to the wind). But also the more mundane: Like Jamie Dimon mindlessly typing on his BlackBerry to pass the time. 
Also, the stratification of the entire shebang is worth its own piece in and of itself. In an audience that actually cares where they stand in society, status is a big big deal at Davos. Nick continues: 
The stratification begins with the badges. Every participant wears a badge on a lanyard. Every encounter begins with an unabashed glance or two down at the other's badge. It is Davos Man's defining gesture. So frequently did gazes slip to reëxamine my badge that I came to know what it must be like to have cleavage. The color of the badge denotes a role, and a degree of access. W.E.F. staff wear blue badges—dark blue for full time and light for temps. "Reporting Press" wear orange and can't get in a lot of places. Entourages get mint green. The coveted pass is the white one, granting delegates free rein. There are variations: A Strategic Partner gets a blue dot and access to an exclusive lounge. A special hologram used to signal membership in an élite faction called the Informal Gathering of World Economic Leaders, or IGWEL, but now "serves boring logistical purposes," according to Monck. I was given a white badge, which meant I'd been knighted a Media Leader. Media Leaders may trump Reporting Press (ha!), but they bow before the Media Governors (curses!), who get invited to the off-the-record sit-downs with Geithner and Merkel.
I'd like to think that security is much more locked down than it was when we gatecrashed: Can't get into the McKinsey party? Follow the waiters in the side door! Plus, Palmer, my partner-in-crime in this caper has always had a gift with the doormen Jedi mind tricks. But it appears it hasn't, at least in some respects. Zürich's Tages-Anzeiger newspaper reported on a pair of Russian plumbers suspected of planting listening devices, saying that "police concluded that the pair were Russian spies employed by the Kremlin to record and tap into the conversations of important figures at the World Economic Forum." But, given the tendency to bloviate that seems common in nearly every Davos attendee, it's a safe bet that finding important conversations took plenty of sifting. (CJN) 
Chart of the Day: 
Speaking of Felix Salmon, today's chart on the rise of work from home is from his excellent Axios Edge newsletter. (NRB)
Quick Links:
Thanks for reading,
Noah (NRB) & Colin (CJN)
---
Why is this interesting? is a daily email from Noah Brier & Colin Nagy (and friends!) about interesting things. If you've enjoyed this edition, please consider forwarding it to a friend. If you're reading it for the first time, consider subscribing (it's free!).