Discover more from Why is this interesting?
A daily newsletter for the intellectually omnivorous, from Noah Brier & Colin Nagy.
Over 21,000 subscribers
Why is this interesting? - The Disco Jazz Edition
On dashed dreams, archives, and re-discovery
Colin here. When it comes to archival culture, the internet works in mysterious ways. Pitchfork just wrote an amazing article about an Indian disco record, Disco Jazz (Spotify), that went unappreciated at the time of its release, and then suddenly found a new, rabid following thanks to a combination of algorithms and word-of-mouth. 
The author, Vrinda Jagota, writes: 
In 2014, Debayan Sen found a mysterious album inside of a trunk in his mother's attic, in Kolkata, India. The red-orange record sleeve featured a picture of his mom as a young woman along with her name—Rupa—in big, bold lettering. That was the day Debayan learned about his mother's past life as a singer.

Suddenly reminded of this discovery last year, Debayan decided to Google the record. The results surprised his family: Rupa's first and only album, 1982's Disco Jazz, was selling for hundreds of dollars via sites like Discogs. "The day I found the record my mom said, 'Throw it away. It is just pointless,'" Debayan remembers. "I said, 'What the hell, you made this, why would you throw this away?'"

Since then, Disco Jazz has been reissued by Numero Group, the well-established archival label. "Aaj Shanibar," one of its four tracks, has also started to spread through the strange rabbithole that is YouTube's recommendation algorithm. The most popular upload of the song now boasts more than 1.5 million views, likely thanks to factors including its eight-minute runtime and its high-energy, ever-shifting instrumentals. It's another example of what happens when, with the benefit of time and technology, "lost" songs reach a new generation of listeners halfway around the world.
Also, the track, Aaj Shanibar, is just superb. It sits at the nexus of something Gilles Peterson would play in one of his sets, or someone like DJ Harvey would play to lighten up the mood at 7 AM in Bali. There's a bit of melancholy, there's a bit of exuberance, and some self-indulgence. It is just a vibe that grabs your attention immediately. 
Why is this interesting?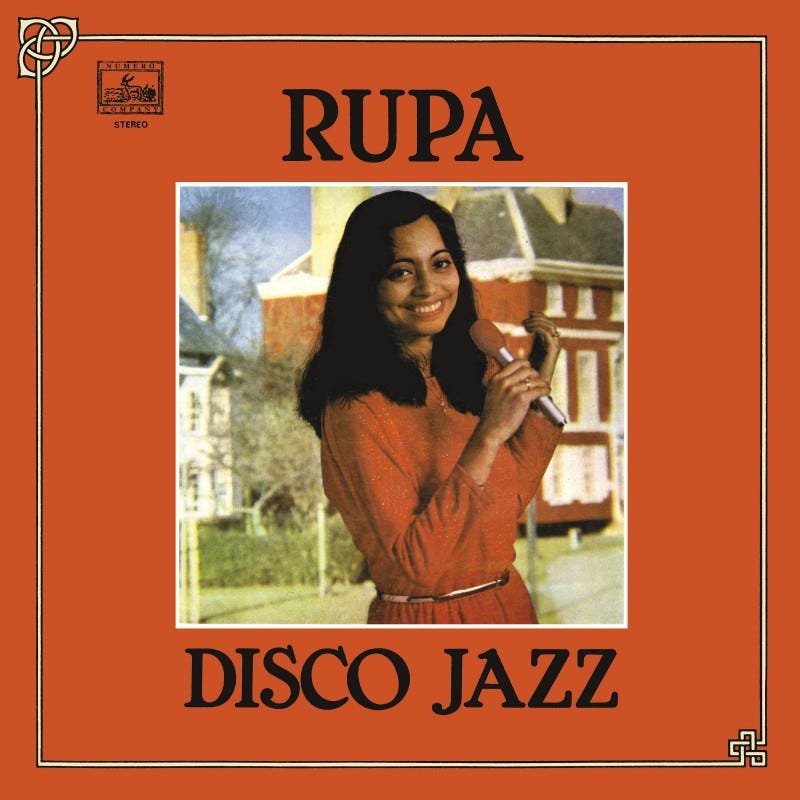 There's a lot to unpack here. First, the fact that the mother (the singer on the record) admonished her son to throw away the record, as it reminded her of dreams long dashed. Second, there's the blurring of genres on the album itself. Pitchfork expands:
What sets Disco Jazz apart from other Indian disco is how it breaks with conventions. These songs feel more spacious than Bollywood music of the era—they take their time unwinding and pass through unexpected influences. While the tangy lute sound of Indian sarod drives some tracks, extended Western funk guitar solos overtake others. There are even touches of what would now be considered Balearic beat music, with its expansive and hypnotic musical interludes. And the lyrics are in a mixture of Hindi and Bengali, a rarity among Bollywood songs of the era, which were largely sung in Hindi only.
Finally, there's the fact that this song was given new life by people trawling both actual record bins and Youtube for new, unexplored tracks. A few of the proponents of the song have big reputations, like Dan Snaith who records under Caribou, recounting being "stuck in a YouTube wormhole, skipping through hundreds of songs, when 'Aaj Shanibar' stopped him in his tracks." From there, there was more bootleg pressings, a formal release on Numero Group, more international DJ interest, and also in a happy twist, proceeds going to Rupa, the singer, who, according to the piece, "[is] practicing every day to get her voice in shape and feeling optimistic about her future as a singer." (CJN)
Chart of the Day:
Via WSJ, America is driving less. "Among the reasons for the national decline are migration to dense urban areas; young adults' preference to live close to their jobs or to use alternate modes of transportation; more online working, shopping and streaming; and a growing population of retirees who don't commute to jobs anymore." (NRB)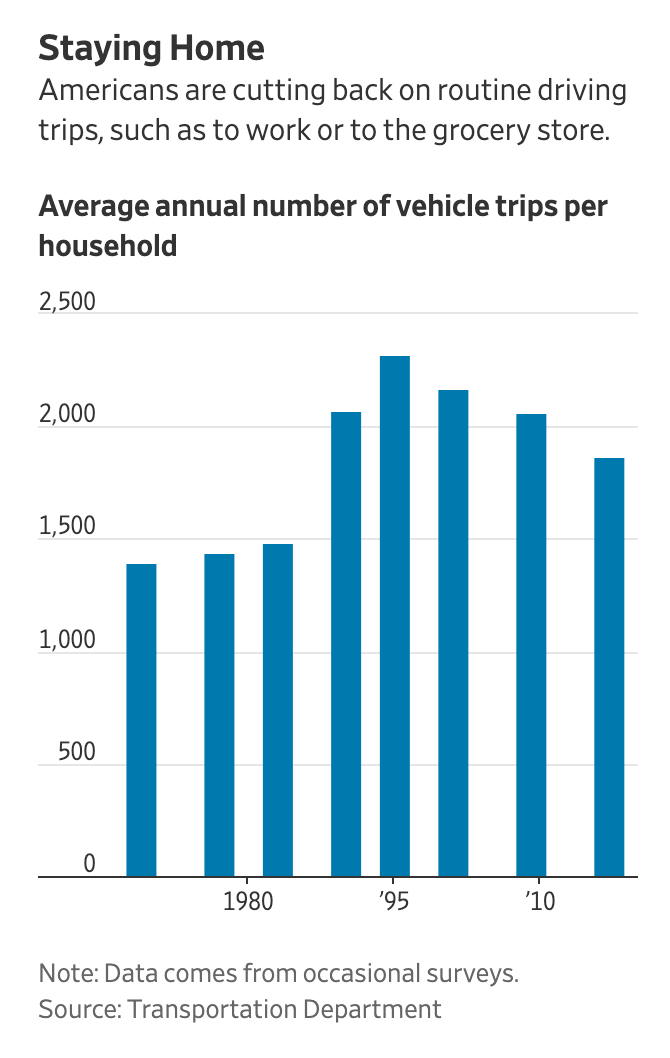 Quick Links: 
Uruguay seeks to lure foreign capital with residency reforms(CJN)

I always love Red Hand Files, Nick Cave's email newsletter where he answers fans questions, but last week's email was particularly notable. Here's a bit of the question: "I'm currently (and have been for the past 9 years) emulating your rock n' roll persona in a Nick Cave tribute band. I dress up like you (a cheap version, no stylist, can't find a shirt like yours) and in a shamanistic way recreate your live performances, sometimes succeeding to trick the audience into a feeling of being nearer to you." (NRB)

The most detailed photo ever taken of the sun (CJN) 
Thanks for reading,
Noah (NRB) & Colin (CJN)
---
Why is this interesting? is a daily email from Noah Brier & Colin Nagy (and friends!) about interesting things. If you've enjoyed this edition, please consider forwarding it to a friend. If you're reading it for the first time, consider subscribing (it's free!).