Discover more from Why is this interesting?
A daily newsletter for the intellectually omnivorous, from Noah Brier & Colin Nagy.
Over 21,000 subscribers
Why is this interesting? - The Everesting Edition
On Mt Everest, cycling, and taking hill climbing to new extremes
Quick programming note, some loyal WITI readers have mentioned they haven't been getting our emails (despite looking in spam). If you are having any problems, drop us a line and let us know. We'll work with Substack to get to the bottom of the mystery. As always, try to drag our editions into your inbox if you are using Gmail, lest your favorite daily editorial product get filtered! Thanks and onto today's edition. -Colin (CJN)

Mark Slavonia (MJS) is an investor, a pilot, and an avid cyclist.  He wrote about kitchen ballet in the time of COVID-19 for WITI in April. He posts other things that are interesting on his website and on Twitter.
Mark here. When faced with the cancellation or postponement of the international bike racing calendar, some of the world's best cyclists turned to a new do-it-yourself challenge—Everesting.  Once an obscure pursuit, Everesting refers to climbing the vertical height of Mt. Everest (8,848 meters or 29,029 feet) by bike or on foot by repeating the same route over and over again. Top male and female riders have broken the speed records for Everesting repeatedly since the Coronavirus crisis began, garnering attention and sparking enthusiasm among cycling fans who are missing the traditional racing calendar.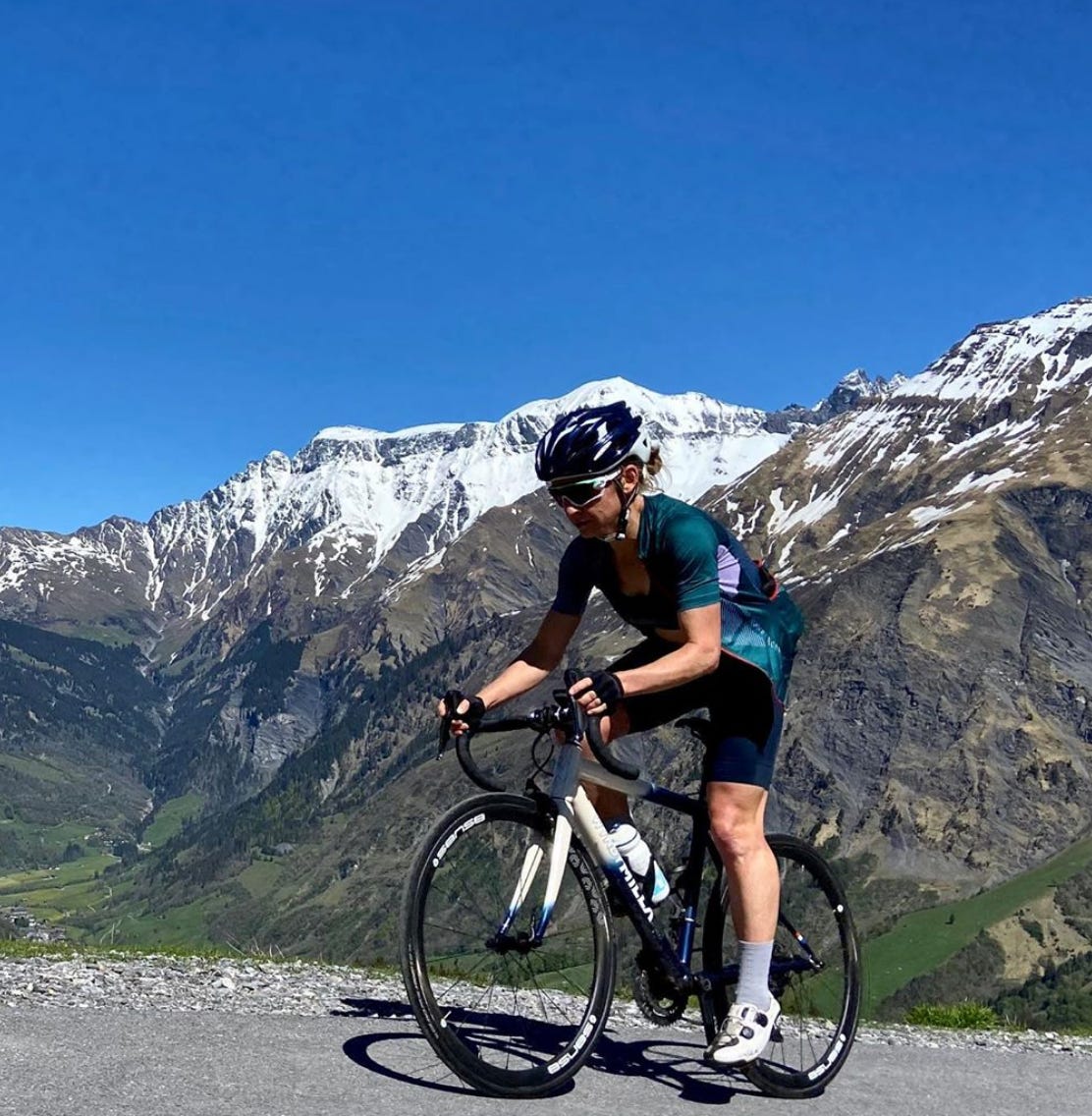 Emma Pooley on her way to an Everesting World Record
Everesting as a cycling challenge emerged from the efforts of George Mallory, grandson of the eponymous climber, who trained for a successful 1994 Himalayan Everest summit by cycling the vertical distance of Mt. Everest on a mountain near Melbourne, Australia. A decade later his friends, inspired by his story, organized a group effort to repeat his feat and codified the idiosyncratic rules by which they govern Everesting attempts worldwide. 

This was a minor niche in cycling and simply completing an Everesting ride was a notable achievement that was duly logged by Everesting's organizers. Speed records for Everesting didn't garner much attention before the shelter-in-place demands of 2020. This spring, as riders in top form were stuck at home, the challenge of Everesting took off, and the records of riders like Tobias Lestrall of Australia (8 hours, 29 minutes) and Alice Thompson of the United Kingdom (12:32) came under challenge.
On May 11, U.S. rider Phil Gaimon, who has made a specialty of setting GPS-based speed records, set a new best time of 7:52 by doing 60 repeats on Mountaingate Drive, a short, steep road in Los Angeles that's familiar to anyone who regularly drives the 405 freeway. His record would stand for just four days.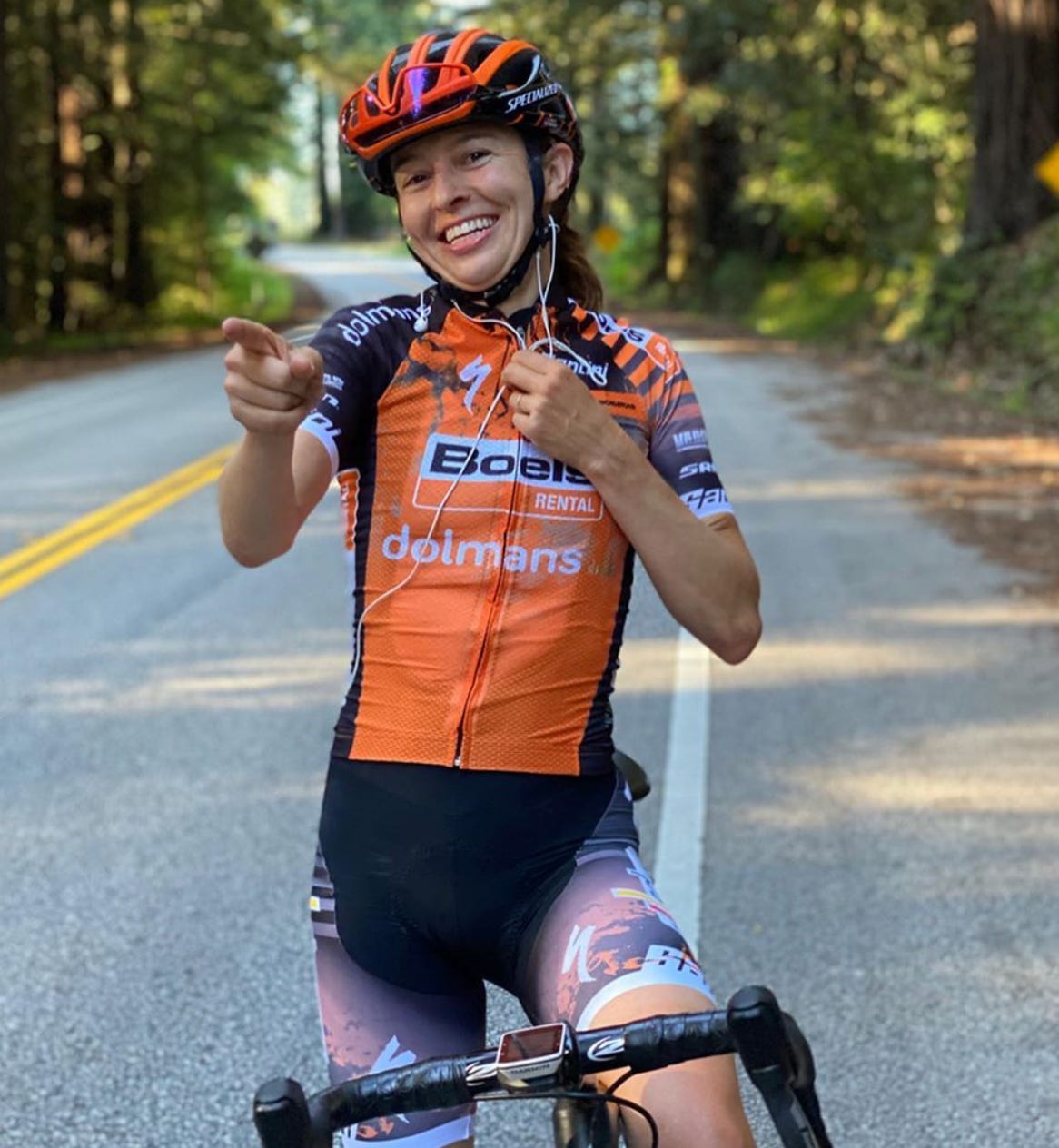 Katie Hall on the day of her record (photo credit: Kate Courtney)
An Everesting speed record requires a combination of a top rider and a suitable climb. Riders who were scattered around the world had to improvise on the best climb they could reasonably reach, cobbling together support from a friend, a spouse, or a parent. An ideal Everest climb is very steep, so that a rider's full effort goes into climbing, not overcoming wind resistance. It also should allow a very fast descent. As the summer of Everesting progressed, records were set on steeper and steeper climbs, increasing from Katie Hall's already quite steep 9% to Alberto Contador and Emma Pooley's 13%. Part of fans' interest in Everesting has come from watching the climbs that riders are selecting for record attempts. Aided by suggestions from fans, Phil Gaimon is already scouting new climbs to challenge Contador's record.
Why is this interesting?
Before the Coronavirus crisis hit, cyclists were already starting to rebel against the structure of traditional bike racing. Professional racers like Ted King, Alison Tetrick, and Phil Gaimon opted out of structured racing to pursue and document adventures, set new speed benchmarks timed by GPS, and participate in less formal, mass-participation races. This made them more accessible to fans and more valuable to sponsors. 
In the absence of traditional racing in 2020, riders continued this trend of taking their efforts directly to the fans. Everesting requires no TV cameras, no officials, no teammates or following cars. Riders record their efforts on GPS devices and post them for fans to see, usually on Strava, the most popular ride-tracking app. They post their own pictures and videos on social media. Amateurs can get directly involved, riding the same roads, attempting the same challenges, and recording their own Everest attempts.  
Accounts of these efforts have been very popular. Caley Fretz, Editor-in-Chief of CyclingTips, an enthusiast website, tweeted: 
Everesting has driven more traffic for us in the last month than the classics normally would in March/April.  It's not even close...It's this sort of perfect storm between well-known names and zero TV coverage so you have to read the story.  In a sport where lots of fans are participants...it's approachable.
Traditional racing is set to resume on an abbreviated calendar in Europe this fall. Immediate interest in Everesting will probably wane in the near term as top riders focus on other goals, but the barriers between professional and amateur riders are being broken by riders who are using new technology, new media and new challenges to connect to their fans. (MJS) 
Photo of the Day: 
Notebook entries kept by Katie Hall's husband, recording the time of day as she completed each lap in her Everesting world record attempt. (MJS)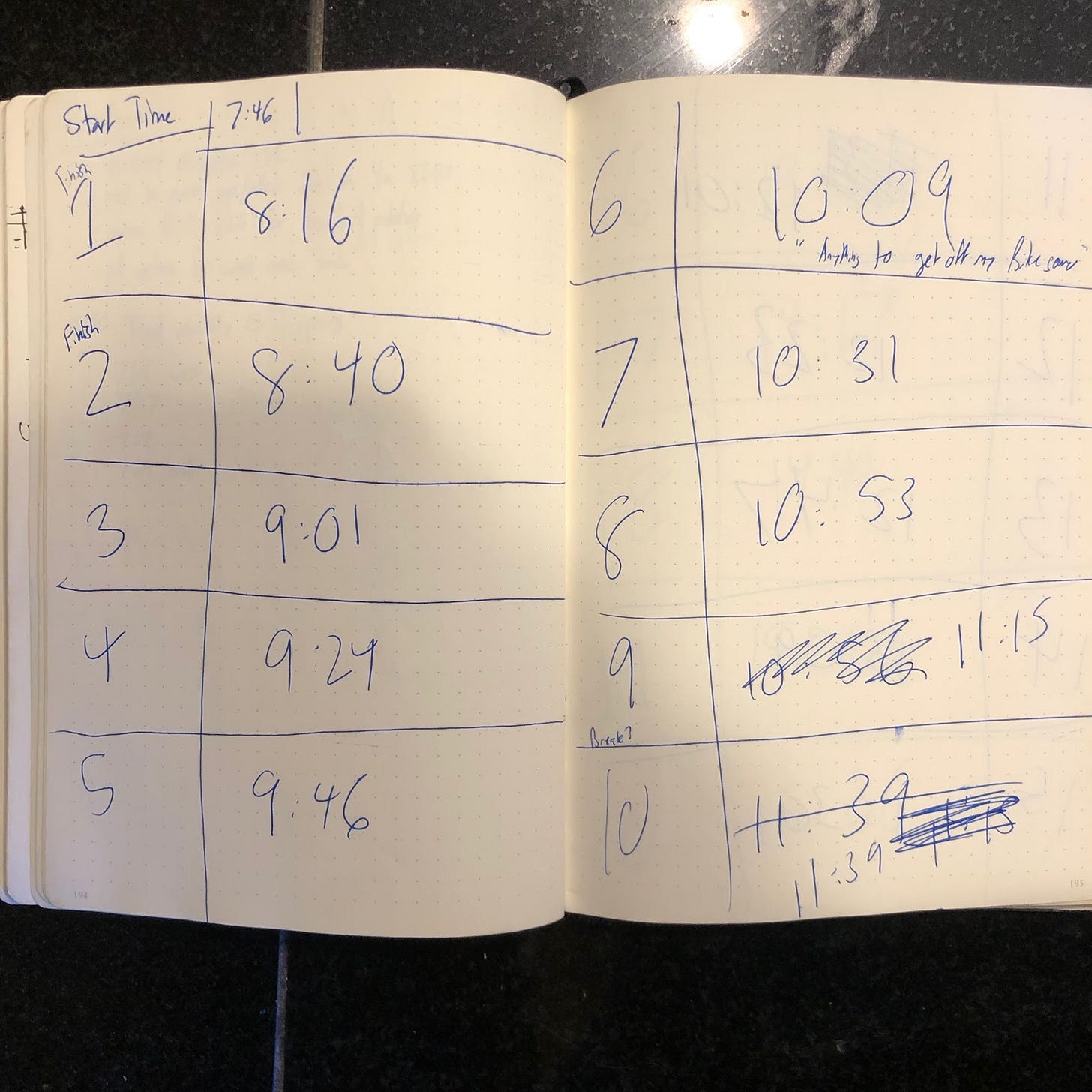 Quick Links:
Thanks for reading,
Noah (NRB) & Colin (CJN) & Mark (MJS)
---
Why is this interesting? is a daily email from Noah Brier & Colin Nagy (and friends!) about interesting things. If you've enjoyed this edition, please consider forwarding it to a friend. If you're reading it for the first time, consider subscribing (it's free!).