Why is this interesting? The Flight Attendant Edition (Part One)
On United Airlines, a career in the skies, and understanding people
Colin here. From time to time, we will experiment with some new formats in WITI and this is going to be a longer one, split up into parts one and two. But I think you're really going to enjoy it. This idea came to us by chance, two friends and WITI contributors have parents who have been flight attendants for United for a long time (and it turns out they have flown together!). As they both near the ends of their incredible careers, we thought it would be interesting to speak to them in a long-form interview to understand what they've learned about the world, about people, and how the brand of United has evolved and changed over time.
Why is this interesting?
COVID notwithstanding, air travel has radically changed over the span of one person's lifetime, which is why I thought this was intriguing. It used to be a luxury, now it is basically a utility. From the decorum involved to the services, to how people think about getting from point a to point b, there's a lot that goes into moving hundreds of passengers around the world.
These two flight attendants have been both based out of SFO for most of their careers and we've labeled their responses by their respective initials: LM and GB to protect anonymity as they are still employed by United. But there's really nothing salacious or bad, rather amazing and human remembrances of their careers in their air. I found both of their contributions touching, and most of all, incredibly interesting. We owe a lot of thanks to the countless people who have kept us safe flying through the world, and we think the depth and nuances of these responses will help you understand their lives and careers a bit better. - Colin (CJN)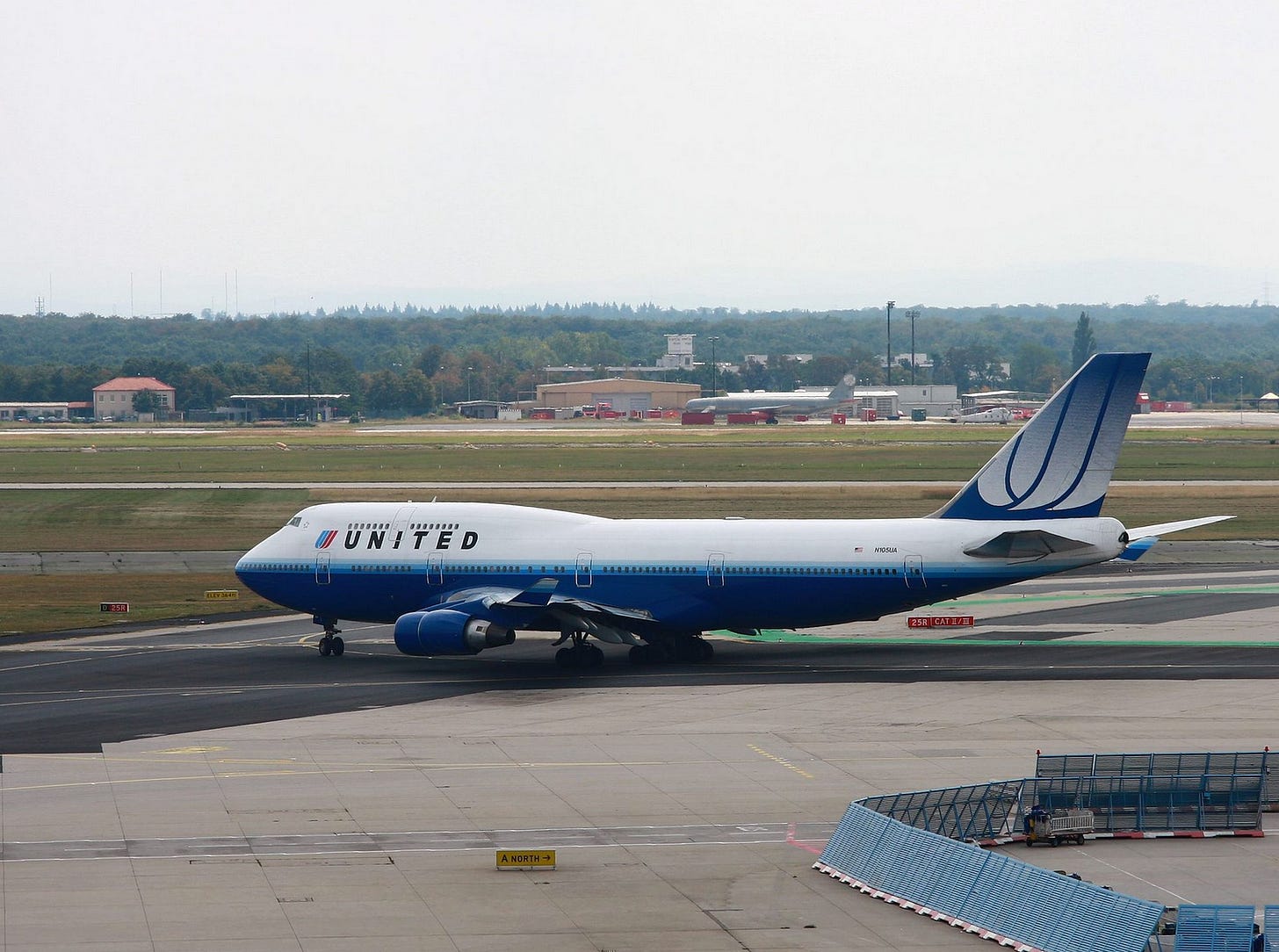 CJN: Describe your experience starting out in your career. How was it different?
GB: In 1968 when I began my United flying career, it was a time of much civil, social, and political turmoil in the United States. Several prominent leaders had been recently assassinated in the 1960s (JFK, Malcolm X, Martin Luther King, and Bobby Kennedy). Major city streets throughout the country were filled with Vietnam War protesters, Civil Rights Activists, Women's Rights activists, draft dodgers (draft card burners), the free love movement, hippies, pot-heads, and Gay Rights Activists. Conspiracy theories filled the air and Lyndon Johnson was President of the United States. I was 20 years old and based in the nation's capital, Washington, DC. Ironically, my new flying career almost ended before it began in June of 1968.
My new flight attendant base was DCA and I was one of eight new stewardesses assigned there. I had been one of only two Black girls in my class of 60 students. We had all just recently graduated from "United's stew school" near O'Hare Airport in a suburb of Chicago. Immediately following our graduation ceremony, we were sent to the airport for flights which took us to our new bases around the country. My group was all now staying for five days at a local motel in Virginia near National airport while United introduced us to our new domicile. United paid for our rooms for five nights. We wouldn't receive a paycheck for another 30 days. Our gross pay, before taxes, was $350 a month. The seven other girls all were from the South (various states) and I was from Chicago. We were supposed to find our new housing during this induction time. Our desire was to find a furnished two-bedroom apartment in Virginia with two beds per room. We had all pooled our money, rented a car for several days, and went apartment hunting each day after our classes. Unfortunately, we didn't find a place until our very last day of looking. After finally getting an apartment all the ladies were happy, celebrating our success and choosing their rooms. What I didn't know at the time was that the apartment was only for the white flight attendants, and not me. The building management wouldn't rent to me. When one of the girls took me aside to tell me, I was stunned. My skin color had been the single reason that this apartment complex and none of the other places had wanted to rent to us. This was still Virginia in the 1960s. I felt sad, angry, and betrayed all at once. Even though I understood that we had to find a place today, I didn't think that my flying partners had fought hard enough for me to be there with them. I ran out of the apartment in tears and took a taxi back to the hotel. I still didn't have a place to live, knew no one in Virginia, and had very little money, no credit cards, and I was very angry. All I wanted to do was to go back home to Chicago.
I just didn't want to fly anymore and suddenly missed my large family very, very much.
I called my mother once I got back to my hotel room sobbing and crying on the phone for several minutes. My last time seeing her and my Dad had been briefly after my stewardess graduation. She didn't speak for a long time. Finally, after a long pause, she said "'Work it out, You're NOT welcome back home. When you get settled, call home and let us know where you are. God is Everywhere—Say your Prayers". Then she just hung up before I could say another word. I just stared into the phone listening to the dial tone totally confused and stunned once again. After a few moments, I dried my eyes, said a prayer and I somehow DID WORK IT OUT. That's another long story, but here I am still flying after 52 years.
What is so remarkable about this story, however, is what happened after my mother's death in 2007. One of my sisters had found an old faded letter among my mom's possessions. It was from the office of President Johnson's wife, Ladybird Johnson. Her personal secretary had replied to my mother in 1968 with a handwritten letter. Apparently my mother had written Mrs. Johnson asking her to please help me find housing in the nation's capital. She never mentioned this to me in all of the following years. I didn't even learn of it until months after her death. My long flying career is owed to my MOTHER, and I will always cherish this memory.
CJN: What era of the United branding/livery was your favorite? When do you think the brand was the strongest?
LM: I would say the era of flying I enjoyed the most was in the 70s. The motto "The Friendly Skies" really fit and it was first class all the way. Full fifths of alcohol warmed nuts. Salad tossed in a huge wooden bowl right in the aisle, served in a chilled bowl and chilled fork laid alongside. The wine glass was placed, and with the sweep of the hand, 6 choices of red or white wine or maybe a nice glass of bubbling champagne, were offered.
Next, the main course, carving pork crown roast in the aisle placing a spoonful of warmed plum sauce on the side, your choice of vegetable or you could choose roast beef, again sliced in the aisle with an offering of fresh horseradish along with roasted potatoes, peas, and carrots. All served from a cart parked at your seat. The desserts were glorious. Of course, ice cream with several choices of toppings and the thickest, warm fudge or caramel was yours if you wanted. Or you could choose from 6 different whole wedges of various cheeses, along with a selection of crackers and fruit, or just pick something from the fruit bowl. After everything was picked up and put away a large box of Ghirardelli chocolate on a silver tray was offered throughout the cabin, offering one last bit of sweet before sitting back to relax.
Our passengers seemed to appreciate the caring attention to detail. It wasn't expected.
GB: United had many iconic branding moments since I first started as a stewardess in1968. At that time, United Airlines only flew domestically within the continental United States and Hawaii was marketed as "Our Little Corner Of the World". The inflight magazine was even titled the "Mainliner Magazine." Over the next few years we also promoted "Take Me Along", "I'm the Boss" (which we hated as flight attendants since we often had a plane full of bosses), and of course, "Fly The Friendly Skies of United". For me, however, my very favorite branding came in the 1980s when United acquired the rights to George Gershwin's "Rhapsody in Blue." This beautiful melody immediately captured the imagination of employees and passengers alike. Just the first few notes fueled one's desire to dream, to reminisce, and to ascend up into the blue skies above. Even now, over 40 years later, this beautiful theme song is still very strong and uniquely identifies United Airlines without even saying another word.
CJN: What are your favorite routines or ways to cope with all of the travel?
LM: Mentally, I prepared to go to work like I was going to see my friends. It was my party and I wanted everyone to have a good time. I would enter that state of mind from the moment I did the routine of packing and preparing for my flight.
The ways I coped was to walk, exercise, socialize on layovers, or just relax by reading and checking out from humanity. When leaving my home to work a 3- or 4-day trip I had to do a little dance with my emotions leaving my family and my home for that many days. That part was hard but what made up for it was 3 or 4 days off, one of those days requiring recovery from flying but a small price to pay
GB: Coping with my weekly travel schedule was indeed a balancing act, especially when our son was young. At that time my husband also flew occasionally for his job. I always checked his schedule before bidding my monthly trips, and I could trade trips with other flight attendants if there were last-minute schedule changes. Fortunately, our babysitter was also flexible and dependable when our schedules conflicted. On my off days, our family activities usually included taking walks, playing tennis, library visits, walking on the beach, going to the park, dining out, and sometimes even going to the movies. Often I would help at my son's elementary school as a "teacher's aide" when I was home during the week. On weekends, I would volunteer at our family church doing various jobs. We often held church bazaars, bake sales, flea markets, and Christmas boutiques to aid the church. Sometimes I would pick up unique items on many of my travels that we offered for sale at these events. During those early years, my young family would also fly to see grandparents in Chicago and Detroit at least several times a year. As United employees, we had to dress in business attire while flying instead of just wearing comfortable travel clothes. It was very restrictive and NO jeans or tennis shoes were ever allowed, even for kids. The most overdressed people on the airplane were the "standby travelers" who frequently waited for several flights before finally getting on a plane. "Standbys" always boarded after revenue passengers and often couldn't even sit together. Over the years these restrictions have thankfully relaxed. Even though it was always fun to visit with family, we really enjoyed getting back home. Rarely would we travel during the holidays. Those flights were usually full, chaotic, and often detained due to weather and air traffic delays.
CJN: What are your memorable trips or destinations?
GB: My very first international trip was to Paris—the "City of Lights" in 1969. I had been flying for only eight months at that time. The 3-day trip was an interline trip on Pan Am Airlines as a group tourist. I shared a room with a Delta flight attendant who was also on the tour.
Other great destinations that I have really enjoyed traveling to are the places where my family has traveled with me. New York City, Seattle, and New Orleans are big favorites, but so are Tahiti, Australia, and New Zealand. Hawaii however is probably where we've visited the most. We truly love the islands, there's just so much to love and do. Maui and Kona are fantastic but our favorite island is Oahu. The Hawaiian people are welcoming, the history is fascinating, the food is extraordinary and the Island views are simply breathtaking (flowers, fruits, birds, plants, waterfalls, sea life, and 'live' volcanos). So many great memories for my family over the years.
LM: Hiking national parks in Australia, taking a ferry to one of the many islands just to go eat and swim, a birthday spent at Australia's zoo, flying to Japan with my daughter, having a meal with a Japanese family, waking up at midnight to venture to the Japanese fish market. My son, who joined me in Korea being stopped and asked if he was from America and them wanting a picture with him, China and its bustling population, bargaining with sellers in crowded markets, packing my own toilet paper when I ventured out, questioning offered food, New Zealand in its endless beauty and the most wonderful people you could ever meet, Taipei with the rickshaws being pulled by women, typically wearing the sun protecting straw hats of their culture, and going straight to a watch shop while still in uniform and having tea hand-poured while we waited, and of course, Paris in all its history and beauty. Then there is all that there is to offer in my own USA.
CJN: What is your favorite part about landing at SFO after a long trip?
LM: My favorite part about landing in SFO is, of course, seeing the outline of the city and the beautiful Golden Gate Bridge off one side and the Bay Bridge off the other. I am proud of our city and never failed to marvel at the sight of it. If the view was right I would get on the PA to point out the sights to our passengers just outside their windows. One time, on departure, my Captain got permission to fly out over the Golden Gate Bridge and along the coastline, an unusual request to be granted. I was giddy. I was so excited. You could practically reach out and touch the buildings as we passed. I wanted to call my son and tell him to look out and wave. Those famous International Orange columns seemed to reach out and beg us to touch them as we floated through them.
GB: My favorite thing to do after landing at SFO after a long International trip always came after clearing Customs and waiting for the crew parking lot bus. I would immediately call my family to let them know I was on my way home. Upon getting to my car, I would take off my jacket, unbutton my blouse, roll down the window, turn on the radio and sing to the tunes while driving home. Often I would listen to the local news and "talk back" to the radio while negotiating rush hour traffic. This was my time to unwind for about an hour before arriving home. Once home, I would quickly kick off my shoes, hurriedly undress, and then take a shower for about 15 minutes to wash away the dust and memories of my trip. Once renewed, my husband often would hand me a glass of wine and we would finally relax together. When my son was a young boy, we would often play together or read before we both took our naps. Flying long trips taught me the wonderful value of napping and taking breaks to recharge.
I think being a parent of young children teaches this. It still is always such a joy 'putting my key in the lock' after getting home and then opening the door to the loving smiles of my family.
Stay tuned for part two, in tomorrow's edition.
Thanks for reading,
Noah (NRB) & Colin (CJN) & LM & GB
—
Why is this interesting? is a daily email from Noah Brier & Colin Nagy (and friends!) about interesting things. If you've enjoyed this edition, please consider forwarding it to a friend. If you're reading it for the first time, consider subscribing (it's free!).