Why is this interesting? The Flight Attendant Edition (Part Two)
On United Airlines, a career in the skies, and understanding people
Colin here. From time to time, we will experiment with some new formats in WITI and this is going to be a longer one, split up into parts one and two. If you missed yesterday, go read it! This idea came to us by chance, two friends and WITI contributors have parents who have been flight attendants for United for a long time (and it turns out they have flown together!). As they both near the ends of their incredible careers, we thought it would be interesting to speak to them in a long-form interview to understand what they've learned about the world, about people, and how the brand of United has evolved and changed over time.
Why is this interesting?
COVID notwithstanding, air travel has radically changed over the span of one person's lifetime, which is why I thought this was intriguing. It used to be a luxury, now it is basically a utility. From the decorum involved to the services, to how people think about getting from point a to point b, there's a lot that goes into moving hundreds of passengers around the world.
These two flight attendants have been both based out of SFO for most of their careers and we've labeled their responses by their respective initials: LM and GB to protect anonymity as they are still employed by United. But there's really nothing salacious or bad, rather amazing and human remembrances of their careers in their air. I found both of their contributions touching, and most of all, incredibly interesting. We owe a lot of thanks to the countless people who have kept us safe flying through the world, and we think the depth and nuances of these responses will help you understand their lives and careers a bit better. - Colin (CJN)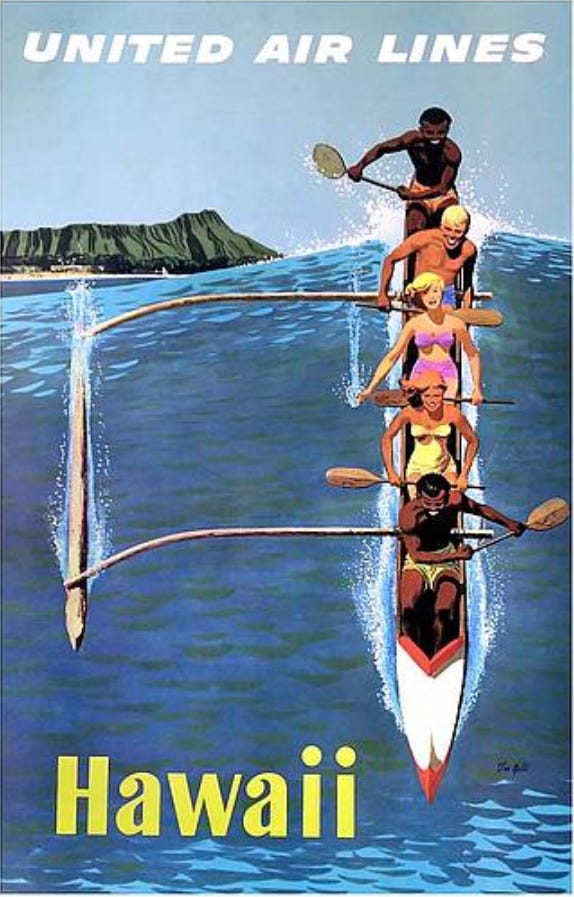 Part two:
CJN: What have you learned about people in doing your job?
LM: That there are all kinds of people and personalities. Most wanted to be treated the same way you would want to be treated. Some are having good days and some are having bad days but I learned everyone has good in them. If it isn't right up front if you waited long enough it would show up. Someone might be madder than hell and yell at me but I stayed calm and would not bite back. Usually, after some time to cool off and think I would often get an apology for bad behavior and the reason behind it, and all was good after that. I would spend a better part of my time during boarding sizing up people and what their personality was about and approach them accordingly. Some wanted to joke and have fun, others wanted their space, others wanted constant attention. It was interesting for me to observe and work with people this way.
GB: The single most important thing that I have learned over my many years of flying is this:
Each passenger traveling with you today has their own unique and personal story.
Treat each person with respect and as an individual not as a group. When you smile, mean it. ALWAYS SHOW KINDNESS and really see the person in front of you. Everyone has value.
CJN: What has been your favorite element of being a flight attendant over the course of your career?
GB: In the 1960's United Airlines had been awarded the federal government contracts for the USPS (United States Postal Service). UAL would now be the main carrier for flying airmail around the country. In order to keep this very lucrative contract, United had to quickly integrate their workforces throughout the entire airline. Due to this mandatory directive, the period between 1964 through the 1970s showed a huge increase in the hiring of people of color. I was hired during this transitional period. In 1968 when I started my flying career, being a stewardess for United was considered a very prestigious career for a young woman of color.
My new flying career was a source of pride for me and my entire family. In contrast, many of my white flying partners told me that their families were actually disappointed when they had chosen a flying career. In their opinion, a stewardess was considered no more than "a maid in the sky." This was a stunning revelation for me at that time. The pride that I had so embraced over my new career was now somehow tainted. Nonetheless, I still felt extremely happy and proud of myself, always wearing my uniform with much pride. Never Judge. Everyone's perspective in life is different depending on their life history and cultural background.
LM: The sheer idea that you can walk into an aluminum tube in SFO, go up to 30,000 ft and 10 hours later walk out into a totally foreign way of life and culture has always amazed me.
I loved the camaraderie and work ethics shared with my flying partners and I have always enjoyed people and the lives they lead. There are countless personal stories and I never tired of hearing them.
CJN: How has travel changed over the years?
GB: During my 52-year flying career, there were many changes that affected how the traveling public flew in the "Friendly Skies." Personally, some changes were more memorable than others. Here are some of the many changes that I personally think profoundly changed commercial flying.
There were NO wheels on luggage and NO metal luggage carriers in1968. Everyone had to carry their heavy luggage using the suitcase handle. Flight attendants on every trip had to negotiate airports wearing high heels, hats, and gloves while carrying their uniform luggage, purse, and inflight bag which contained our serving smocks, inflight shoes, union contract, and mandatory flight manuals. We had to change into our inflight smocks prior to each new leg of the flight. United inflight supervisors would often stage surprise uniform checks.
Everyone smoked on flights in the early days. Cigars and cigarettes were both allowed and we even offered matches on our flights. We didn't have 'No Smoking' signs on our airplanes.
In the late 60s, most of my passengers were white businessmen traveling for work or soldiers traveling in uniform during the Vietnam War. Women seldom traveled alone and families usually didn't fly except for emergencies. In those early days, I was often the only non-white person (including the crew) on the entire plane. People dressed up to fly. Women wore dresses—never pants and usually also wore hats and gloves. Businessmen always wore jackets and ties, rarely casual clothes. People were more aware of their own personal behavior and reluctant to cause a scene. Flight attendants seemed to be treated with more respect and were listened to, especially during the flight safety demo.
Flight attendants shared rooms on layovers which were a nightmare, especially if you didn't smoke or if someone's boyfriend visited for the night. I would often fall asleep with my head covered to drown out the noise from my roommates' side of the room. This was a time before cell phones, personal computers, email, cable tv, internet, social media, locked cockpits, airport security checkpoints, metal detectors, plastics, artificial sweeteners, or TSA. Meal choices in coach were always beef, chicken, or pasta—no veggie or special meals were ever offered. We served roasted peanuts with beverages on every flight. No one had to go through security checks and families would often come to the airport and wait with their loved ones at the gate prior to their flights. They would wave as we pushed away from our gate. In 1968 our biggest safety concern was hijackings to Cuba which seldom occurred.
All domestic flight attendants for United were women in1968 with Hawaiian stewards being the exception. We had to be single to be a stewardess and retirement was MANDATORY whenever we got married. Male flight attendants, single rooms on layovers, and marital status were all to be later negotiated by AFA (our flight attendant union).
The Boeing 737 aircraft was United's latest jet fleet acquisition when I first began my career in 1968. The stretch DC-8 was our largest jet airplane at that time. Competition between the various airlines was fierce and fare prices were regulated by the government resulting in cheap fares for the public. Those early flying days were new, exciting, fun, and unique.
CJN: What has your job given you the opportunity to do/learn/see that another career might not have?
LM: My job has given me an opportunity like no other. To see the world, to know many people, to share that experience with my family, and to take off any time I have the chance to explore or visit. I wouldn't trade what I have experienced for anything. It has been an amazing ride. Plus, my job has given me confidence and the ability to adapt to all situations. Maybe that is what my interviewer saw in me 48 years ago—the future me—when he gave the green light to my career in flying.
GB: My position as a flight attendant has undoubtedly given me the unlimited opportunity to travel and explore different cultures in America and abroad. As a flight attendant, I've lived in several different cities throughout the USA during my flying career. Presently I reside in the Bay Area and have been based in San Francisco for over 40 years. When my career first started in 1968, I had rarely traveled outside of the city of Chicago. Growing up on the Southside of Chicago, I rarely went outside of our neighborhood. United Airlines exposed me to not only the numerous and very different cultures of our own country, but also to the entire world. My flying career with United Airlines has undoubtedly been the best education the world could ever offer. It has allowed me to witness the world and its people in unique and wonderful ways.
Thanks to LM & GB for sharing their amazing stories. And, as always, thanks for reading,
Noah (NRB) & Colin (CJN) & LM & GB
—
Why is this interesting? is a daily email from Noah Brier & Colin Nagy (and friends!) about interesting things. If you've enjoyed this edition, please consider forwarding it to a friend. If you're reading it for the first time, consider subscribing (it's free!).