Why is this interesting? - The International Radio Edition
On quarantine, sonic textures, and visiting another country via their airwaves
Colin here. A lot of discussions now are about digitally connecting to other humans for the purposes of our jobs, socializing, etc. But how do we connect to places if we can't hop on a plane? For a long time, I've been enjoying the teleporting power of listening to radio from around the world. There's something really interesting about geo-specific radio stations: offering a powerful view into the culture, even from afar and if you don't speak the language. As I wrote in a Medium post awhile back, "there's something magical about listening to a Tokyo breakfast show on a rainy Sunday night in New York, or imagining you are in a taxi from the airport in a new city, drinking in an unfamiliar news radio station in French." 
Why is this interesting? 
As we are all sitting at our desks at home, the ambiance and textures from far-flung places can usher in a bit of adventure, as well as a bit of relief. I've compiled an interesting (and evolving list) of ways you can tap into different sounds and nationalities. If you reply to this email, we can update this post with more of your favorites from around the world.
The following, and by no means comprehensive, dig through the internet and terrestrial airwaves is a fun, wide-ranging spectrum of sounds from bleeding-edge East London bass music to very sincere college radio to global pop, autumnal cardigan jazz and beyond. I was also inspired and guided by this very thoughtful and comprehensive guide, by Pete Naughton.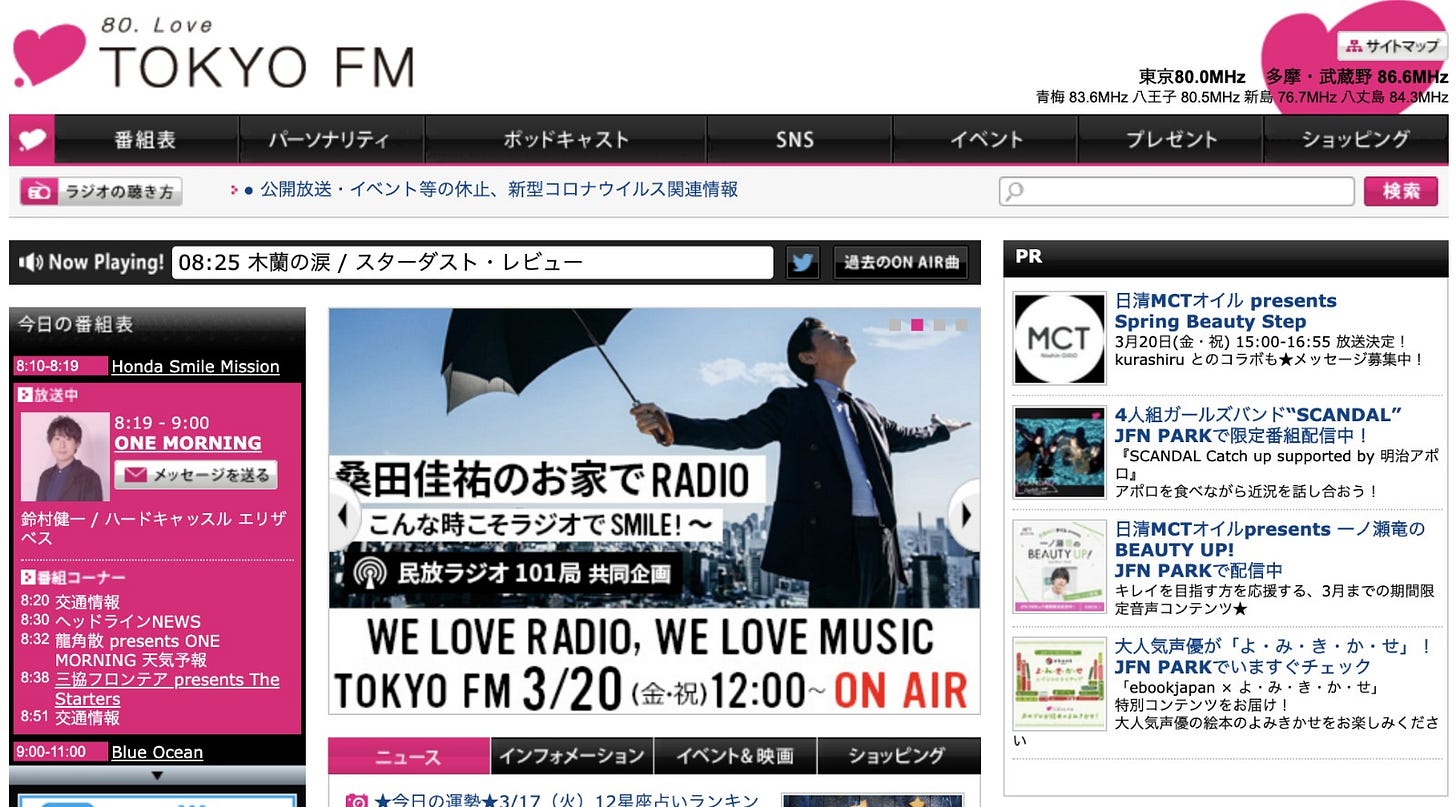 Also, some longstanding listens are included, including Tim Sweeney's legendary Beats in Space program (do it big!) and the ever-reliable WFMU. Both have really informed my knowledge and love for a variety of genres. And both are passion products that have rightly earned a devoted audience.
Also, it is worth noting that there are a few interesting apps you can use to tune into global sounds. One is Radioooo., where you pick a decade and a country, and you can listen to the top songs of the time. Brilliant. Also, thanks to Fabien for the link to Radio Garden, an app that lets you tune into live radio from around the world. (CJN)
Drink of the day: 
As we've written about in WITI, we are in a gold rush of new brands. Some good, some bad, but it is hard to stand out from the VC backed herd. We have to give a tip of the hat to Haus for doing just that. It is a low alcohol brand, playing in the nascent US apéro space. In their words, "Apéritifs are liquors with complex flavors that typically come from roots, herbs, and botanicals. They've been a big part of European drinking culture for centuries, and they're becoming more popular in America now too. They're low-ABV, so their lower alcohol content makes them perfect for sipping throughout the evening on the rocks or with simple mixers like soda or tonic."
Everything about the brand: their packaging, art direction, pop-ups, and social has been rock solid. We also like that they are running after a neglected category: lower alcohol and different (non-hedonistic or out-at-a-bar drinking) contexts. We think they nailed the cultural insight which is always tough to do in spirits. (CJN)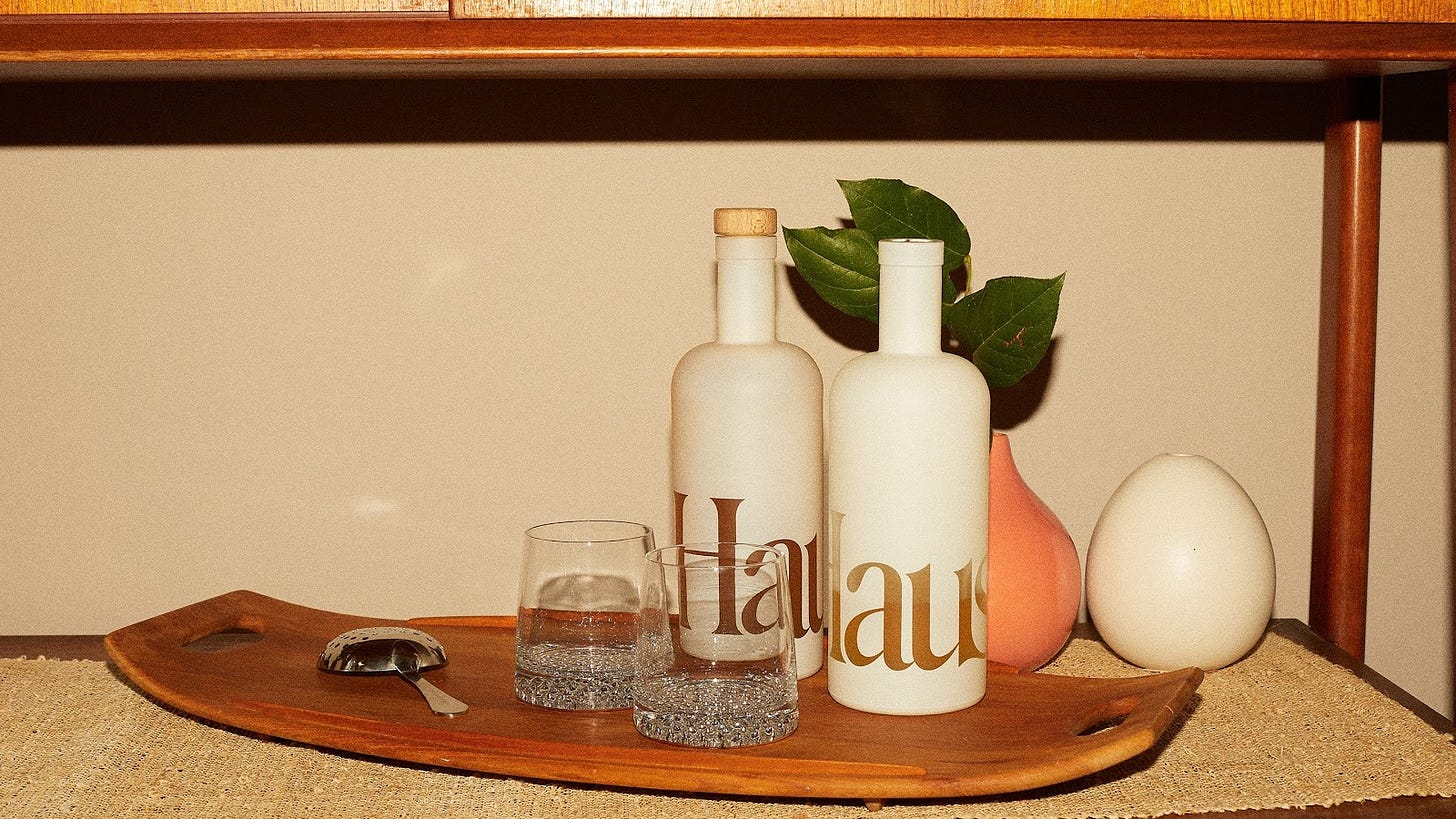 Quick Links: 
Thanks for reading,
Noah (NRB) & Colin (CJN)
---
Why is this interesting? is a daily email from Noah Brier & Colin Nagy (and friends!) about interesting things. If you've enjoyed this edition, please consider forwarding it to a friend. If you're reading it for the first time, consider subscribing (it's free!).