Discover more from Why is this interesting?
A daily newsletter for the intellectually omnivorous, from Noah Brier & Colin Nagy.
Over 21,000 subscribers
Why is this interesting? - The Lobby Acoustics Edition 
On hotels, music programming, and nuance 
Colin here. The regular WITI reader will notice that I'm a hotel obsessive. It's been a long-standing interest of mine born out of years of heavy travel and the restorative mental power of a wonderful room. Most interesting to me is how a great hotel represents the culmination of a lot of moving pieces. They are hard to both get right day-in-and-day-out, but also they are hard to build into a cohesive whole. When you consider the symphony that has to happen at an Aman resort, for example, in terms of the guest experience, design, maintenance, cuisine, and overall vibe-setting, it is overwhelming. Truly exceptional experiences, like the Park Hyatt in Tokyo, one of my favorite hotels, manage to get the mathematics of a space right, along with the patina and vibe. 
One of the most important things to me about a hotel, and can actually be the canary in the coalmine in some respects, is how deeply the music has been considered. It's one thing to have some sort of Spotify algorithm that runs throughout the day (frequently happening at larger corporate chains), but truly awesome boutique hotels really address the soul of a hotel, and change throughout the day as need states for a space shift and morph. 
Why is this interesting? 
Turns out the best executions for music are either painstakingly handmade by devoted music-lovers or AI-generated. The meddling middle of auto-programming tries very hard, but never actually lands properly. 
I unpacked a few examples in a piece I wrote in Skift recently: 
Orchid Music Design, based in Austin, Texas, is the company responsible for the signature sound of the aforementioned Saint Cecilia and other Bunkhouse Group hotels. The tastemaking curators at Orchid take a decidedly human-centered approach, saying, "We don't do whiz-bang algorithms that distill all the music in the whole universe into your custom music experience. Every client project is human-made." And the difference is discernible. While a lot of hospitality establishments have been using the magic of the Spotify algorithm to work for their background music, a human curator can make you actually take notice. The reason? A great playlist has soul, makes a few surprising or irrational moves, and taps deeply into the essence of a place. It eschews the obvious and can provoke at times.
In this case, every element of the intent of the hotel is mirrored back. Even the fact that it is frequented by high-profile musicians means that you can go a bit deeper in your choices of tracks, down to rare b-sides. 
The playlist touches upon the psychedelic rock heritage of Austin with the likes of Roky Erickson and more modern, dreamy "gauze pop" from the Allah-Las, but also flirts with shades of Texas country music that are on point. The sounds tap into both the spirit and the aesthetic of the place—a hideaway for discerning musicians playing in Austin—and the city it sits in.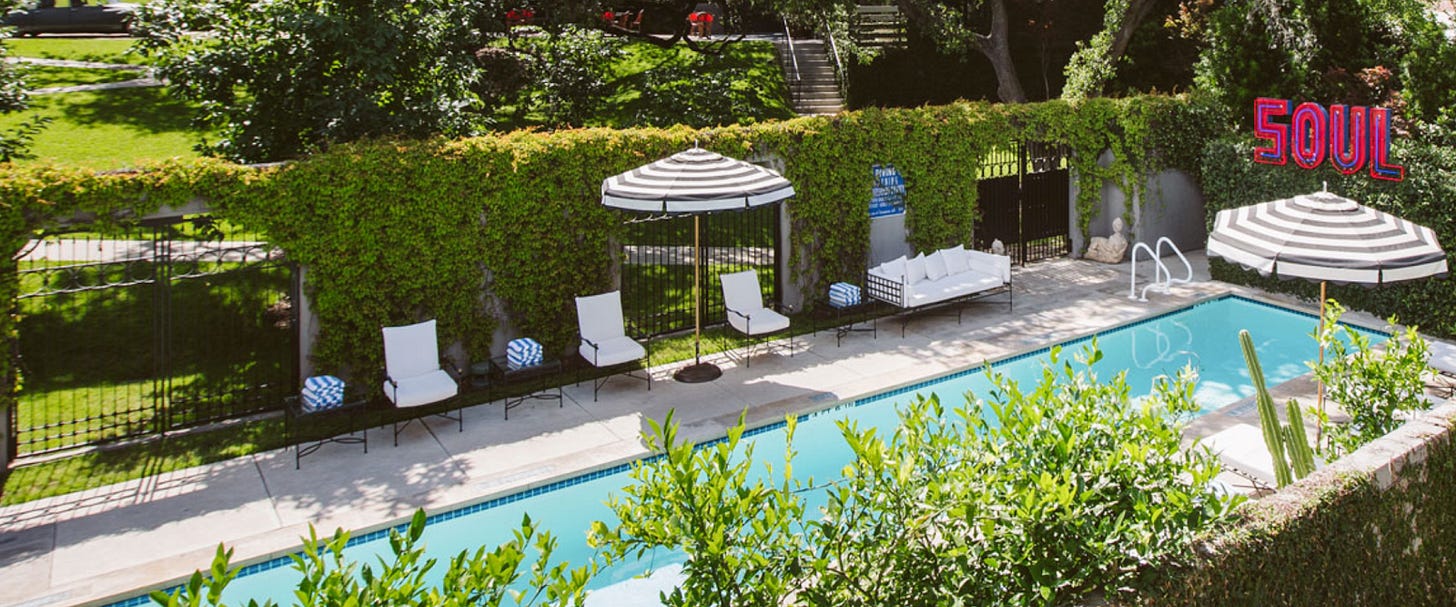 On the flip side of handcrafted is what the newly launched Sister City has been doing with their lobby programming: allowing data from the rooftop camera to create generative compositions. It could be a bad art school project, but the execution actually works like a charm:
Sister City (a sub-brand of Ace Hotel) in New York City's Lower East Side partnered with Björk in January to produce a lobby music installation based on the Icelandic singer-songwriter's choral music. Björk in collaboration with Microsoft utilized AI to create generative ambient music. According to CNET's review of the composition, the experimental piece is a relaxing yet shapeshifting composition that evolves based on data captured from a rooftop camera capturing patterns of clouds and birds. It's a far cry from the piped-in music loops of bygone times. The project, called Kórsafn, is meant to align with the young, culturally astute, and tech-savvy guests who stay at Sister City. 

The arrangement itself is rooted in "Icelandic music as well as snippets of Björk's favorite choral arrangements from her career, including recordings by the Hamrahlid Choir of Iceland," according to Sister City. It follows a piece from musician Julianna Barwick, who created the hotel's previous ambient AI soundscape.

This is a meaningful evolution of music: adding context and elements of the hotel's surroundings into something high-concept and lofty. It's perfect for Sister City, which Ace is shaping into a progressive, art-centric brand.
The takeaway here is either go high concept or go low-fi. One approach to building this dimensional layer is human-centric: drawing upon someone's ability to map sound to the vibes of physical space. Another approach is tech-driven, drawing upon AI and conceptual art for something more experimental that achieves a similarly transporting effect. 
But the worst approach of all is having music in the middle grey area, deprioritizing it to the point of being dreaded wallpaper hanging over a space. (CJN)
Photo of the day: 
A mother buys her daughter a doll at a market in Osaka, Japan. The photo appeared in the May 1950 issue of National Geographic in a story documenting changes in Japan following the end of World War II. (CJN)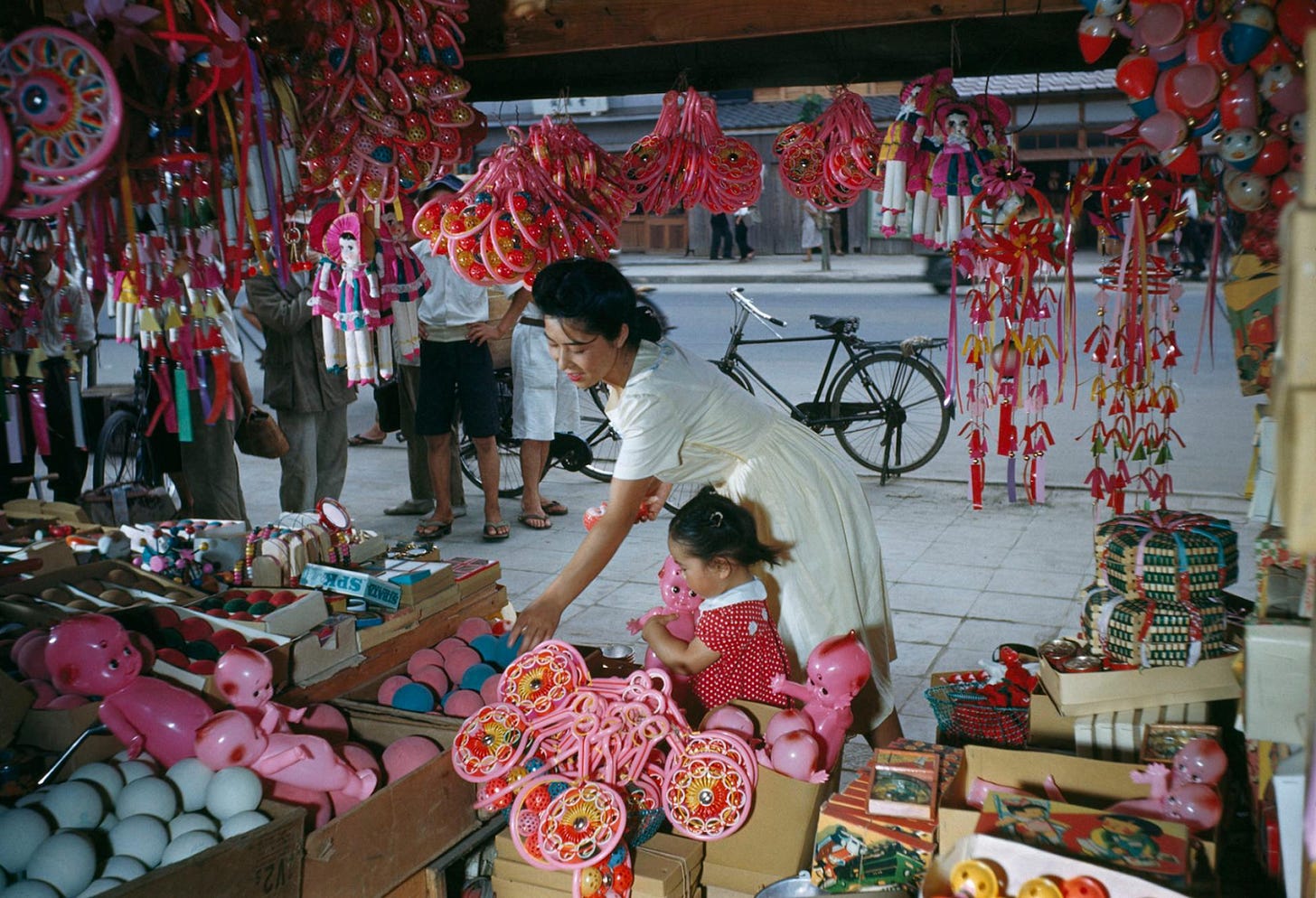 Quick Links: 
Thanks for reading,
Noah (NRB) & Colin (CJN)
---
Why is this interesting? is a daily email from Noah Brier & Colin Nagy (and friends!) about interesting things. If you've enjoyed this edition, please consider forwarding it to a friend. If you're reading it for the first time, consider subscribing (it's free!).