Why is this interesting? - The Luxury Edition
On clothing, culture, and the definition of luxury
Colin here. To understand the current state of luxury, just watch the shows pop culture is endlessly dissecting. The moneyed titans of industry in Billions aren't clad in Armani suits, but rather discrete Loro Piana cashmere hoodies and Common Projects sneakers. Likewise, Succession characters are more likely to be wearing a minimal-looking piece from the insider brand The Row than they are something ostentatious that screams generational wealth. It is a cultural sea change from what luxury meant in the days of Dynasty. 
Lucia Van Der Post, a long-time editor at the Financial Times, recently recounted how luxury has evolved in the time she's been handling the beat for the paper and for How to Spend It, their high-end magazine that makes no qualms about conspicuous consumption.
Luxury itself still mostly revolved around conventional notions of designer clothes, fine furs, exotic cars, champagne, fancy foods such as smoked salmon and caviar, glossy jewels and – in the world of travel – opulent interiors and obsequious flunkies. Above all, intrinsic to the idea of what constituted luxury was the premise that it had to consist of objects or experiences that only the very wealthy could afford. Today you can buy cashmere in Uniqlo, champagne and smoked salmon in any supermarket. Conversely, in travel, the world's richest – Bill Gates, Greg Carr, Paul Tudor Jones – seek simple food and an untrammelled wilderness to wonder at. They can get fancy food and 800-thread-count sheets at home.
Why is this interesting?
The sea change has been fascinating to watch. Those symbols of wealth of the not-too-distant past have become mass market and accessible. And those that have the endless means, seem to be moving towards unflashy quality when it comes to clothing. More Brunello Cucinelli than Dolce and Gabbana.
Of course, this cannot discount the rise of streetwear as a new(ish) luxury category which is often intended to grab people by the figurative lapels a bit. Van Der Post continues: 
Along the way, the omnipotence of streetwear brands, such as Supreme, Palace and Off-White, have transformed the once-staid menswear market. Founded by Virgil Abloh, Off-White completely disrupted the traditional codes of luxury when it launched in 2012 and was, according to Lyst's Year in Fashion report, the most searched for brand this year… 
Even the big fashion houses are in on the streetwear game. Balenciaga pioneered things with its oft-copied shoe that looks a little like a Transformer on a moon expedition. But it's not just for show, these items are major contributors to the annual results of fashion houses. As the article states, "Gucci's staggering €8bn revenues of late have been predicated largely on the success of the trainer." 
The traditional luxury players like Hermes and Louis Vuitton haven't been able to compete on pure badge value as much as they would have in the past. Instead they're leaning into ethical sourcing and deepening the narratives and storytelling behind the production. The idea of savoir-faire is more important than ever for many luxury markets. (CJN) 
Chart of the Day: 
From the media agency Kantar, the 10 most expensive keywords on Google from 2018. Not surprisingly, mesothelioma lawyers top the list. (NRB)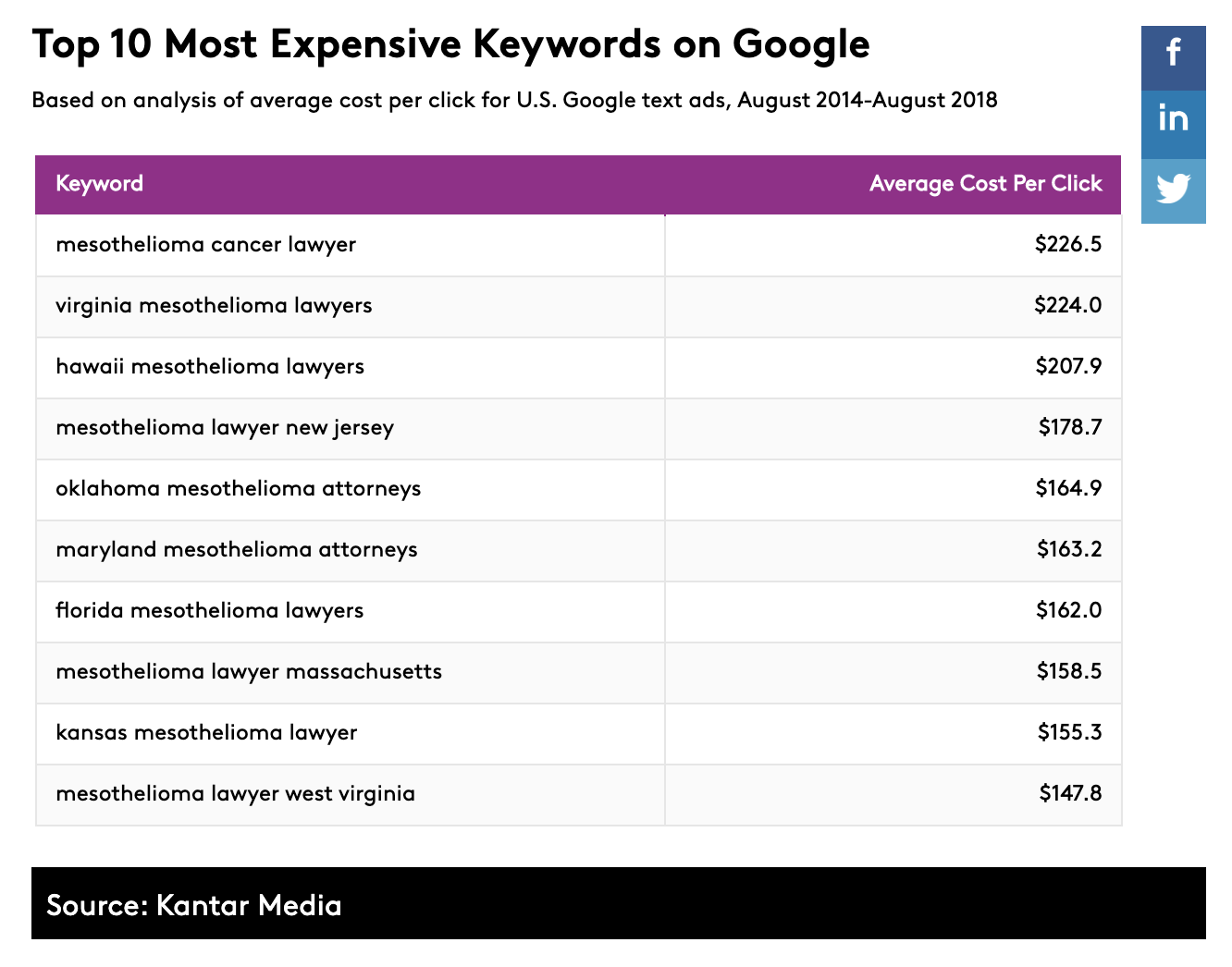 Quick Links: 
Thanks for reading,
Noah (NRB) & Colin (CJN) & Brady (BJM)
---
Why is this interesting? is a daily email from Noah Brier & Colin Nagy (and friends!) about interesting things. If you've enjoyed this edition, please consider forwarding it to a friend. If you're reading it for the first time, consider subscribing (it's free!).