Discover more from Why is this interesting?
A daily newsletter for the intellectually omnivorous, from Noah Brier & Colin Nagy.
Over 21,000 subscribers
Why is this interesting? - The Monday Media Diet with Verena von Pfetten
On reads, new behaviors, and replacing your social media with sharks
We're going to start an ongoing interview series with people we find interesting. They will delve into their media obsessions, under-the-radar reads, and other ephemera. It's not exactly a new idea but it's the type of feature we always find satisfying to read. 
First up is friend of WITI Verena von Pfetten (VVP). She is the co-founder of the magazine Gossamer and previously worked in digital strategy, editorial, and brand marketing for Lucky and The Huffington Post, among others. - Colin (CJN) 
Describe your media diet. 
New York Magazine, cover to cover, The Cut at least once a day, the New Yorker regularly but selectively. I get New York Times alerts but kind of wish I didn't. And I limit my time on social media to 1 hour a day, which goes by a lot faster than it sounds, especially when at least part of that hour is dedicated to "work" (i.e. managing Gossamer's Instagram, etc.) I also buy every issue of Buffalo Zine as soon as it is announced. I am an avid user of Pocket to save things I want or need to read so that I can do them on my own time and ideally offline, instead of being constantly distracted during work hours. In terms of newsletters, there are only a few I read and/or open consistently: Molly Young's Read Like The Wind book recommendation/digest, Lean Luxe, and NYT Cooking. I dip in and out of podcasts but usually tend towards the talk-y kind of cultural (pop or otherwise) criticism, like The Ringer's The Watch. I literally never watch the news.
What's the last great book you read?
The Overstory by Richard Powers, because it attempts the impossible—to make people really, truly, fundamentally and in our bones, care about trees—and then, against all odds, succeeds. Not surprisingly, Powers explains this point better than I ever could, so I'll just quote him (and the book) directly: "To be human is to confuse a satisfying story with a meaningful one, and to mistake life for something huge with two legs. No: life is mobilized on a vastly larger scale, and the world is failing precisely because no novel can make the contest for the world seem as compelling as the struggles between a few lost people." Sit with that for a minute.
I'll add that I didn't always enjoy reading it—it's very long and it's got a few baggy spots—but I came out the other side so, so, so grateful that I did. 
And just to make sure I don't sound like a total asshole, I also loved My Year of Rest and Relaxation by Ottessa Moshfegh, about a young woman's effort to just drug herself into sleeping straight through an entire year. Relatable, no?
What are you reading now?
I read constantly; it's the only way to keep myself from the endless scroll. So I've just started The Memory Police, by Yoko Ogawa. And after that I plan on reading Carmen Maria Machado's memoir In The Dream House, and ideally, one or more of Olga Tokarzcuk's books (Flights and/or Drive Your Plow Over the Bones of the Dead), though I've heard they're both fairly dark so am trying to mentally gird myself. I might space them out with some YA or sci-fi or fantasy. At the risk of making myself sound deeply uncool, if a book features wizards, dragons, magic(al creatures), italicized words that are one extra vowel off from its regular English counterpart, and/or comes as part of a series of three or more, I am 10000% in.
Where's your first stop when you pick up a print copy of your favorite publication?
I am a terrifyingly unimaginative, front-to-back, cover-to-cover reader. Usually, I save the crosswords (if applicable) for last, occasionally I go really rogue and do them first. Have you fallen asleep yet? I'm sorry. But order of consumption for magazines, despite my own personal lack of innovation in that area, is something we think about a lot at Gossamer, and it's particularly freeing to do things with our own publication that upend the reader's expectations of what should exist and where in a magazine. It's fun to get weird. (Just not when I'm the one doing the reading.) 
Who should everyone be reading that they're not?
Going to take this opportunity to spotlight some of the truly mind-blowingly talented contributors we have, like Anjali Khosla, whose essay about immersing herself in Finland's sauna culture during a time of fear and instability was breathtaking in its thoughtfulness and intensity, or Kassondra Cloos, Amitava Kumar, Mayukh Sen, Bijan Stephens, Christina Pérez, and Foster Kamer, who should just write more and always.
What is the best non-famous app you love on your phone? 
During a beach vacation last summer, I replaced my Gmail app with the Atlantic White Shark Conservancy's Sharktivity App, which alerts you every time a Great White has been spotted off the east coast of the country, from Cape Cod all the way down. Sometimes it even includes photos and video! And some of the sharks have names, like Betsy. It was a great way to wean myself off mindlessly opening my email, because, well, sharks! I loved it so much I've since kept it that way: I now exclusively access email on my phone through the Chrome browser, which is just cumbersome and annoying enough to make sure I'm only doing it when I need to. (Also, I love sharks. Screenshot of a recent sighting attached!)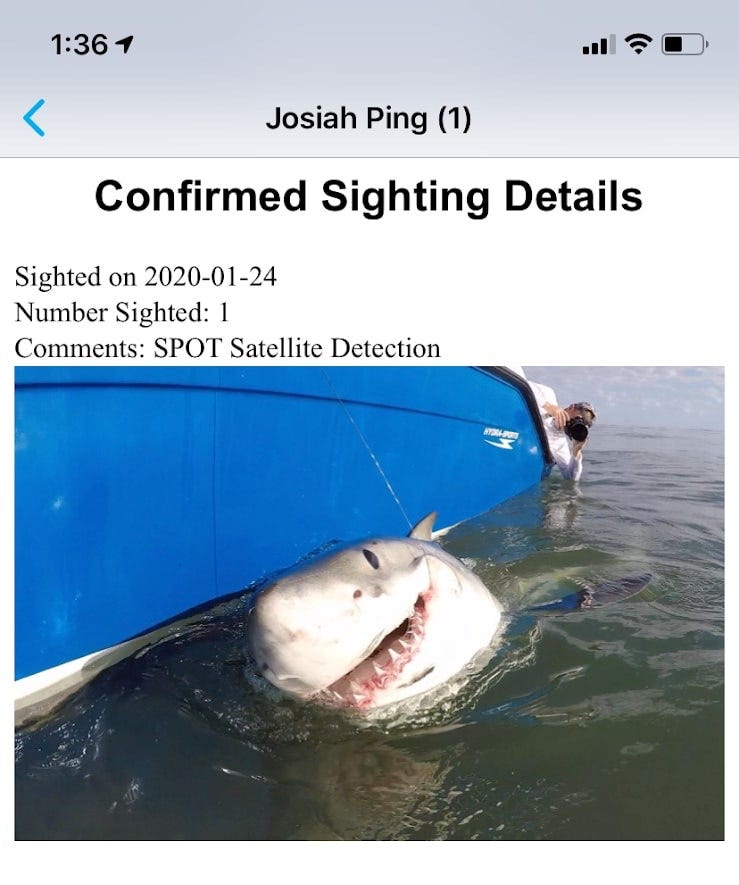 What is one place everyone should visit? 
My first thought was the Philippines, specifically to Siargao, a teardrop-shaped island known for its 15-plus surf breaks, or a five-day boat-camping trip through the northern tip of Palawan, both of which make up the best trip I've ever given myself.
But I also recently-ish—which is to say, as a fully formed adult—went to the Grand Canyon for the first time. I'm not exaggerating in the slightest when I say I burst into tears at first sight. (I am very aware how ridiculous that sounds.) But it made me think of how many people take their children there for spring break or family trips, and I just don't think children are capable of fully appreciating the scale and scope of it. It made me so grateful to have experienced it the way I did. And it was a good reminder that, as much as I think international travel is important to understanding our place in the world, there is so much to see in our own backyard. Plus, depending on where you're coming from, that's one fewer plane ride. Which...see the next question and answer.
Plane or train?
Train, hands down, because if we don't start re-conditioning ourselves to see plane travel as the luxury, special-occasion, only-when-truly-needed method of transportation it should be, we're all going to go up in flames that much faster. 
Tell us the story of a rabbit hole you fell deep into. 
I go down a bolognese research rabbit hole at least once every three weeks, in my lifelong quest to perfect my recipe. Still tinkering.
Thanks for reading,
Noah (NRB) & Colin (CJN) & Verena (VVP)
---
Why is this interesting? is a daily email from Noah Brier & Colin Nagy (and friends!) about interesting things. If you've enjoyed this edition, please consider forwarding it to a friend. If you're reading it for the first time, consider subscribing (it's free!).