Why is this interesting? The Monday Media Diet With Claire Mazur and Erica Cerulo
On work wives, entrepreneurship, and libraries
Claire Mazur (C) and Erica Cerulo (E) are longtime friends of WITI. They previously ran Of a Kind, which was an incredible platform for interesting designers doing limited run objects. Now they are pointing their taste and curation towards their own consulting and media endeavors and we sincerely hope it builds into an Oprah-esque platform of power. I've rarely known a duo so dialed in across multiple topics, and always pay attention to what they are liking. -Colin (CJN)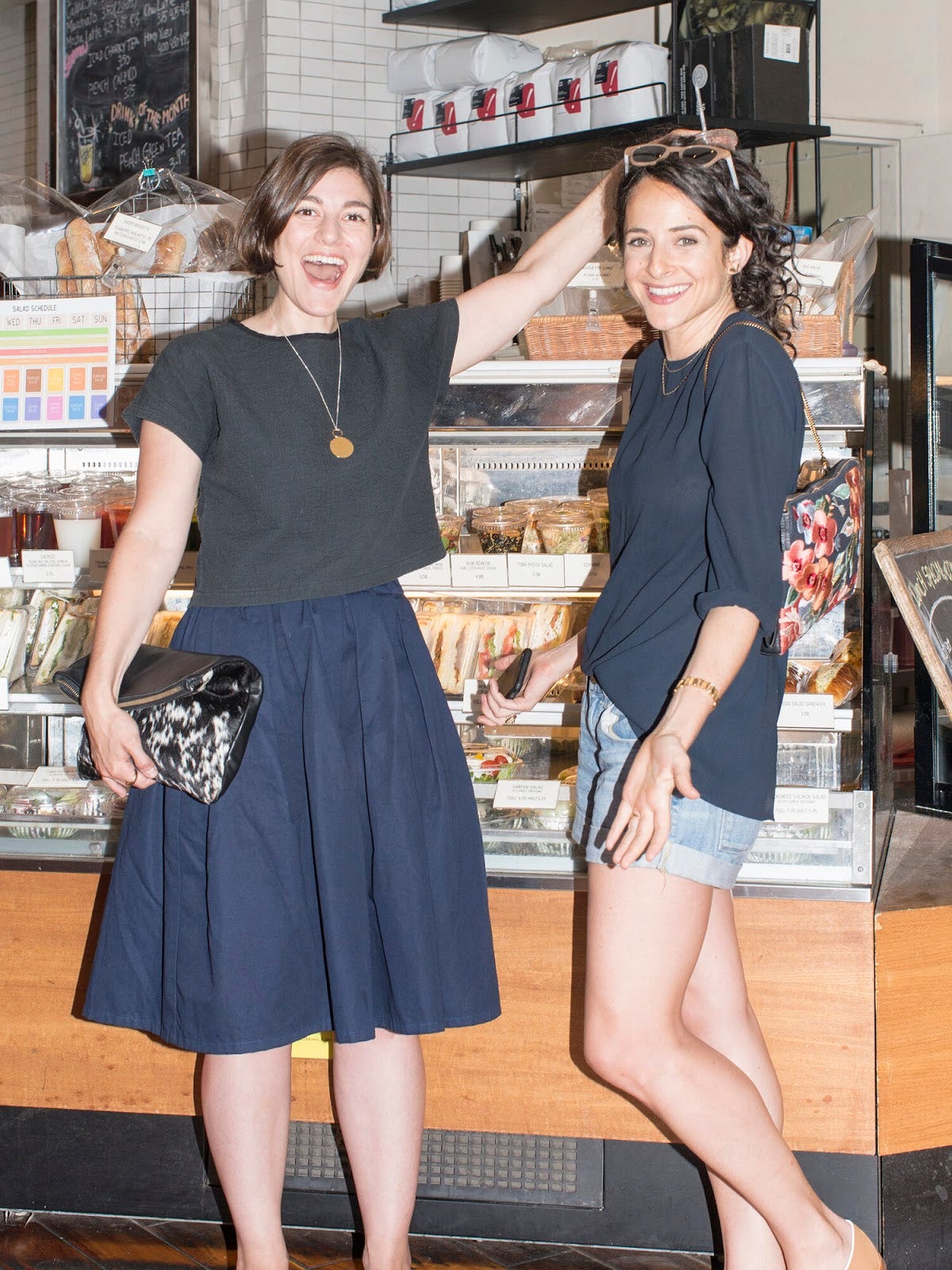 Tell us about yourself.
We're the co-founders of Of a Kind (RIP) and the co-creators of the A Thing or Two newsletter and podcast, where we share all of the things we think more people should know about from books to recipes to products to...well, everything. We also consult on brand and content for companies we love. Of a Kind was one of the first online businesses to meaningfully combine content and commerce, and when we sold the company to Bed Bath & Beyond, we got to apply that approach at a different scale. It's been fun to take those learnings and practice them in different contexts. We met as undergrads at the University of Chicago in 2002, started our first business in 2010, and still like each other—and like working with each other—a whole lot. We wrote a book called Work Wife: The Power of Female Friendships to Drive Successful Businessesthat gets into all of that. 
Describe your media diet. 
C: I'm very on-trend with my media consumption in that it is made up of so many newsletters and podcasts. It just makes sense to me to consume written things via my inbox, where I spend so much time anyway and can search easily. They're all filtered into my primary inbox and also tagged so I can go review them in one place when I'm pulling ideas for our newsletter. Some favorites: This one (obviously), Lean Luxe, The Examined Life, Ann Friedman, Cassandra Daily, The New Consumer, Trapital, Garden Variety, Here for it w/ R. Eric Thomas, Business of Fashion, Public Announcement, and Tech Support. Omsom—an excellent brand of Asian sauces—has a very good one, as does Storq, a maternity line...I could go on! I also use Pocket and Feedly but am not as habitual as I'd like to be with either of them. I think the only things I read in print are New York and The New Yorker. I haven't been all that consistent about podcasts lately—lots of jumping around to different shows and bingeing miniseries —but I do have a stable of pop-culture/chat-style ones that are my comfort food: Jam Session, Call Your Girlfriend, Who Weekly, The Read, Keep It, Sexy Unique Podcast, Foxy Browns. And there is, of course, also a lot more Instagram and Twitter than I'd like. (Zach Baron's excellent interview with Jaron Lanier in GQ has not made me feel any better about it.) I am desperate for Instagram to have a "list" functionality like Twitter has, because I discover and keep tabs on so much there and would like to be able to do it in a more strategic and meaningful way.  I also do a lot of what I jokingly call "visual notetaking"—I screenshot tons on my phone and take pictures of things in magazines or out in the world that I want to look into later or remember to tell Erica about. I try to make a weekly habit of reviewing my screenshot folder. 
E: So, so many newsletters. Deez Links (which I'm more or less obsessed with), Girls' Night In, THR's Today in Entertainment, The Broadsheet, Oversharing, Five Things I Ate, Read Like the Wind, The Noah Kalina Newsletter, Shelter, Drawing Links, raceAhead, and many of the ones Claire called out. I tend to read them in the morning before I settle into the day. I've been much worse about listening to podcasts now that I don't have a commute, and missing them like I do is a good excuse to start scheduling more solo walks. My husband Thomas and I get the physical NYT delivered on Wednesdays and Thursdays—this delivery schedule is not technically an option, but Thomas is very hardcore with his vacation settings to achieve it. It's great to get the actual paper! I read things in print that I would miss online. But getting it every day is just too much, at least for my house. I am such a magazine person, but I let some subscriptions lapse recently because everything was feeling meh or dated. I did just re-up on GQ after a few years' hiatus, though. I like what the new-ish crew is doing over there, and I loved this Business of Fashion story about pulling together an issue during lockdown. When I lose focus while I'm working, I check in on my Feedly—and sometimes Twitter and Instagram, though that's when the time just vanishes—and save longer stories to Pocket to read at the end of the day or in bed on weekend mornings. I miss Phil Chang's incredible news deep-dives on Instagram (that took an outrageous amount of work for a person who was not being paid a dime!). I relied on his roundups—especially from March to June—to assure me that I wasn't missing anything big.
What's the last great book you read?
E: Leave the World Behind by Rumaan Alam, which comes out October 6. (Aren't I fancy?) I read and loved both of his other books—Rich and Pretty and That Kind of Mother—and thought that I knew what to expect from a Rumaan Alam book. Boy, I was wrong about this one. It's just as knowing and spot-on about relationship dynamics as his other work, but it's eerie, disquieting, and prescient, too. The premise: a white Brooklyn brownstone family rents a Hamptons house, and the owners, an older Black couple, show up, fleeing the city from some sort of apocalyptic event. Julia Roberts and Denzel Washington are already signed on for the Netflix adaptation. 
C: I have to be honest and tell you that I have read some truly great, meaty, literary, award-winning books this year, but the actual last, great book I read was The Idea of Youwhich is a romance novel that is about a 39-year-old art gallery owner in LA who gets wrapped up in a torrid love affair with a 20-year-old rock star who is also her teen daughter's idol, and is not-so-loosely based on Harry Styles. It's well written and the references are all spot-on—our heroine wears The Row and eats at Bestia and stays at Crosby Street Hotel. And most of all it's a beautiful fantasy. 
What are you reading now?
C: I wish I had a more exciting answer, but I have been reading No-Drama Discipline: The Whole-Brain Way to Calm the Chaos and Nurture Your Child's Developing Mind for what feels like a century. I'm not good at reading two books at once, so I've forced myself not  to pick up anything else until this is done. (Though Yaa Gyasi's new novel just came in the mail, and I'm either going to have to break my rule or stay up all night finishing this so I can move on.) I actually like No Drama Discipline, or a least like the philosophy behind it, but I find parenting as a topic fairly boring and find parenting books especially boring. I resent them for being as long as they all are—most people reading them are doing so because they are, at least to some extent, suffering, and desperate for answers as quickly as possible. 
E: I'm typically a one-book-at-a-time type of gal, but during the last few months, I've needed to have a few different things in the mix to suit various moods. I'm reading Real Life by Brandon Taylor and The Idiot by Elif Batuman—both are campus novels, but very different ones—and also A Black Women's History of the United States by Daina Ramey Berry and Kali Nicole Gross. I know I'm hardly alone in this, but I can't believe how poor my history education was.
What's your reading strategy when you pick up a print copy of your favorite publication?
C: I start from the back and flip forward to the front, and I have been doing this since I was a kid, well before I was aware of back page features being a thing. (Though the Approval Matrix has given me no reason to change course at this point.) I can't explain it other than I find it to be a much easier, more natural physical movement to read it that way? 
E: Wow, I just learned something new about Claire—or at least something I'd forgotten! This now seems like a controversial response: I read magazines front to back. But in multiple passes. My first go, I read the little stuff—front-of-book, one-page stories, back page—and I flag longer pieces that I want to come back to. Most of my magazine-reading happens over breakfast, which gives me about enough time for that initial skim or one longer feature. 
Who should everyone be reading that they're not?
E: Can I give two answers? Great, because I'm going to. Kaitlyn Greenidge and Hayley Nahman, who both have incredible writerly newsletters. I had no idea I'd like getting personal essays in my inbox like this, but, man, do I when they're written by them.
C: Anything by R. Eric Thomas. He's got a book, a newsletter, and a gig at Elle.com, and he's the funniest writer on the internet. He is also the one responsible for "Auntie Maxine." 
What is the best non-famous app you love on your phone? 
C: I am passionate about Capsule Pharmacy. It's an incredibly seamless and simple prescription delivery service, and the customer service is lovely and very human. I get chronic migraines and being without my meds is a top-tier fear for me. They text me as soon as a refill is ready, or if I'm out of refills, they'll get in touch with my doctor. 
E: I consider myself an unofficial brand ambassador of the Libby app. With it, you can borrow ebooks and audiobooks from your local library—even now when a lot of libraries are closed. It's a glorious, frictionless experience, and I don't understand how it's not more of a thing.
Plane or train?
E: I'm stressed right now thinking of either. I hope that changes soon.
C: Oh, I don't know. The "getting there" has never really been the exciting part for me unless someone else is paying for me to do it in a very fancy way. I think flying business or first class is an absolute delight, but I very rarely do it.
What is one place everyone should visit? 
C: The voting booth.
E: New York City. Which is obviously not dead.
Tell us the story of a rabbit hole you fell deep into. 
E: Ok, because I am the owner of an actual rabbit, I'm going to take this opportunity to go extra hard at this question's theme. Did you know that there's also a bunny pandemic happening right now? That's been dubbed "rabbit Ebola?" That's right—enough already, 2020. I spent a good deal of time digging into all the ways my bunny could get it, the symptoms, and the horror-movie vibes. Then The New Yorker did a story on it, which was, frankly, both a blessing and a curse. It is excellent and informative and rich and includes lines like "It can persist on dry cloth with no host for more than a hundred days." Get me outta here.
C: Last time I was at my parents' house I got lost for hours in a huge stack of papers and files that belonged to my late grandparents, both of whom were academics—my grandfather a biochemist and my grandmother a mathematician. There were military records, hand-written letters, death certificates. Eventually I uncovered a clipping from The Daily News in 1937 that was about this incident in which my grandmother and a fellow teacher were retaliated against by City College for having joined the union. There's a photograph of the picket line protesting on their behalf, and right there in the middle is my grandfather, dressed in a suit and remarkably wide tie, carrying a sign that says "Every Teacher a Union Teacher." But the incredible thing is that my grandparents didn't even know each other when the picture was taken—they wouldn't meet until a few years later at a dinner party hosted by a mutual friend. How Humans of New York is that?! Nobody in my family had seen the clipping or been  aware that my grandfather had been involved. The whole saga had always been family lore, but mostly because Albert Einstein had written a letter to City College in my grandmother's defense, which seemed like the most extraordinary detail one could imagine. Now that I've seen the clipping, I'd award that second place at best?
Thanks for reading,
Noah (NRB) & Colin (CJN) & Claire (C) & Erica (E)
—
Why is this interesting? is a daily email from Noah Brier & Colin Nagy (and friends!) about interesting things. If you've enjoyed this edition, please consider forwarding it to a friend. If you're reading it for the first time, consider subscribing (it's free!).