Discover more from Why is this interesting?
A daily newsletter for the intellectually omnivorous, from Noah Brier & Colin Nagy.
Over 21,000 subscribers
Why is this interesting? The Monday Media Diet with Tracksmith's Matt Taylor
On running, reading, and raptors
Matt Taylor (MT) is the founder and CEO of Tracksmith, a brand that we have admired since its start. It is rare to see a young company with such a strong sense of self, with great art direction and such a great product. Here, he shares some of his reading, rituals, and what catches his attention. Have a great week. -Colin (CJN)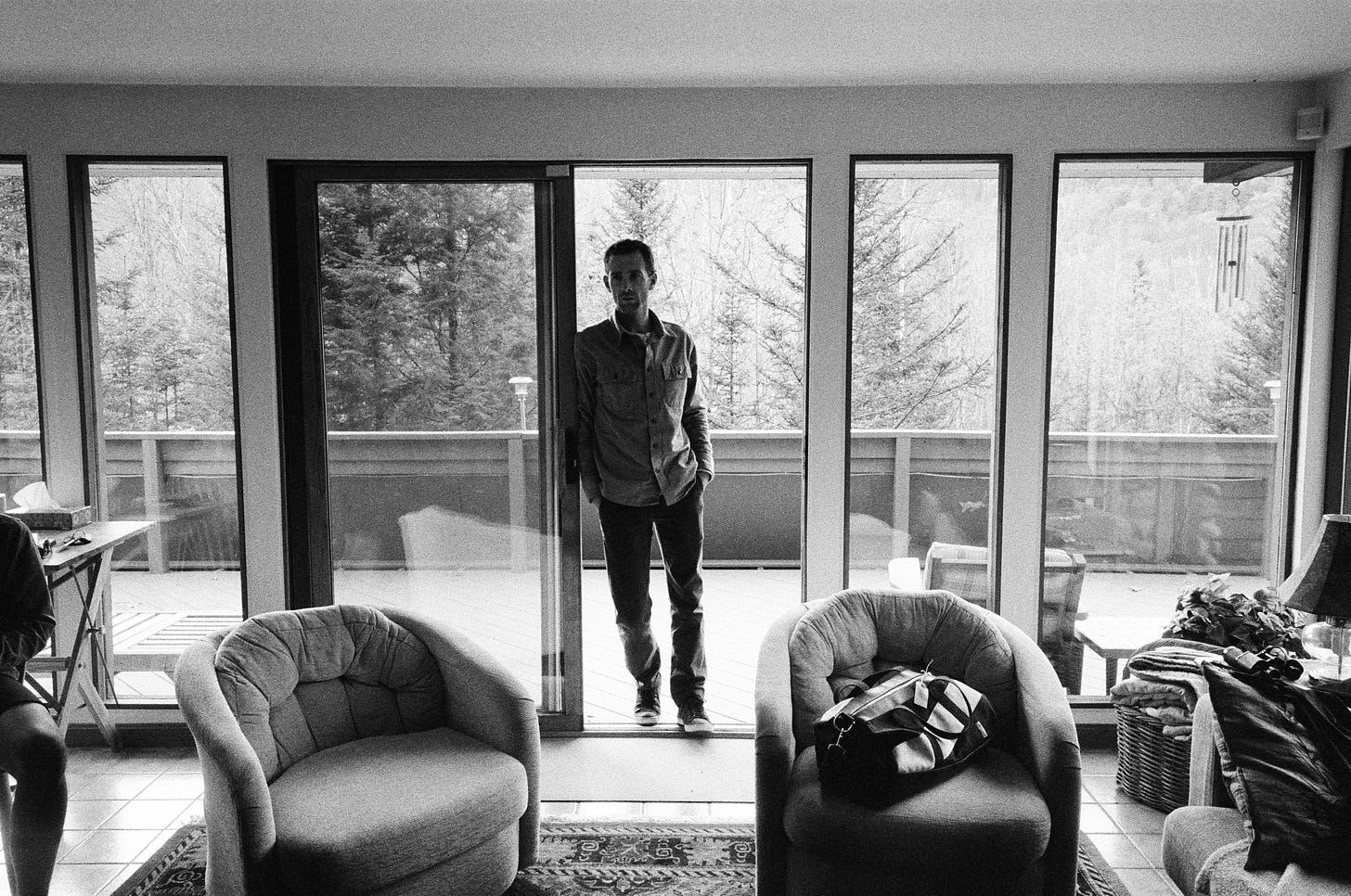 Tell us about yourself.
I'm a runner, dad, husband, and the founder and CEO of Tracksmith. I'm mediocre at some, but not all. It just depends on the week. I grew up in Pittsburgh in a coal and steel family. My brother and I were the first generation not to work in a mine or mill. My mom was entrepreneurial by nature and my dad by necessity, as the steel industry shuttered in western Pennsylvania over the course of a few years. As an impressionable child, watching them find ways to make it work was an incredible source of inspiration. Most of my family got the maker gene. My parents made furniture and other home goods, plus they renovated houses before anyone used the term "flip" to describe buying, fixing, and selling homes. My brother - polar opposite of me, by the way - is one of the most talented craftsmen I've ever seen. He mostly builds custom interiors, but also makes his own jazz guitars, beehives, and picture frames. And my uncle is a painter and writer. I can't read my own handwriting. 
My wife and I met running track at Yale. That was an impressionable period in our lives and running is now ingrained in our identities, even during periods when we can't run as much as we would like. She grew up on family farmland and is now a partner at a big law firm. I get a lot of free* legal advice at the dinner table, which has probably saved Tracksmith tens of thousands of dollars over the years. (*well, "free" is subjective, I guess; I think I paid for it one way or another.) Like many founders who have spouses while starting a company, my wife is a silent co-founder; she's been through everything with me and provides so much guidance and support. Our kids, Grace, and Fleet are 10 and 8. I'm biased, but they're pretty great. 
Describe your media diet.  
Most mornings start with The Morning newsletter from The New York Times and The Monocle Minute. It's a nice blend of national and international, and I can consume it regardless of the chaos in the house. After that, I'm heads down with work. (Back when I was commuting I would listen to podcasts, but I've listened to fewer since COVID.) My afternoon snack is Paul Munford's Lean Luxe Debrief newsletter. Whereas The Morning is geared towards a mass audience, the Debrief is so hyper-focused on a specific audience. Yet I find them both invaluable. Sprinkled in during the week are a few running-specific newsletters I love: The Morning Shakeout, Fast Women, The Kick, Lope Magazine. I'm also a sucker for print, so at night I like to flip through the latest Monocle, Sports Illustrated or National Geographic (for kids). I also don't use social media, but I'll procrastinate clicking around the internet like everyone else. 
What's the last great book you read?
The Charm School by Nelson DeMille. I try to mix fiction with nonfiction, but when it comes to fiction I almost always gravitate towards spy thrillers. Nelson DeMille is my favorite author in this genre; I've read most of his books. If you're looking to escape, he's a great read. 
What are you reading now?
Running With The Buffaloes by Chris Lear. It's a book I read many, many years ago, but felt a desire to give it a second read. It's a cult classic in running circles (along with Once A Runner) as it chronicles the University of Colorado's 1998 cross country season. There are extreme highs and lows and the book really helped solidify Boulder, Colorado as a training mecca for distance runners. Almost every serious runner has taken - or dreams of taking - a pilgrimage to Magnolia Road, a hilly dirt road north of campus that sits at 9,000 feet where the team did all of their Sunday long runs. 
What's your reading strategy when you pick up a print copy of your favorite publication?
Not only am I a sucker for print, but I'm also a sucker for print ads. So I start at the beginning and flip through page by page. I won't read everything, but I start on the first page and end on the last. I appreciate pretty pictures and compelling words. 
Who should everyone be reading that they're not? 
Meter Magazine, our quarterly publication at Tracksmith. I'm only half kidding. As a runner, there was a void in the market for great stories and great photography. So we decided to create that ourselves. 
I'll actually step outside this question a bit to recommend someone everyone should be listening to. I love stand-up comedy as a medium. Humor, when done correctly, makes people think and forces them to deal with things that aren't always comfortable. Of course, there's a lot of terrible, crass, lazy humor, and unfortunately, much of that breaks through because, you know, human nature. But if you like to work for your laughs, you have to check out Gary Gulman. He recently went public with the fact that he suffers from depression, and was even hospitalized a few years ago. So his routine has evolved a bit in a way that brings awareness to this issue through comedy, but his earlier work is some of the funniest you'll find - a perfect blend of observational and surreal humor. It's hard to pick favorites, but this, this and this are great places to start. Enjoy. 
What is the best non-famous app you love on your phone? 
I am fascinated with birds of prey, so I'd have to say Raptor ID. It's an app built by the Cornell Ornithology Department that helps you identify different raptors. I use it mostly for the vocalization feature, where you can hear the types of sounds a specific bird makes. On the rare occasion, I will go out at dusk into the woods or along the edge of an open field to listen for and track owls. My dream retirement involves falconry. 
Plane or train? 
Definitely train for me. Some of my fondest Tracksmith memories involve the Acela Express between Boston and New York. Two specific examples: the trip I took to meet the first investor who agreed to back my vision and the last trip I took before COVID - a meeting with Malcolm Gladwell to discuss some ideas about the sport. I don't dislike airplanes, but there's something about the train from Boston to New York that I greatly prefer. Showing up at the station 10 minutes before the departure time. Arriving in Midtown Manhattan and being able to walk most places I need to go. The ability to work the entire way, or socialize with coworkers. It's not luxurious, but it's more convenient for me. 
What is one place everyone should visit?  
If you're a sports fan and looking for a more unique experience, come to Boston during Boston Marathon weekend. The city is at its best, and because Monday is a holiday for Massachusetts, you can enjoy a long weekend. 
Tell us the story of a rabbit hole you fell deep into.
During this WFH period, our team has been staying connected by doing presentations every Wednesday. There is no guidance on the topic or format, so we've seen some really interesting things - music trivia, an illustrated and sarcastic history of Boston, donut making. But my favorite was when Lee, our marketing and communications director (and amateur history buff), did a drunk history lesson on the black plague. I spent quite a bit of time with google and a bottle of bourbon after that one. 
Thanks for reading,
Noah (NRB) & Colin (CJN) & Matt (MT)
—
Why is this interesting? is a daily email from Noah Brier & Colin Nagy (and friends!) about interesting things. If you've enjoyed this edition, please consider forwarding it to a friend. If you're reading it for the first time, consider subscribing (it's free!).