Discover more from Why is this interesting?
A daily newsletter for the intellectually omnivorous, from Noah Brier & Colin Nagy.
Over 21,000 subscribers
Why is this interesting? - The Monday Media Diet with Lane Florsheim
On working with a pug, the charms of Casa Magazines, and amazing vintage advertising
We've been reading Lane Florsheim (LF) in the WSJ for some time. She was initially introduced to us by a friend of WITI (and WSJ Mag assistant photo editor) Sara Morosi. She's known for profiling interesting people and now we've turned the tables to see what is garnering her attention these days. - Colin (CJN)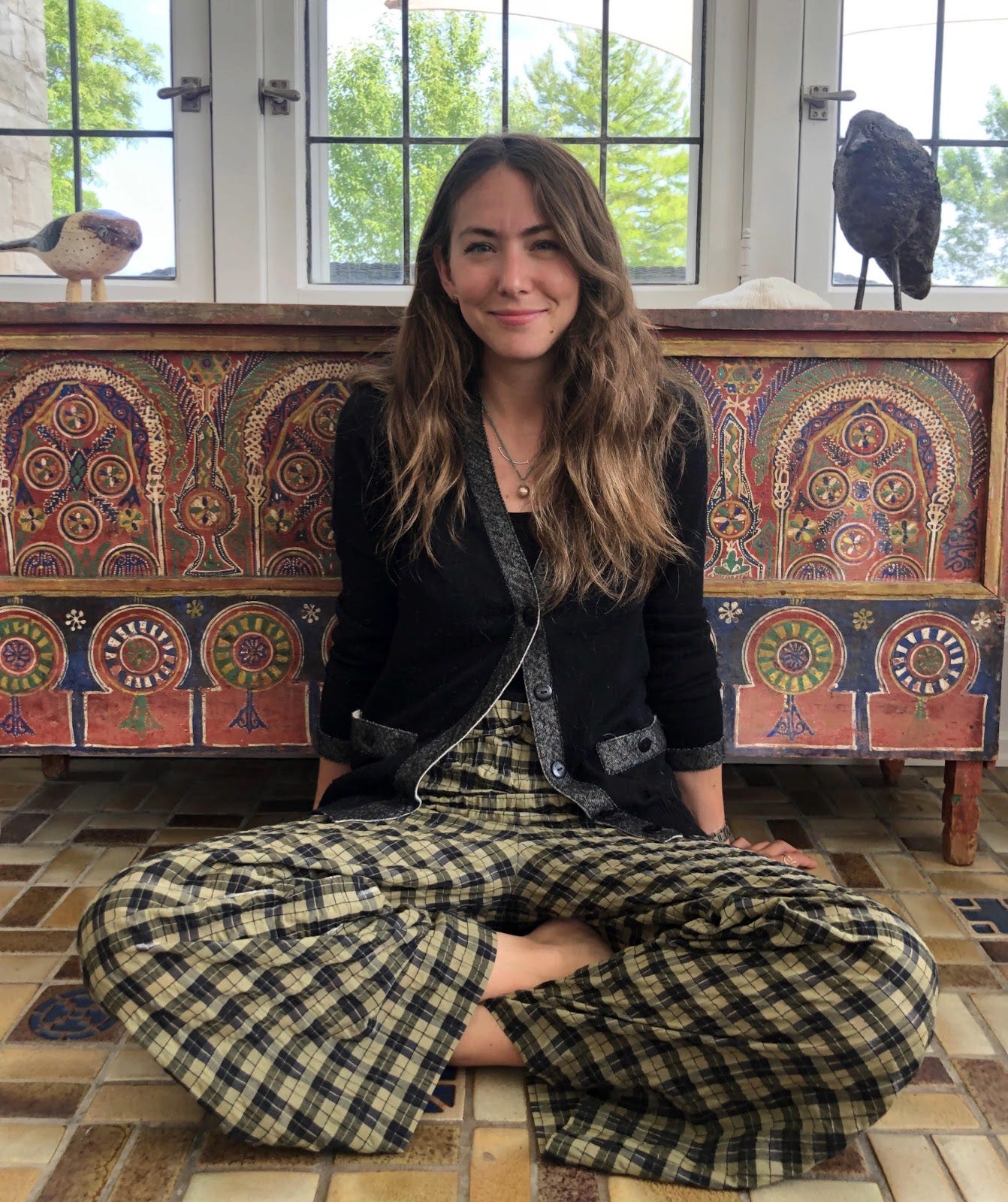 Tell us about yourself.
I'm Lane Florsheim, a staff writer for The Wall Street Journal Magazine online. I do our My Monday Morning column, where we interview people about their routines and how they begin their weeks. I mostly cover lifestyle; recently I've written about sexy air conditioners and profiled Matthew Macfadyen (probably best known as Tom on Succession and 2005 Pride and Prejudice Mr. Darcy). Right now I'm quarantining in Milwaukee where my parents' pug naps on my lap through most of the workday, I'm not sure how I'll exist without him and his weird but cute sleep sounds when I go back to New York.
Describe your media diet. 
Too much Twitter. WSJ, NYT, the Washington Post (always read Robin Givhan), the NY Post and Page Six. The Daily Mail most days to be honest. I usually look through The Cut and Vogue's homepages in the morning and afternoon and read a bunch of articles. On a weekly-ish basis: The New Yorker, Artnet, Business of Fashion, GQ, VF, The New Republic, The Atlantic. I like Ssense's editorials. ArtForum, BookForum, and 4Columns for culture and criticism. My favorite newsletters are Scott Galloway's No Mercy/No Malice, Fariha Róisín's How to Cure a Ghost, Clémence Polès's Passerbuys and Edith Zimmerman's Drawing Links. I read the Eater NY newsletter most days and always click on something. THR's Today in Entertainment is a handy morning briefing, as is the BoF Daily Digest. And WSJ. Magazine's weekly newsletter, of course.
What's the last great book you read?
I read The Black Power Mixtape 1967-1975 by Swedish filmmaker Göran Hugo Olsson in one sitting the other night. That's not a brag, it's gripping, not super long, and has pictures. Olsson weaves together speeches and interviews with civil rights leaders like Angela Davis, Stokely Carmichael, and Harry Belafonte with more recent commentary from Davis, Erykah Badu, and Talib Kweli and others. It covers those eight years, and many different thinkers, really effectively. 
Because the film crews were Swedish (there's a rumor that Sweden has more footage of the Black Panthers than the U.S.), there's a naive feeling to parts of it since they didn't have the context of growing up in the U.S. "They asked very innocent yet illuminating questions," Danny Glover writes in the intro. I for one didn't know that when Angela Davis was in jail awaiting her trial, Swedish Television demanded an interview with her for more than a year and used several lawyers to get through the courts—it was the first time a TV camera was brought to her cell, no U.S. networks did the same.
What are you reading now?
I just started The Romanovs by British historian Simon Sebag Montefiore, a friend recommended it to me. It's 700 pages long and feels like I'm carrying around a brick but it's very juicy. I'm also reading the novel The Vanishing Half by Brit Bennett and The Vanderbilt Era (non-fiction) by Louis Auchincloss. 
What's your reading strategy when you pick up a print copy of your favorite publication?
I look at the TOC and note which stories sound most intriguing, then pore over the masthead. After that, it's pretty much front to back. Sometimes I'll get a magazine for one story or fashion shoot in particular and go straight to it. I really miss Casa Magazines in the West Village, one of my favorite neighborhood places. 
Who should everyone be reading that they're not?
Does everyone read Shirley Hazzard? I've read three of her novels during quarantine and they're transportive. Especially The Transit of Venus. 
What is the best non-famous app you love on your phone? 
I love the gallery guide See Saw. I don't think it's famous. I haven't used it lately obviously, but it lets you look through a list of everything that's showing in, for example, the Chelsea galleries or wherever you are. You select the shows you want to see and it adds pins for each one to a map so you know exactly where to go on each street. 
Plane or train?
I love trains more, but I do some of my best movie watching on planes.
What is one place everyone should visit? 
I don't think I can pick one place for everyone but I recommend the experience of traveling alone if you can. You learn so much about a city or region, etc. that way. And about yourself sometimes. I went to Paris by myself last May and understood its geography better after a handful of days than I did after an entire semester of studying abroad there during college. (Embarrassing!) (I have a really bad sense of direction and took the métro everywhere then whereas during my solo trip I walked.) 
Waking up in a new place (definitely doesn't have to be abroad) by yourself with an entirely empty day and being able to fill it however you want… it doesn't get better than that. Time feels longer, in a good way. During that trip, I had to leave a cafe because I had been having such a nice time drinking a spritz and eating potato chips by myself and then a nice German tourist turned his seat around to join my table and completely changed the energy of the afternoon.
Tell us the story of a rabbit hole you fell deep into. 
The other night, I found an issue of Town and Country from the month I was born (September 1990). In it, there was a Rolex ad featuring the artist Helen Frankenthaler in her studio. So cool! Then I found this Gap ad with Ed Ruscha and his son. There's Dalí endorsing Old Angus scotch, Andy Warhol for Sony Beta tape. I'm going to be on the lookout from now on. Put artists in ads again! Another rabbit hole I'm always going down is that I'm obsessed with StreetEasy and looking at NYC real estate, especially humongous and opulent apartments. It's so fun to see inside, especially dream bathrooms and closets. I once saw a closet that had its own balcony—a walk-in and walk-out, if you will! And so now I'm actually looking for apartment buildings from afar for myself to move to in the fall and I get notifications from the StreetEasy app like, "5 new today for sale: listings between $25,000,000 and $500,000,000 in Manhattan." Thank you, that's very helpful.
Thanks for reading,
Noah (NRB) & Colin (CJN) & Lane (LF)
—
Why is this interesting? is a daily email from Noah Brier & Colin Nagy (and friends!) about interesting things. If you've enjoyed this edition, please consider forwarding it to a friend. If you're reading it for the first time, consider subscribing (it's free!).