Discover more from Why is this interesting?
A daily newsletter for the intellectually omnivorous, from Noah Brier & Colin Nagy.
Over 21,000 subscribers
Why is this interesting? - The Monday Media Diet with Fern Diaz
On sobriety, Sontag, and the power of Reddit
Fern Diaz is a woman of many talents, she's worked in publishing, as a strategist, and co-founder of theater incubator softFocus. She's always got an interesting project going on and she is a great connector of people. We're pleased to have her on the page. -Colin (CJN)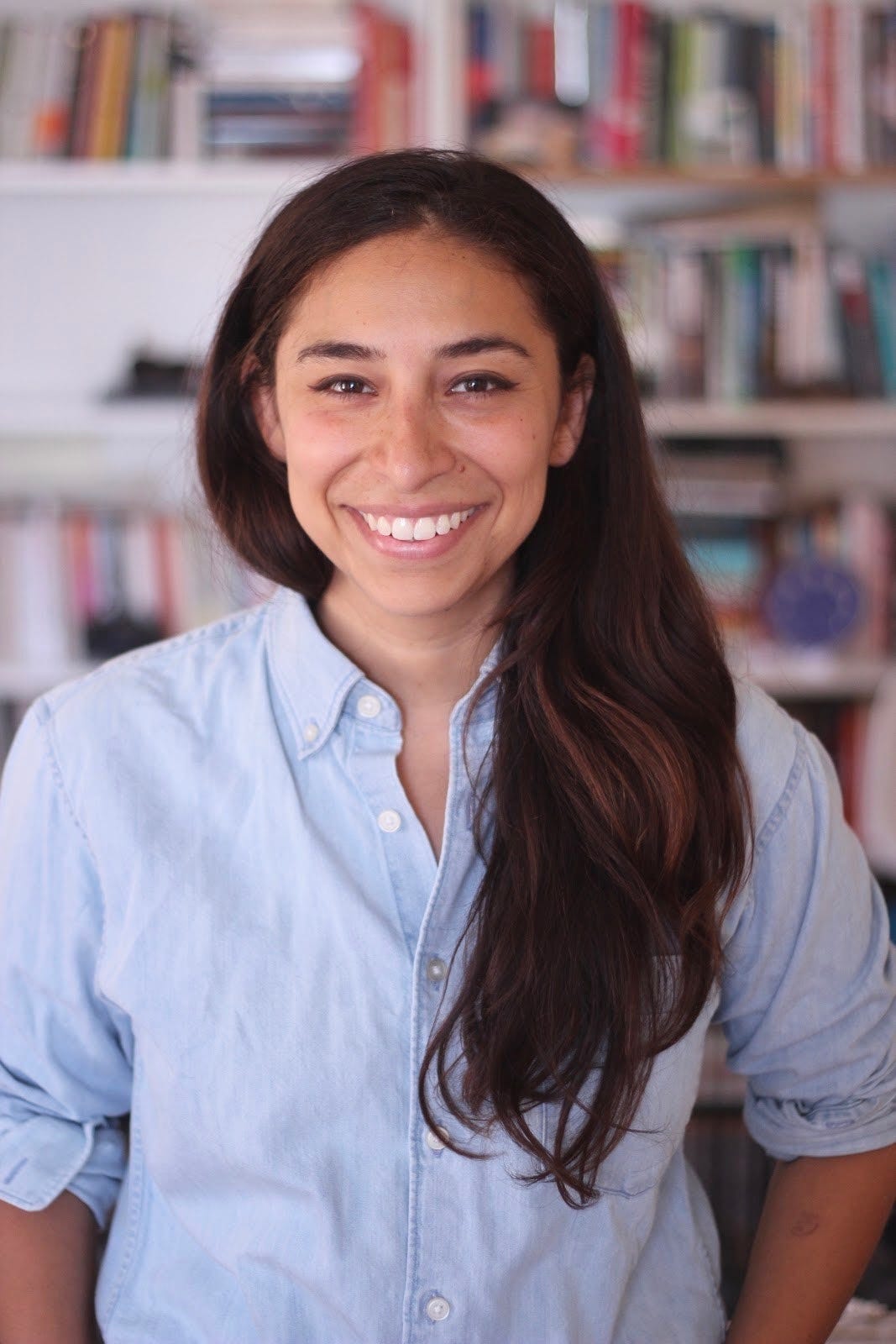 Tell us about yourself. 
Right, so: I really struggle with this question! Every time. I remember one time I was in one of those "tell us a fun fact" orientations and mine was, "I have an earring collection." Like….what? 
Well, one thing you definitely should know about me is that I used to drink and now I don't. It's been 237 days. So even if I had a standard answer to this question, it'd be outdated, by 237 days, to be exact. Let me check my phone actually… Oh, I was a day off. 236 days. Pretty good, still. So yeah, for obvious collective reasons, and this personal one in particular, I've just been feeling like a completely different person recently. (This is relevant I swear.)
So yeah. Um. What else can I tell you…? Well, I'm lonely and angry, and I'm tired of fucking cooking. But I'm doing things that are new to me. I'm directing, for the first time. I've been really writing, for the first time in a long time. I am getting "into Reddit." I bought an album on Bandcamp the other day. I have decided that I will stop being such a pill and try mushrooms. I think I might "learn Pro Tools." Or like "Buy a GoPro." Yeah, NOTHING SPECIAL! But for me they're leaps. Even just being OK saying them out loud to you. 
Describe your media diet.
When you asked me to do this, I just kept thinking ))<>(( Like: "We're all just passing the same good links back and forth forever." But, I also love that. I love my feed and I'm addicted to it. 
OK so. You know how some people are like, "I died with Google Reader" or whatever? I get it, but I'm more of an early-Tumblr mourner. So I try to replicate that experience when I can.
In early April…I think…I canceled my subscription New York Times. I used to get it in print and everything. But it was just time. I did it for budget reasons, but also because...For a while I had been feeling increasingly stuck in these comfy patterns, these values — you know, like, "I love New York! I support truth! I believe in the power of theater!" And my daily media routine has a lot of power over me when really it should be the other way around. 
[I remember once I had to help a client hire for a director role, for a media-related job, and in the final interview we asked the applicant, "so what are your go-to reads?" And she was like, "I love the New York Times." And a few of us from my team talked shit about it after, like, "Can you believe that?!" But it's not like we weren't 100% the same, with our Times subscriptions and our Times Talks and our Times totes. At that moment, we were rolling our eyes because we couldn't believe she'd LEAD with that — as if how you talk about what you read is more important than what you actually read. Which is fucked, because, of course, it's not.]
So now I'm seeing what it's like to clear that disproportionately large chunk of my media diet and fill it with…anything else. I hit that paywall and have to move on. I've been trying out the Bandcamp blog. Foreign radio or non-English audio. The Paris Review — but actually reading it. Midwestern boy bands doing reaction videos on YouTube. Whatever. My subscriptions are still active for Bloomberg Businessweek, The Nation, The New Yorker, Bookforum, The New York Review of Books, The London Review of Books, and New York Magazine. LOL. But I haven't really read them in months.
Honestly…I'm more into everyone's Facebook posts right now. I don't have that scary of a Facebook feed. It's a lot of rants from people in their 30s—better than most op-eds tbh.
Still, the best $3.50 (!) I spend is the monthly n+1 subscription (print and digital!). n+1 is hands down the best magazine. Just no argument. And I'm all-in on The Correspondent, this patron-funded Dutch site that is the only member-funded "journalism startup" that I think actually works.
What else…Well right now I'm inching towards paying more for newsletters than I was for the Times, but they're just so great. From the Tumblr-esque, to the link newsletters (although Girls' Night In and Public Announcement, my favorites right now, are free), to the personal/niche (The Small Bow on sobriety, Penny Fractions and Flow State for music, Article Group, 2 PM, and Steve Bryant for strategy). I miss Leah Finnegan's. I'm excited for 1.5x speed, the new NYMag podcast newsletter by Nick Quah.
I mean, that brilliant Noam Chomsky interview about Joe Biden recently was from...a Substack. I remember seeing it come out in bits on Twitter, and then looking for it on Google News search...and it wasn't there. That should have meant that it didn't exist, right? It wasn't even indexing! So that day I was like, holy shit, this is real. 
The world of independent auteur media, for the first time, is very exciting to me. It's like Tumblr was, but better, because it's bigger, you can pay for it, and everyone has so much more experience. 
Also, the audience is moving further and further left, so the baseline is different now. 
What's the last great book you read?
What are you reading now?
Sontag: Her Life and Work by Benjamin Moser. The introduction was so good I'm a little worried about the rest of the book living up to it, but yeah.
Jesse Eisenberg'sWhen You Finish Saving the World, created for Audible and A24 — honestly great?
What's your reading strategy when you pick up a print copy of your favorite publication?
N/A
Who should everyone be reading that they're not?
Yes, Twitter is free, but I'd pay to read these people's tweets, if it came to that. 
Josie Duffy Rice (lawyer/publisher)
Sam Moyn (law professor/writer)
Taylor Garron (comedian)
Nissy Aya (playwright)
Kyle Chayka (critic)
Sarah Holdren (critic)
Alicia Kennedy (critic)
Alana Levinson (editor)
Chris Hayes (reporter)
Jacob Silverman (reporter)
The Creative Independent (artists)
Talkhole (comedians)
Miracle Jones (writer/publisher)
Jeremy O. Harris (playwright)
Tim Wu (law professor/writer)
What is the best non-famous app you love on your phone? 
Readwise. If you're a Kindle or Instapaper user, get Readwise, which organizes your highlights and sends you a digest. (To interface with Kindle, it's not an app, it's a browser extension). Download it and thank me later.
Plane or train?
In this economy?
What is one place everyone should visit? 
See above.
Tell us the story of a rabbit hole you fell deep into. 
Well I've been spending a lot of time on the r/oboards. The r/oboards are the Reddit community for fans of Conor Oberst and Bright Eyes. And because of the title of this newsletter, I hesitated to even mention it, because there's nothing inherently interesting about subreddits where people gather around their favorite bands. But that fact is actually fascinating, to me. 
I know that when I encounter someone else's fandom and there's no overlap, as in, I don't know much about the thing they're into, their fandom can make them seem...superficial. This happens to me all the time with people's love of sports or video games. But I've been thinking recently that if I just took a few seconds to relate it to my own fandom...and how deep it can go...and how good that feels... I could switch that off. But that's actually really hard. 
I think what's great about long-term fandom is that it's less about the object of your fangazing and more about you. People looking at someone else's fandom from the outside often get that wrong (It takes the form of, "why would you care so much about ________?") But it's really more about the act of caring, full stop. I firmly believe that if you're in deep, staying interested in that thing over time is a way to do something nice for yourself. 
To be honest I hesitate to even use the word "fandom" out loud. I don't think the term has caught up to 2020. Fandom is so often used to distinguish the way other people obsess. Like: Not me, them. But I know, or hope, that everyone can all recognize the feeling of fandom without having ever looked the part. 
There are risks to fandom, of course. It can be alienating, blinding, toxic, and it re-enforces hierarchies. Top-down, it's harnessed to monetize the human need for art or competition or ideas. But the conversation around fandom is already changing, like in the most recent conversation about the end of "celebrity." (It's sort of easier to imagine the end of the world than the end of celebrity, you know?). On the r/oboards, the moderators ban conversation around the band member's personal lives, which is how it should be; in the food world, work that food reporters are doing to critique the cult of personality around chefs is astonishing.
But I'm more and more convinced that there's something grounding about fandom that is important to hold onto, and...dare I say….normalize? Because more often than not, fandom exists in response to a very real need that is unmet. 
So yeah, ultimately I'm excited to think more about what it means to make space for other people's fandoms; to accept another's fan object as "interesting" rather than something that separates people. And, well, I'd love it if that openness started with the particular passions of teenage girls — passions which get ranked many levels below those of middle-aged men, despite coming from the exact same place inside of us. (FD)
Thanks for reading,
Noah (NRB) & Colin (CJN) & Fern (FD)
—
Why is this interesting? is a daily email from Noah Brier & Colin Nagy (and friends!) about interesting things. If you've enjoyed this edition, please consider forwarding it to a friend. If you're reading it for the first time, consider subscribing (it's free!).