Discover more from Why is this interesting?
A daily newsletter for the intellectually omnivorous, from Noah Brier & Colin Nagy.
Over 21,000 subscribers
Why is this interesting? - The Noma Edition
On restaurants, fame, and the role of chefs as public intellectuals
Colin here. One of my favorite writers, Wendy Steavenson (formerly from the New Yorker), wrote a wonderful FT Weekend deep dive on René Redzepi from Noma. The chef has been covered nonstop from nearly every angle in the lifestyle, culinary, and design worlds, but the piece actually managed to add depth to the man behind one of the world's most influential restaurants. 
Why is this interesting? 
One particularly striking storyline tracked Rene's ascent from a chef, cooking at then-unknown Noma, focusing on Scandanavian ingredients and "eschewing imports such as olive oil, tomatoes and lemons", into someone with a global platform (and responsibilities to boot). As he explains, "In a very short period, we went from being asked 'what's on the menu' to 'What do you think about the deforestation of [The Danish region of] North Zealand? And can you create a viable business model if you take into account the sustainability of the environment?'" 
Quite a tough transition: From being someone preparing interesting food to dealing with Davos-level lofty questions. As Steavenson observes, he has actually managed to handle this shift quite well. "In some ways chefs have become the new public intellectuals; a bridge between producer and consumer, a social hinge between rich and poor, the servers and the served." 
Instead of being crushed by the weight of expectations in this move from kitchen counter to TED stage, Redzepi has found ways to remain in control of his life, brand, and restaurant. For instance, Noma has a no-shouting policy in the kitchen, a far cry from the earlier hot-headed days. He also famously closed the restaurant at the peak of its cultural influence in 2015, re-opening it as something new and completely re-thought. 
Also, worth noting is the consistency of execution. It is one thing to have a one-off cool restaurant. It is another to close that restaurant,  and reinvent it, while in-between a) setting up a series of pop-up restaurants that maintained the high level of food in far flung locales such as Tulum, b) writing several books, c) taking fermentation out of the lab and into the kitchens and playbooks of modern chefs, and d) serving as an interesting mentor and incubator for all types of talent. 
In fact, one of the most lasting impacts of Noma is the strength of the diaspora. Chefs that have worked in the kitchen have gone on to build a wide variety of interesting projects of their own. Some are small and perfect, like Rosario Sanchez's street tacos in Copenhagen, while others are equally large and ambitious but with a different twist, like my friend Matt Orlando's Amass. Steavenson notes: "Noma alumni are now seeded in restaurants around the world — Bangkok, Tokyo, London, New York. In Copenhagen there is a veritable Noma mafia of restaurants, many helped and some part-financed by Redzepi and other partners in the Noma family." (CJN)
Art of the Day:
Extraordinary pastel drawings of icebergs from Zaria Forman. (Via the always interesting Todd L. Burns)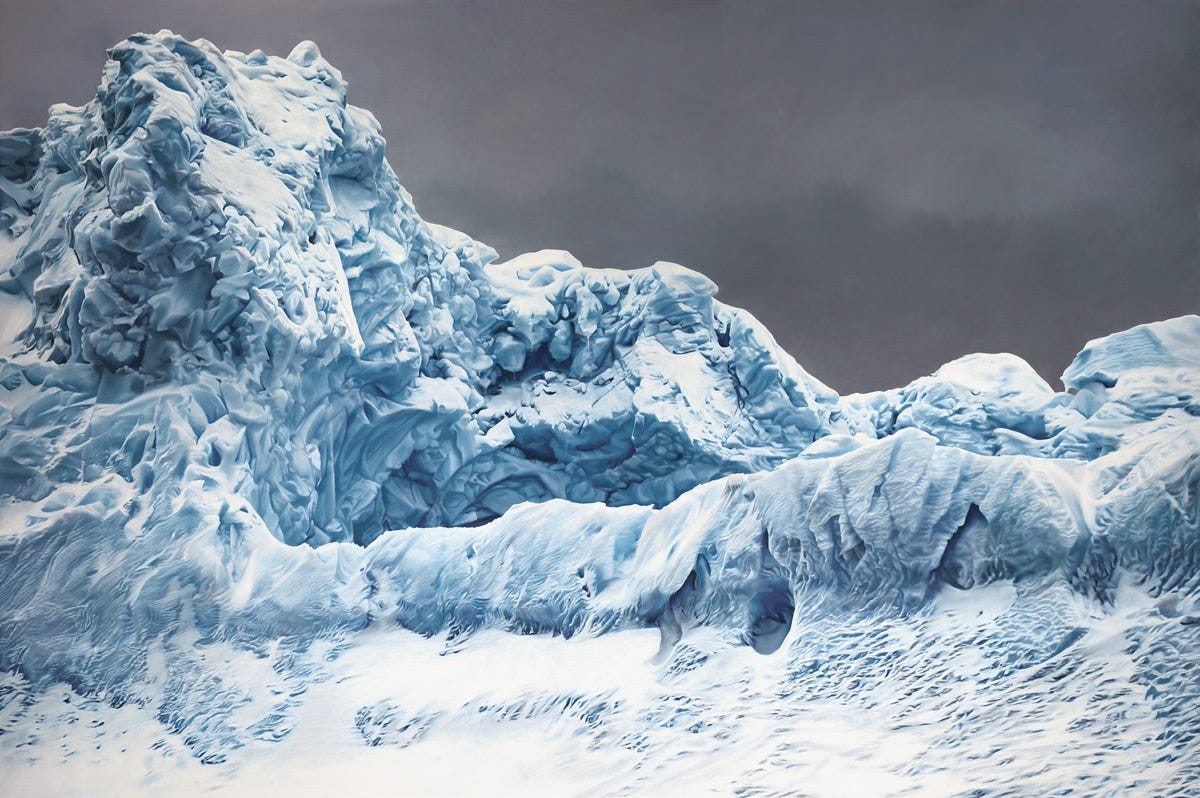 Quick Links:
I want to write a whole WITI about this post: Don't write what you know. "Because you know it. And where's the fun in regurgitating that? If people bought exam scripts between covers someone would have worked that out by now, and captchas would be a way of life not an annoyance." (NRB)

Another link that I may write a whole email on at some point: Robin Sloan on steel man arguments. (NRB)
Thanks for reading,
Noah (NRB) & Colin (CJN)
PS - Noah here. I've started a new company and we are looking for our first/lead product designer to join the team in Brooklyn. If you are a product designer or know anyone who is great, please share. Dinner's on me at a restaurant of your choice if you help us find someone.
---
Why is this interesting? is a daily email from Noah Brier & Colin Nagy (and friends!) about interesting things. If you've enjoyed this edition, please consider forwarding it to a friend. If you're reading it for the first time, consider subscribing (it's free!).