Why is this interesting? - The Oakley Edition
On sunglasses, authenticity, and an iconic California brand
Gabe Brosbe (GSB) works as a seller for enterprise software startups. In his off hours he is culturally omnivorous, checking out music and art around New York. We used to work together and he was always guaranteed to make me laugh. - Noah (NRB)
Gabe here. Even after 8 years in New York, I still very much consider myself a Californian. I grew up on boards (skate and snow) and even went to YMCA skateboard camp as a little kid. The stories of iconic California brands, like this oral history of Oakley from Mel Magazine, always reel me in. The brand was started by Jim Jannard in 1975 and named after his dog. He started out selling motocross handlebars before expanding to goggles, giving them to the top BMX riders. Unfortunately, the first iteration was essentially unwearable, leading them to be worn atop the helmet. "Every kid that had a BMX bike wanted to mimic BMX pros like R.L Osborne and Stu Thomsen," explains former supercross champion Mike Bell, "so they bought the goggles, but they never actually put them on their face."
Driven by action sports lifestyle, car culture, and even the geography of the state itself, Oakley is a company that could have only come from California. The famous wrap around sunglasses were born out of an epiphany from driving on the Pacific Coast Highway:
Basically, right at the end of the day, the sun was coming straight off to either your left or right side because you're parallel to the ocean. So he had on his sunglasses, and obviously, if you had on sunglasses back then and the sun was directly off to your side during sunset, you're getting a lot of glare in from the side. Because he was already making goggles, he asked himself: How come there isn't a sunglass that has the same coverage as a goggle?
Even the marketing came to be as a result of Jim driving down to Chiat/Day in Venice so he could get the same guys who worked on Apple to make his ads. Oakley was considered too small at the time for Chiat/Day, but a few of their agency guys had enough brand love for Oakley enough to work on it independently and the Apple design aesthetic made it to action sports.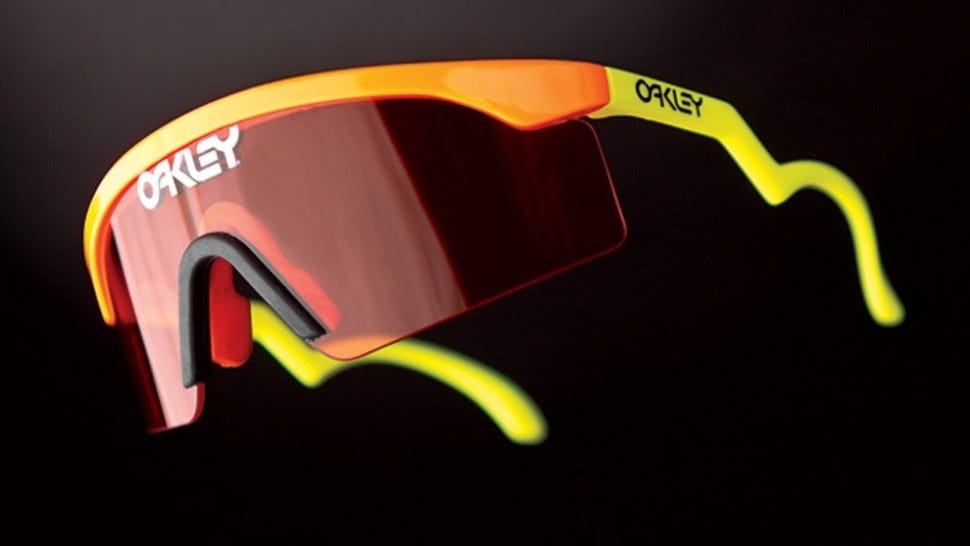 Why is this interesting?
When I read about the discipline and personal relationships that went into making Oakley a global phenomenon (Tom Cruise wore them for free in Mission Impossible: 2), it contrasts heavily against the monopolistic forces that now drive uniformity and ubiquity in the eyewear industry itself:
With Jim's early days, he was about the image and held it close. He never wanted Oakleys to be on sale and even wanted to control where they were sold. There was one instance where a sunglass shop sold excess stock to a discount store, and a rep personally went there to buy them all up so consumers wouldn't be seeing Oakley sold in that manner.
Oakley's original commitment to authenticity and innovation ultimately lost out against the industrialization that drives the global eyewear industry (Luxottica bought the brand for $2.1 billion in 2007). Reading about Oakley I couldn't help but think about brands like Levi's and Vans that have achieved scale while seemingly continuing to stay true to their roots. On the flip side, the idea of a brand seeing ubiquity as a threat also seems quaint in the age of Allbirds, where the ubiquity almost seems woven into the identity. (GSB)
Think of the Day:
There's a whole culture of scouring Google Maps/Earth for weird stuff. Here's a bunny caught mid-air by the Street View camera in the village of Olszowice, Poland. (NRB)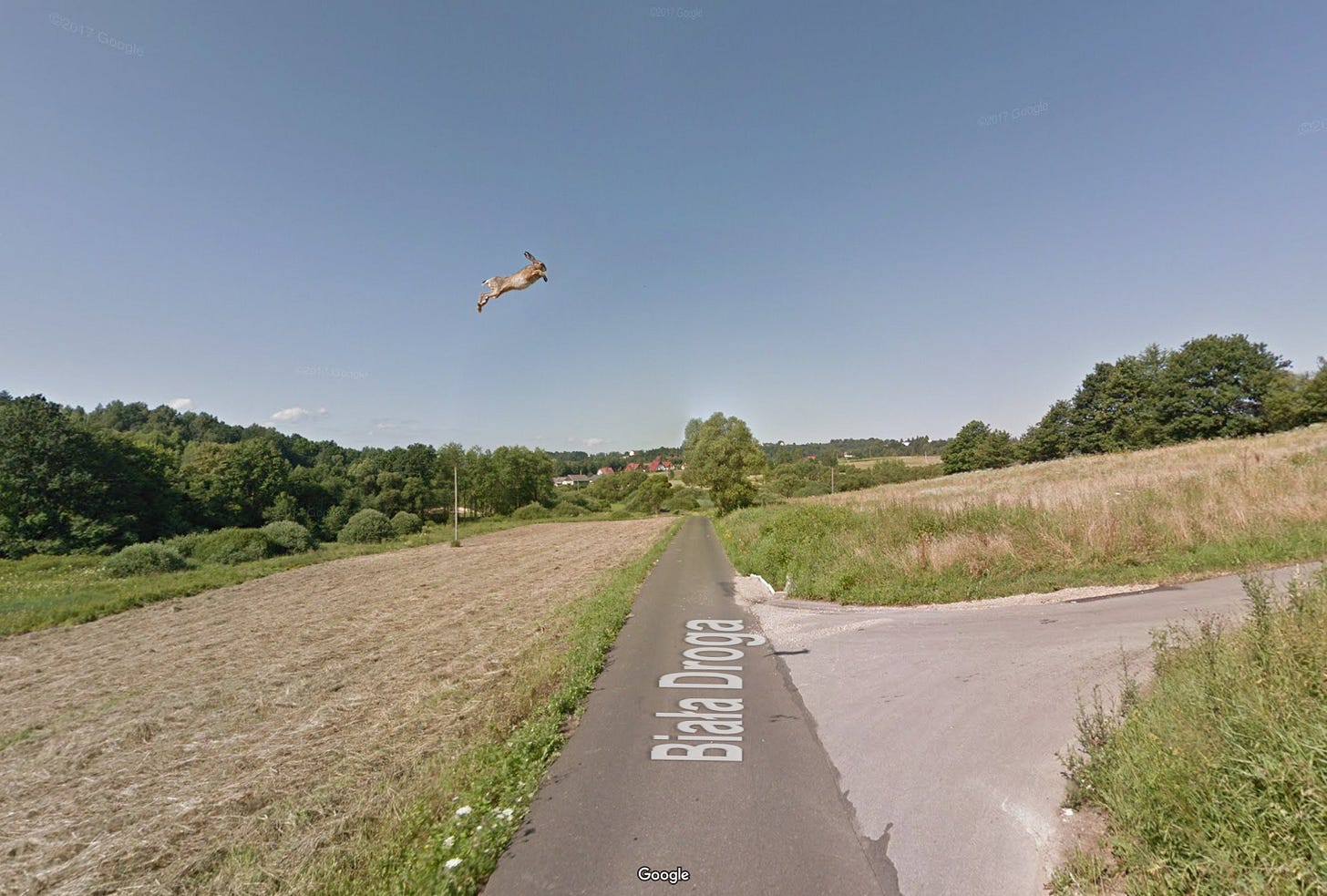 Quick Links
Thanks for reading,
Noah (NRB) & Colin (CJN) & Gabe (GSB)