Why is this interesting? - The Oman Edition
On Qaboos, the Middle East, and diplomacy
Colin here. Unless you were perma-tuned into BBC or Al Jazeera International, you might have missed last week's news of the death of Sultan Qaboos in Oman. He was the longest-serving leader in the Middle East and presided over Oman's ascent into a peaceful society. As the Economist explained in its obituary:
Sultan Qaboos seized power from his father, with British help, in 1970, when he was 29. The older man ruled as a recluse: when he was deposed Oman had just three schools and 10km of paved roads. Sultan Qaboos set about modernizing the state. Though not as oil-rich as its neighbors, in 2010 the United Nations ranked Oman as the country that had developed most over the previous 40 years, ahead even of China.
Qaboos was a skilled hidden hand of diplomacy that solved a lot of regional disputes, and his new successor faces domestic political headwinds that are a full plate. The question here is can Oman maintain its influence on the world stage without the high profile cult of personality that Qaboos represented in his reign over the country?
Why is this interesting?
Over the years, Oman has played an outsized role in diplomacy, putting out fires and cutting deals in the region. Qaboos helped facilitate the negotiation of the 2015 Iran nuclear deal and stayed neutral in the wars in Yemen and Syria as well as the economic embargo against Qatar. According to the Washington Post:
Qaboos forged the sultanate amid two civil wars: one with the remnants of the imamate in the country's interior and the other with a Marxist-Leninist group in southern Dhofar. He wove together an ethnically diverse country, including a multitude of tribes and sociopolitical communities, under one flag and one ruler. The late sultan used an inclusive political strategy centered on co-opting former and potential rivals and tirelessly promoting a rejection of extremism and peaceful coexistence. Qaboos also skillfully navigated palace politics in tense and volatile times, including the Arab Spring, while always maintaining the highest possible discretion.
In his first address to the nation, Qaboos' successor, Sultan Haitham bin Tariq, pledged to maintain the Gulf state's foreign policy. "We will continue to follow in the same course the late sultan adopted...embracing foreign policies based on peaceful coexistence among peoples and countries without any interference in the domestic affairs of other states," he said in a speech broadcast on state television.
On the homefront, the necessary reforms also being implemented elsewhere in the region will cause friction and strife. Like Saudi Arabia and the UAE, with lofty "vision" projects, the Sultanate of Oman has tried to divest its economy from oil and natural gas and encourage entrepreneurship and innovation. In the past, Omanis have had generous welfare benefits stemming from the country's natural resources. When oil prices are high, this is not a problem—the budget can be balanced assuming an $80-per-barrel price of oil—but today it is $58. So any reforms and restructuring, particularly when coupled with rising youth unemployment, will create continued domestic friction and ire. According to the Post:
With a growing population bent on defending its generous welfare benefits and a stagnant economy dominated by public-sector employment and public spending, Oman has been facing a persistent fiscal deficit and has consistently resorted to issuing debt on the international bond market. Now stuck in a debt repayment cycle, and with youth unemployment around 10 percent, Oman will urgently need to make unpopular reforms. Haitham will have to leverage his ties with Oman's merchant families to solicit large private investments domestically, alongside trying to attract foreign capital. Winning the confidence of Omanis will be crucial, as he may have to cut public spending and employment.
In short, a leader can only do so much. As domestic pressures intensify with needed reforms, the open question is will Oman also be able to wear the regional firefighter and diplomat hat? The country is located in a regional hornet's nest with prolonged war in its southern neighbor, Yemen, carried out by its UAE and Saudi neighbors to the West. Iran, sure to be a hotspot in the coming months, sits directly to the North, putting Oman smack dab in the middle of some of the most challenging foreign policy issues to arise in a new decade. How Sultan Haitham bin Tariq can manage a few 3D chess boards at once while taking over from a longstanding and much-loved leader will be interesting to watch. (CJN)
Cartoon of the Day:
This New Yorker cartoon from Liana Finck legitimately made me laugh out loud. (NRB)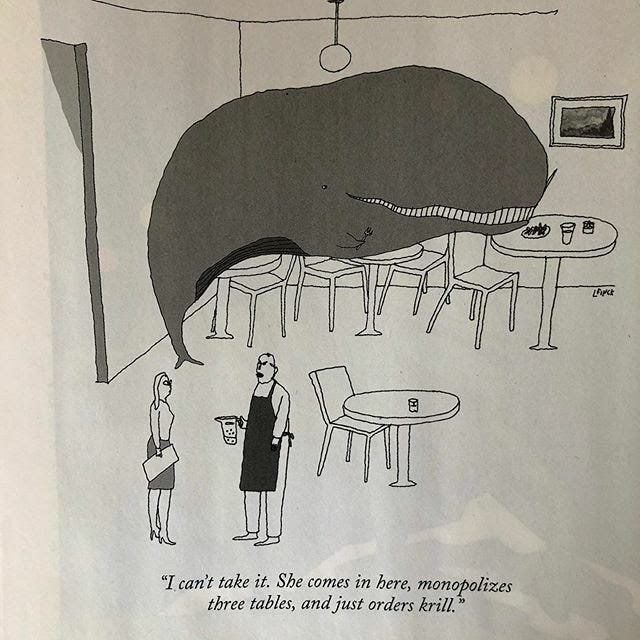 Quick Links:
Thanks for reading,
Noah (NRB) & Colin (CJN)
---
Why is this interesting? is a daily email from Noah Brier & Colin Nagy (and friends!) about interesting things. If you've enjoyed this edition, please consider forwarding it to a friend. If you're reading it for the first time, consider subscribing (it's free!).