Discover more from Why is this interesting?
A daily newsletter for the intellectually omnivorous, from Noah Brier & Colin Nagy.
Over 21,000 subscribers
Why is this interesting? - The Prime Video Edition
On Amazon, algorithms, and the tension between data and creativity
Ben Young (BWAGY) is a Kiwi entrepreneur and media thinker. His company, Nudge, helps brands understand how people are engaging with the creative and content that they put on the web. He's always at the front line of thinking about channels and how platforms, marketing strategies, and quality intersect. We are happy to have him as a guest. - Colin (CJN)
Ben here. Back in 2016 Amazon cut a big deal ($250 million) to secure the Top Gear team and launch a new show called The Grand Tour. With an eye towards growing subscribers (especially in the UK), the economics seemed favorable. Now at the end of their first deal they're switching up the format of the show. That's because after analyzing the video data, Amazon found that users preferred episodes where the guys took on a big challenge or adventure. In season one that meant crossing Mongolia or taking three old Maseratis around France, instead of the regular Top Gear format of in-studio guests and celebrity track races. They even launched a prototype episode (unknown to users) to test the theory (the RV Special of Season 3).
Why is this interesting?
We've heard that Netflix is data-driven, but that appears to be focused around topics, not formats. While Netflix is discovering fruitful areas and then trusting creators to deliver against them, Amazon appears to be using the data to actually dictate the creative direction. The question, of course, is to what effect? As a fan of The Grand Tour (and, before that, Top Gear), the specials are great, but the studio episodes help break things up. They offer insights into the personalities and expertise of James, Jeremy, and Richard, making the rest of the episodes more interesting. Without that balanced approach it's hard for me to understand how you make the show work. (It's also obviously hard for the show creators, because if they thought that was the best way to do things they would have made just specials in the first place.)
Amazon obviously disagrees, which makes me wonder what metric they're optimizing for (they're not going to tell us). If it's subscriber satisfaction, which they could measure by repeat viewership, or a weekly "number of hours of viewing" threshold, then I could see how specials bring new customers in and get them on to other Amazon shows. If it's new subscribers, they can see what shows people watch on their free trial and extrapolate that to conversions. For example, people that watch a special might be more likely to convert than those that watch a regular episode
What I think we're seeing with Amazon is yet another example of the tensions that can exist between data and creativity. These things are not at odds, but they can certainly seem that way. The reality is that any data-driven decision is ultimately a function of the data you choose to decide on. While the numbers themselves may be objective, that choice isn't. When creators aren't clued into the reasons (which, for all I know, The Grand Tour guys were), you get disconnects and a deep rooted lack of finesse that leads to headlines like "Amazon Fires Hundreds Via Computer Algorithm". That's why I prefer to point people towards data-assisted decision making that weighs the poetic and the scientific. After all, data exists to assist and empower, not to decide. (BWAGY)
Chart of the Day:
Dan Cohen, the Vice Provost for Information Collaboration, Dean of the Libraries, and Professor of History at Northeastern University Tweeted this chart along with the follow thought/question: "Thinking about writing a (nonpolemical) piece on college students wanting to be around books but decreasingly checking them out, and was wondering if other libraries have stats like these from Yale (64% decline in undergraduate circulation in the last 10 years). Pointers welcome." Full presentation here. (NRB)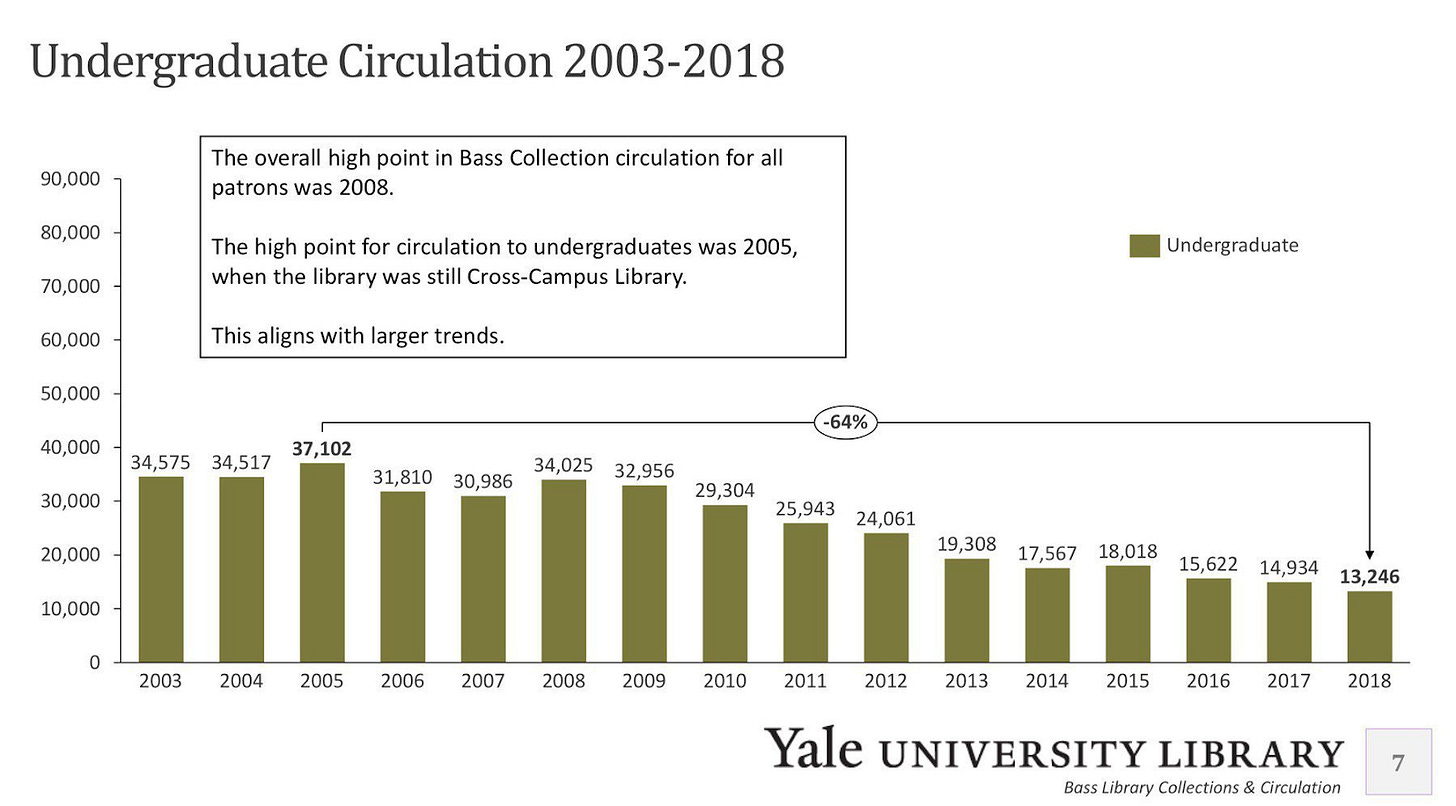 Quick Links:
Thanks for reading,
Noah (NRB) & Colin (CJN) & Ben (BWAGY)