Discover more from Why is this interesting?
A daily newsletter for the intellectually omnivorous, from Noah Brier & Colin Nagy.
Over 21,000 subscribers
Why is this interesting? - The Public Records Edition
On music, community, and the emergence of hybrid spaces
James Cooper (JC) just left his role as head of creative at Betaworks, where he helped link brands and the outside world to the interesting things going on inside their startup incubator. He's also a dedicated music head (as evidenced by his correct assessment of Andrew Weatherall as a superb DJ, below). We are pleased to have him with us today. - Colin (CJN)
James here. I was getting my haircut recently and the person next in line was Tim Sweeney. Tim hosts a long running show called Beats in Space on WNYU radio (WITI Quick Links mention 5/22/19). Over the years he has hosted some of the best DJ's in the world, including my all-time hero Andrew Weatherall.
I'm quite shy, but as we swapped seats I told him I was a listener and then asked where might be a good spot to hear some decent music. He told me about a place that had just opened in Gowanus called Public Records.
Why is this interesting?
Two days later I had found my spiritual home. By day Public Records is a beautifully airy vegan cafe and bar with a lovely courtyard and a nice selection of magazines and records for sale. At night it transforms into what the barista described as a listening venue. The back room hosts concerts and different DJs man the bar each evening. Bringing it all together is an amazing custom built sound system.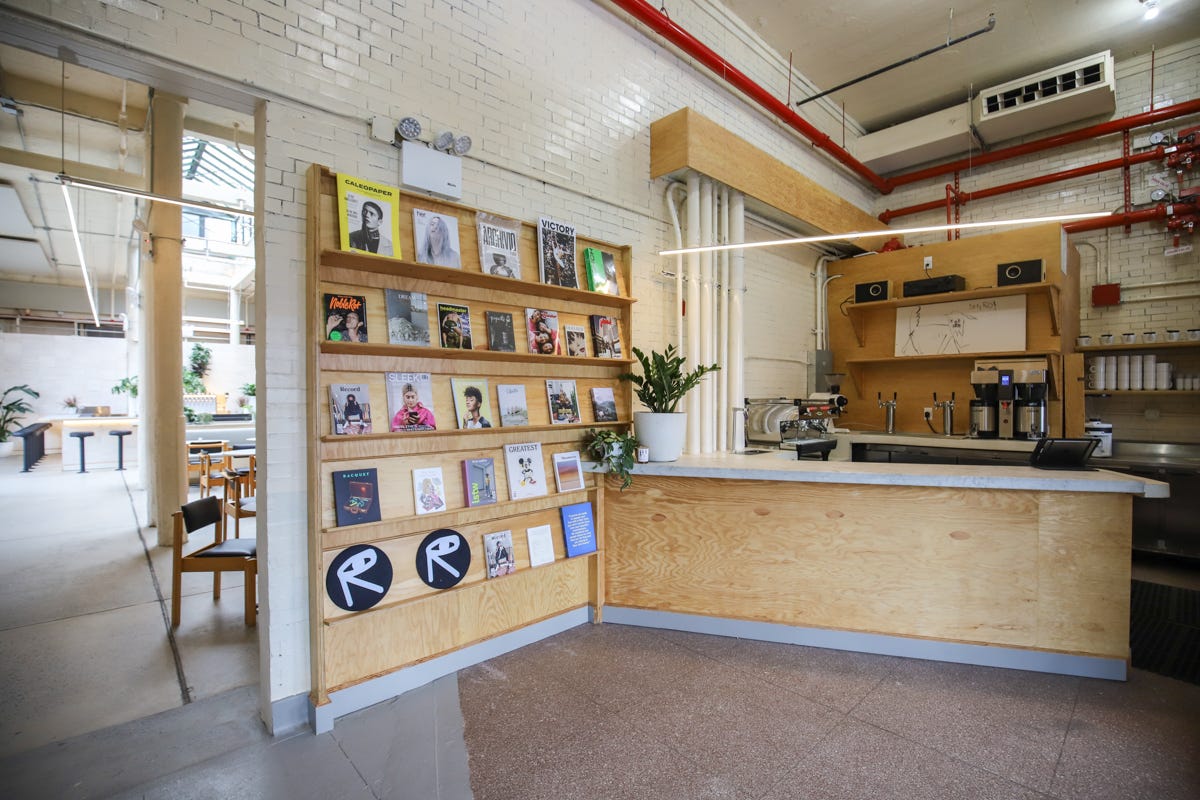 A year before Public Records opened I was taking the two owners of a similarly-minded space in London called Spiritland around the same neighborhood in Brooklyn, recommending they open an outpost there. Spiritland has quickly established itself as the best "bar" in London. Like Public Records it's built around a very high-end sound system playing mostly vinyl and includes a restaurant, sound booths for podcasters and engineers, and has a Mixcloud playlist to die for. They also sell hi-fi audio equipment and make a mean coffee.
What links the two venues more than just sound systems and DJs with great record collections, is their geography and ability to morph to suit different people at different times in the day. Public Records is on a pretty grotty street in Gowanus and Spiritland is in Kings Cross (which, until about three years ago, was pretty desolate as well). Of course to build a space like this — you need, well, space. And space that is affordable. It's almost as if you work backwards to figure out how to make the economics work. So during the day it's a really nice co-working space. Right now it's drinks and vegan baked goods, but they tell me they are soft launching a full vegan menu this week. The wifi is fast, the chairs are comfy, and wherein most venues require noise-cancelling headphones to drown out the bad music, the sound here is a core part of the draw.
As more and more of these hybrid spaces spring up it's the idea of an added layer of community that set them apart. Of course The Wing is a community for Women, I helped set up Betaworks Studios as a place for founders and startup folk to work and swap ideas. Public Records is a place for audiophiles. What's so interesting about this to me is that it cuts across the work you do and ideally opens the space up to an even more diverse set of folks. and we'll see increasingly niche spaces for niche communities blossom.
With the progress in 'last mile' transport, areas that were once dead zones now become ripe with possibility. With Uber and Lyft, bike sharing, and the inevitable invasion of electric scooters, undesirable locations are suddenly desirable. We're leaving Brooklyn in the summer but I'd bet my bottom dollar that when we come back in a few years time Public Records will be lauded as a case study in community both in terms of the people that come there and regenerating the neighborhood.
Chart of the Day:
This is one of the more amazing charts I've seen lately. "Britain is setting new records for going without coal-powered energy. In the latest milestone, it has gone for more than eight days without using coal to generate electricity – the longest such period since 1882." (NRB)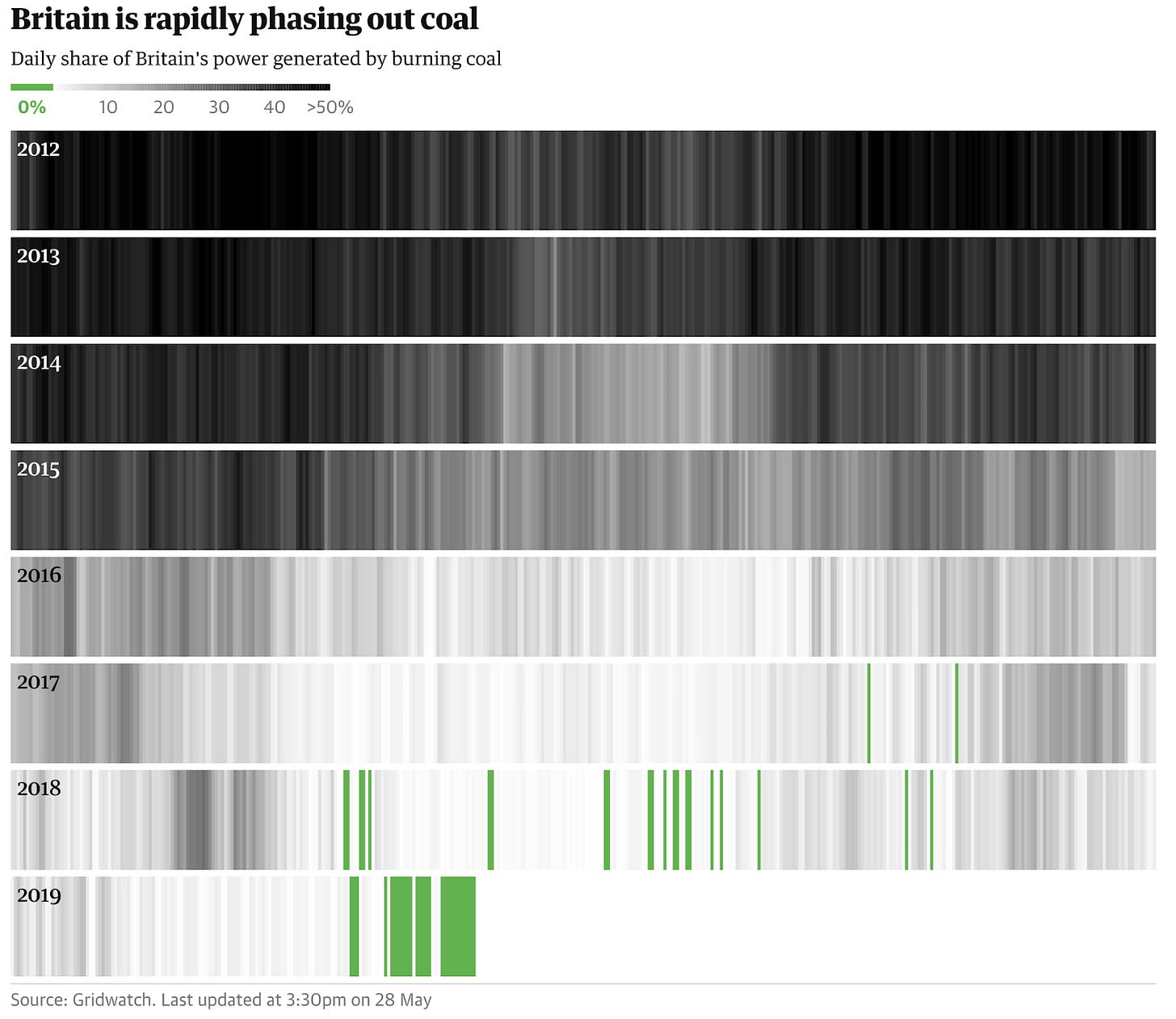 Quick Links:
Thanks for reading,
Noah (NRB) & Colin (CJN) & James (JC)