Discover more from Why is this interesting?
A daily newsletter for the intellectually omnivorous, from Noah Brier & Colin Nagy.
Over 21,000 subscribers
Why Is This Interesting? - The Roblox Edition
On quarantine, avatars, and building identity in virtual worlds
Jason Boog (JB) is the West Coast correspondent for Publishers Weekly and was previously publishing editor at Mediabistro. He is also the author of The Deep End: The Literary Scene in the Great Depression and Today.
Jason here. Quarantine collapsed my ten-year-old daughter's social universe, canceling all her playdates, curtailing her rapidly expanding independence at school, and ending her beloved after-school theater program. Now she spends as much free time as she can hanging out with her friends inside Roblox, a gaming platform that hosts millions of homemade and indie video games created with Roblox Studio, the company's proprietary engine that allows anybody to make games. According to the New York Times, these game creators "are mostly teenagers, college students and young adults operating solo or with a small team." This rowdy gaming ecosystem has everything from first-person shooters to tower-climbs to disaster escapes to hide and seek to open creative builds.
Roblox games are reportedly played by three-fourths of all 9- to 12-year-old kids in the United States at the moment, with well over 150 million monthly users. Kids invest great time, effort, and funds into improving their Roblox lives and the most popular games have spawned elaborate community wikis cataloging the intricacies of each virtual world. The platform's digital currency is called Robux, purchased with real money and membership subscriptions, to buy everything from sparkling clothes to an extra-cartoony avatar face to wings to a digital pet.
Out of the millions of Roblox games to choose from, about 20 have managed to earn more than one billion visits. My daughter and her friends spend the most time in four of those super-popular games. She returns to school with Royale High, a game that combines Hogwarts and a Disney castle (4.2 billion plays). She gets a spooky thrill with Piggy, a game where kids play detectives fleeing a murderous pig (5 billion plays). She creates in Bloxburg, an imaginative sandbox where kids build second lives for themselves (2.9 billion plays). But most of her time gets spent in Adopt Me!, a game where kids mingle and trade cute creatures for hours (8.8 billion plays). Earlier this month, a record-breaking 1.7 million players simultaneously jammed themselves into the Adopt Me! servers when the game added "Fossil Eggs." Kids mobbed the game for a chance to purchase these carefully commodified items randomly doled out through a gigantic Gumball Machine inside a virtual pet store complex.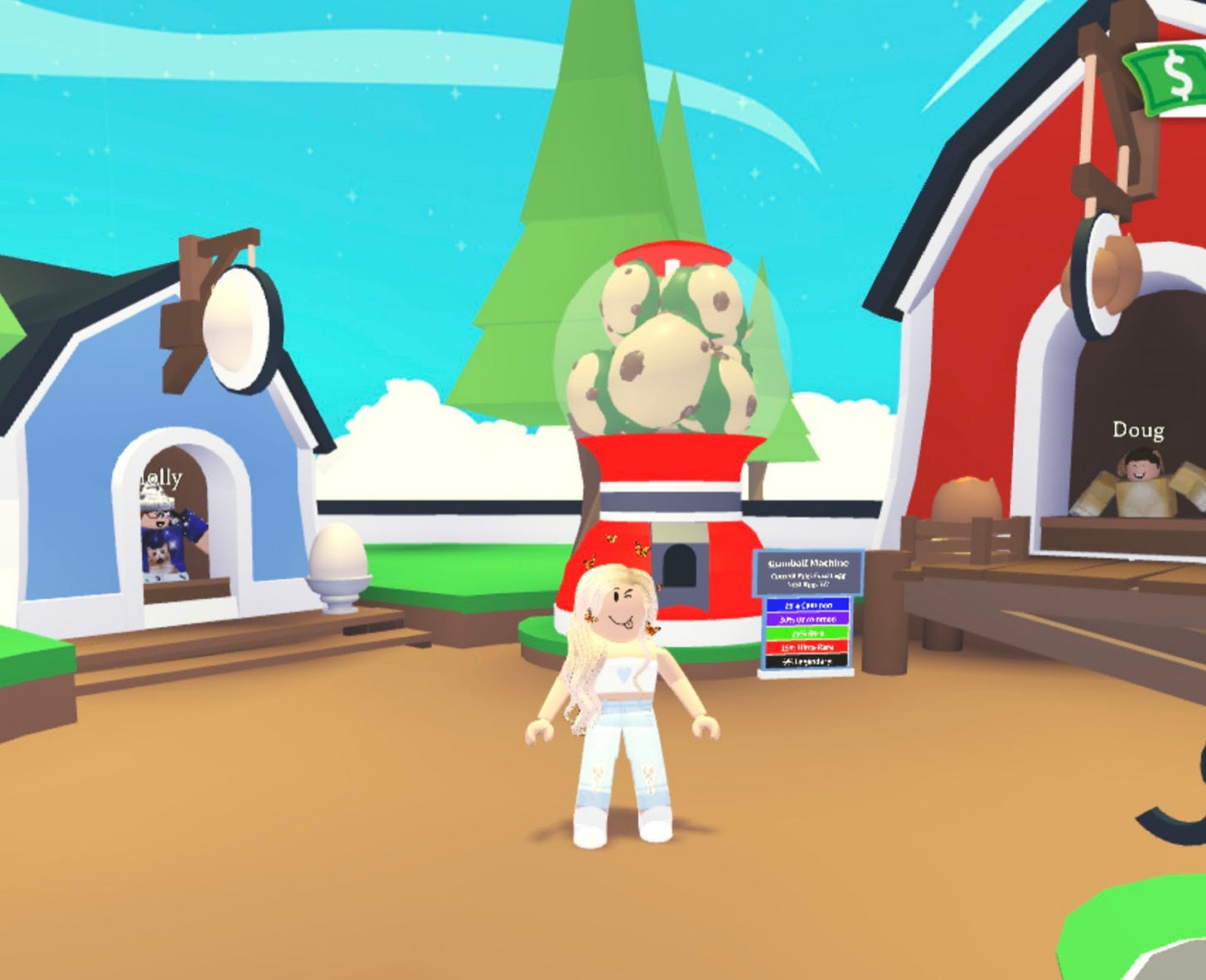 My daughter's avatar outside the Fossil Egg Gumball Machine in Adopt Me!
Roblox is preparing to go public, and some speculated recently that the company could be valued as high as $8 billion. That's double its valuation in February 2020, when, just weeks before the pandemic lockdowns, Roblox raised $150 million in series G funding from Andreessen Horowitz. During that pre-quarantine raise, kids already spent 1.5 billion hours every month on the platform. An Economist report said that gamers spent 3 billion hours on the platform in July and Roblox expects its developers to earn $250 million this year—up 44 percent from pre-pandemic earnings. And Roblox is now the most popular allowance expense in the United States.
Why is that interesting?
My daughter's entire generation will camp out in this tween Matrix for the rest of our COVID-19 experience and beyond. It's more than a gaming platform, it is a single digital location that now offers all her old activities: playground, schoolyard, theater, and mall all in one. Roblox has hosted so many moments in my daughter's fractured quaran-tween life. During the mornings she used to spend with friends in the school courtyard before school, she now hangs out with her friends on the most popular Roblox games. After Zoom school is over, she edits elaborate YouTube videos about her adventures in these digital realms. She arranged her birthday party inside Adopt Me!, receiving gift-cards loaded with Robux instead of real-life presents. She's already picked out her Halloween costume and goes trick or treating in Royale High. We can't go out and collect candy in real life, but Roblox developers have already rolled out thousands of holiday accessories.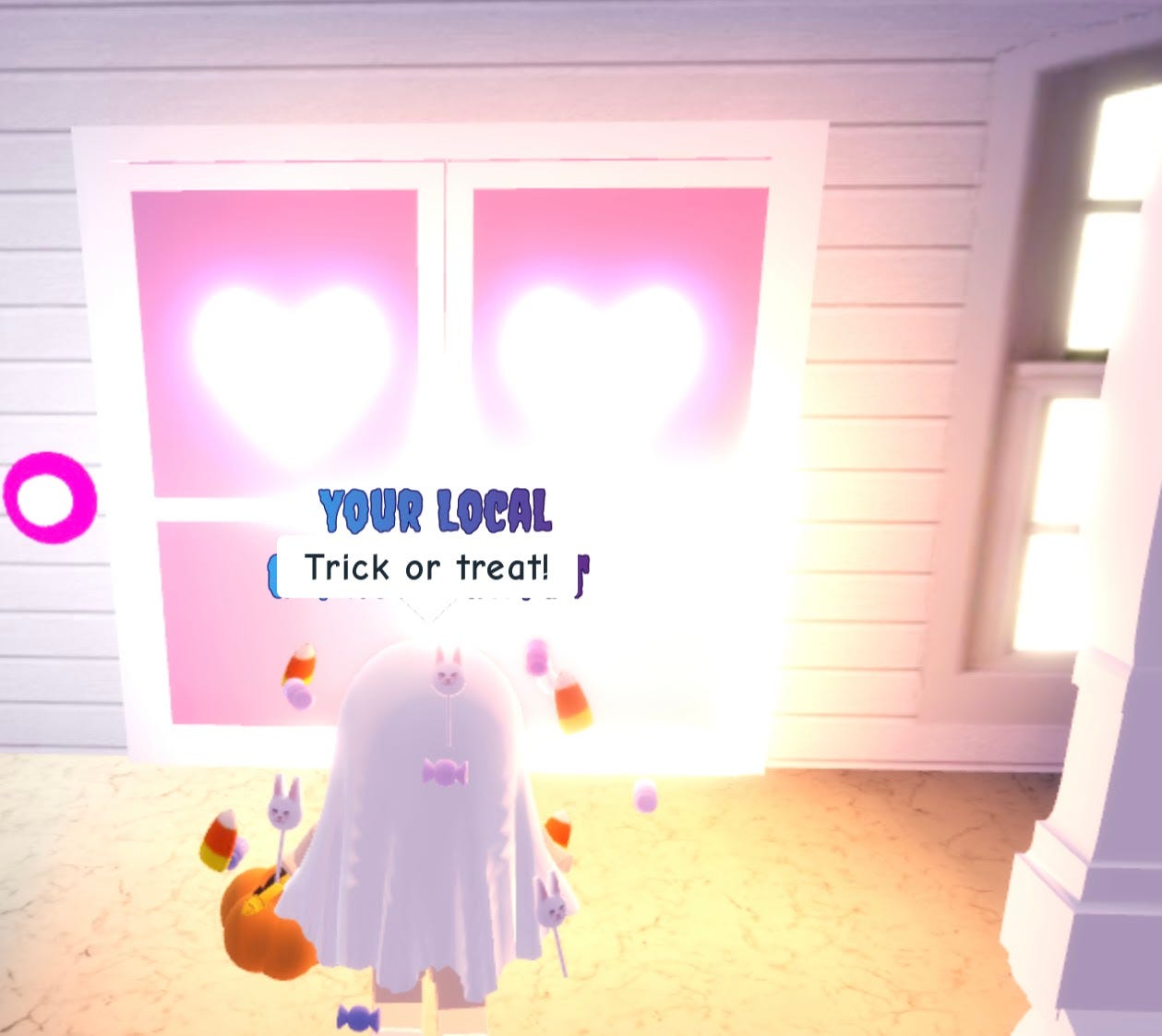 My daughter's Halloween costume in Royale High
In the relatively sunnier days of 2018, journalist Keith Stuart wrote the most insightful things I ever read about Fortnite, the last video game trend that spawned thousands of trend pieces:
"People who don't play Fortnite, or video games in general, often say it's sad that modern teens aren't going to skateparks and roller discos and that they're getting these formative experiences online instead. In some ways, I guess it is, but kids aren't necessarily to blame here. Teenagers are caught in a crappy sociocultural Catch-22: Adults are worried their kids are spending too much time on smartphones and consoles, but at the same time they're constantly policing and restricting access to physical environments."
That assessment sounds quaint in October 2020 when parents around the world have policed and restricted kids' physical environments in ways we never dreamed. We grownups broke the world and now these kids have no choice but to spend every precious minute of hangout time online. "All my friends are in Roblox. Why won't you let me see my friends?" my daughter sobbed one afternoon when I kicked her off Roblox to do her homework. I remembered all the fury I felt when my mom wouldn't drive me to watch a movie with my friends back in the 1990s. I felt marooned on the family island because life was elsewhere and I was missing it all.
My daughter saves her math homework and violin practice for last every afternoon because the analog world just slows her down. Cut off from the rainbow landscapes of Roblox, she can't see her quarantined friends or enjoy her virtual superpowers. And honestly, the real world is awful: COVID-19 fears poison every outdoor interaction and the grumpy adults in her indoor life spend too much time stumbling between Zoom meetings. When Roblox goes public we'll surely see hundreds of hand-wringing thought pieces about the monetization of kids' attention and the bazillions of hours kids spend in front of screens. I'm just heartbroken for all these kids, just as confused and worn out as I am, searching for friends in a virtual landscape. None of us ever find what we really want, life the way it was before. (JB)
---
Overpriced Facial Expressions of the Day:
Every single detail of your avatar can be customized in Roblox, for a price. That includes your facial expression. In the Roblox digital catalog, these are the most expensive faces players can buy with Robux. You can use this handy Robux Currency Converter to see just how much these custom faces really cost. (JB)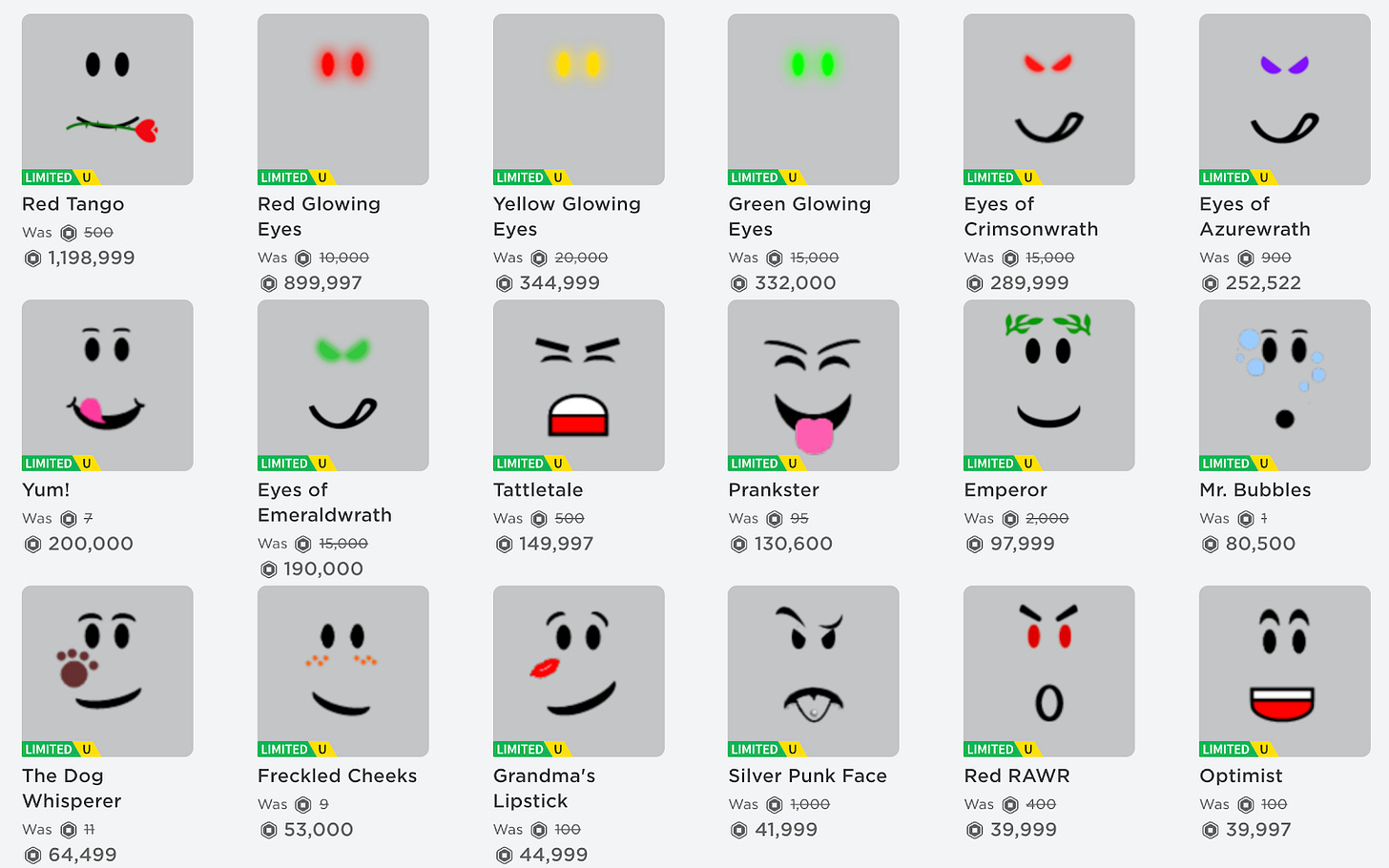 Quick Links:
Brittle Magazine is giving away a free ebook collection, Africanfuturism: An Anthology. It has a story by the great Nigerian author Nnedi Okorafor who developed the concept of "Africanfuturism," along with work by seven other African science fiction authors. (JB)

I've always been obsessed with the relationship between the CIA and the arts, and this Counterpunch essay looks at all the presses and literary journals that took CIA funding. (JB)

As my free reading time diminished these last few months, I've used the accessible reading tool Voice Dream to catch up on my reading. With some of the best AI-generated voices I've ever heard, this app instantly converts PDFs into audio experiences. (JB)
Thanks for reading,
Noah (NRB) & Colin (CJN) & Jason (JB)