Discover more from Why is this interesting?
A daily newsletter for the intellectually omnivorous, from Noah Brier & Colin Nagy.
Over 21,000 subscribers
Why is this interesting? - The Travel Nostalgia Edition
On flying, food, and the problem with memory
Ana Andjelic (AA) is a friend, strategy executive, three-time WITI contributor (Anthology, DTC, and Eurovision Editions), and author of "The Business of Aspiration." She specialises in building brand-driven modern businesses and runs a weekly newsletter, The Sociology of Business. Ana earned her doctorate in sociology and worked at the world's top brands and advertising agencies.
Ana here. The other week I learned that my Uber driver has been furloughed from her job as one of the thirty cooks employed at Miami Airport. International flights only, she emphasized. 
Had the culinary achievements of U.S. airlines been more notable, my Uber driver could have still been in her airport kitchen. Asian airlines Garuda, Thai Airways, and AirAsia-owned Santan all now sell their in-flight food directly to customers. Nasi lemak, stir-fried tiger prawns, tandoori lamb chops, and beef rendang can be enjoyed on ground, sometimes in bulk packs. In the luxury version of the idea, Singapore Airlines is selling a selection of first- and business-class meals plus the service of private chefs who reheat, plate, and serve customers in their homes. They call it SIA@Home.
For those who miss eating on an actual plane, Singapore Airlines also turned two of its grounded jumbo jets into restaurants. Meal prices ranged from $474 in a suite to $321 in business and $53 in economy, and could also be paid with miles. Both plane-restaurants were sold out within 30 minutes.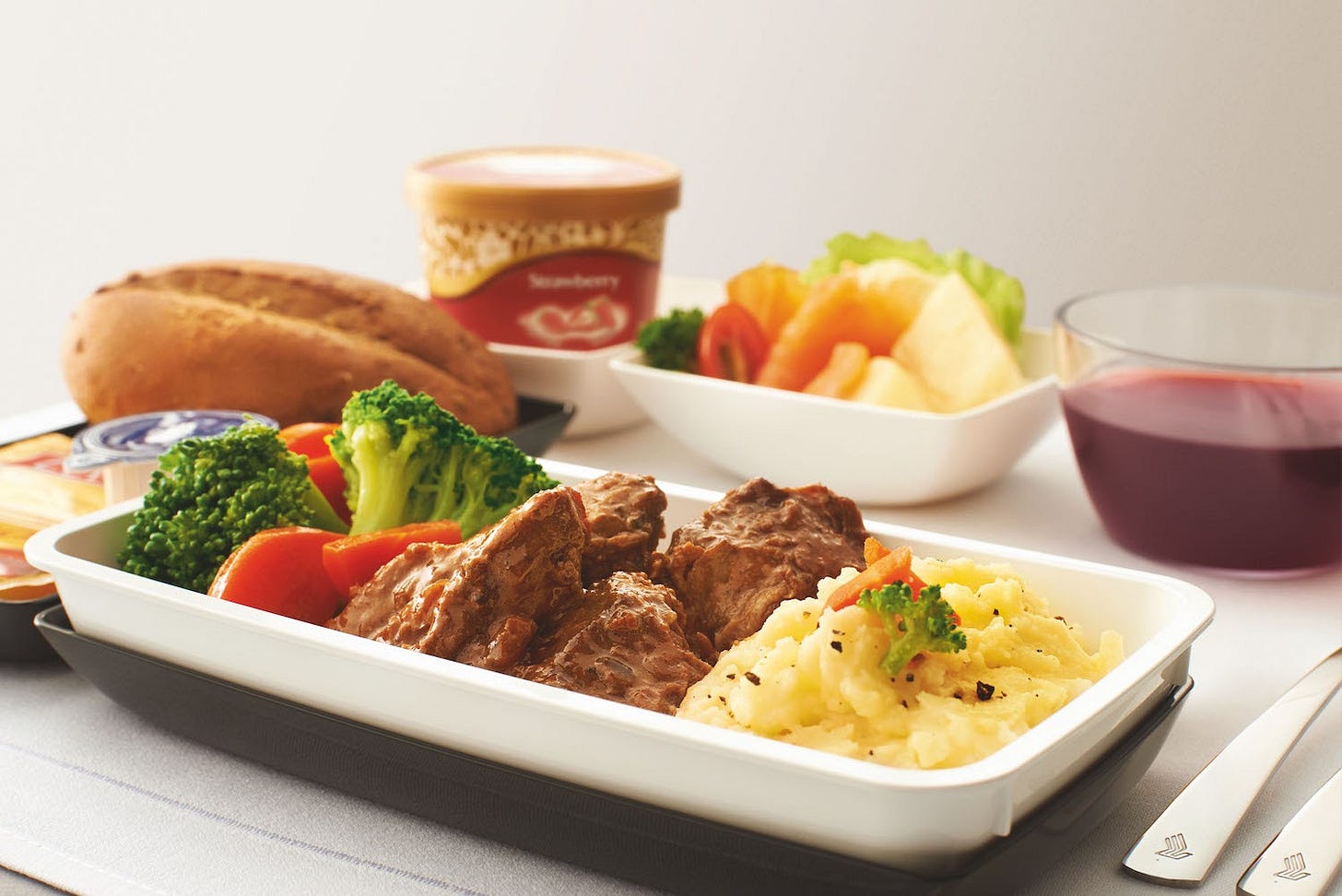 Other airlines went beyond food. No-destination flights are a new travel genre. Obviously needing to offer something beyond getting from point A to point B, airlines like Quantas created 7-hour flight options with the main promise of having an aerial view of Australian landmarks like Bondi Beach, the Gold Coast and Great Barrier Reef. Once it made its loop, the plane landed where it started from. It was sold out in 10 minutes. Japanese ANA chose "Hawaiian resort experience," and EVA Air went with a Hello Kitty-themed A330 Dream Jet. There are reports of celebrity appearances, in-flight game shows, and spectacular aerial views.
Why is this interesting?
People eating airplane food and flying to nowhere is interesting because it isn't. It is a good media story, but hardly an indicator of any sweeping behavioral change. While most of us miss the rhythms and habits of our pre-pandemic lives, such as flying, this is because we tend to confuse memories  with the real experience that gave rise to those memories. Per Daniel Kahneman, a psychologist and a winner of the Nobel prize in economics, our memories are stories that we tell ourselves that often reflect only a sliver of the reality of our past experiences. 
How a story will shape up is largely defined by how it concluded. Our ability to board a plane dramatically ended at the moment when flights were canceled en masse and we found ourselves in a lockdown. We experienced fear, uncertainty, and panic. Against this dramatic backdrop, our last flight assumed a carefree, "normal" and joyful place in our memory. It became a happy fabrication infused with meaning that it didn't have at the time. It also featured things we may now miss—like alone time or an excuse to buy a snack we enjoy—which further cloud those memories.
News stories about our "nostalgia" for flying or our newfound passion for airplane food are just that: stories. Closer to the truth is the fact that we all both enjoyed and disliked flying (well, except The Miles Guy) and that, right now, some of us think the idea of eating nasi lemak from a plastic container or having an aerial tour of Australia is a good one. But the broader meaning of this is at once normal and made up by us. "Trauma takes away our gray areas. It divides our timeline into a before and an after," explained clinical psychologist Dr. Valentina Stoycheva in a July New York Times article about why we reach for nostalgia in times of crisis.
From a business perspective, it's interesting to think about "the after." Once a traveler finds herself on a Hello Kitty-themed flight or experiences the razzle-dazzle of a quiz show in air, it may be hard to go back to watching movies on planes. Necessity, as they say, is the mother of invention, and it will be fascinating to fast-forward to a more normal world to see what has stuck and what hasn't. I, for one, will be happy to get back on a plane with plenty of work to do and no distractions. (AA)
Cover of the Day:
A cover of Radiohead's Idioteque, created by calculators. (CJN)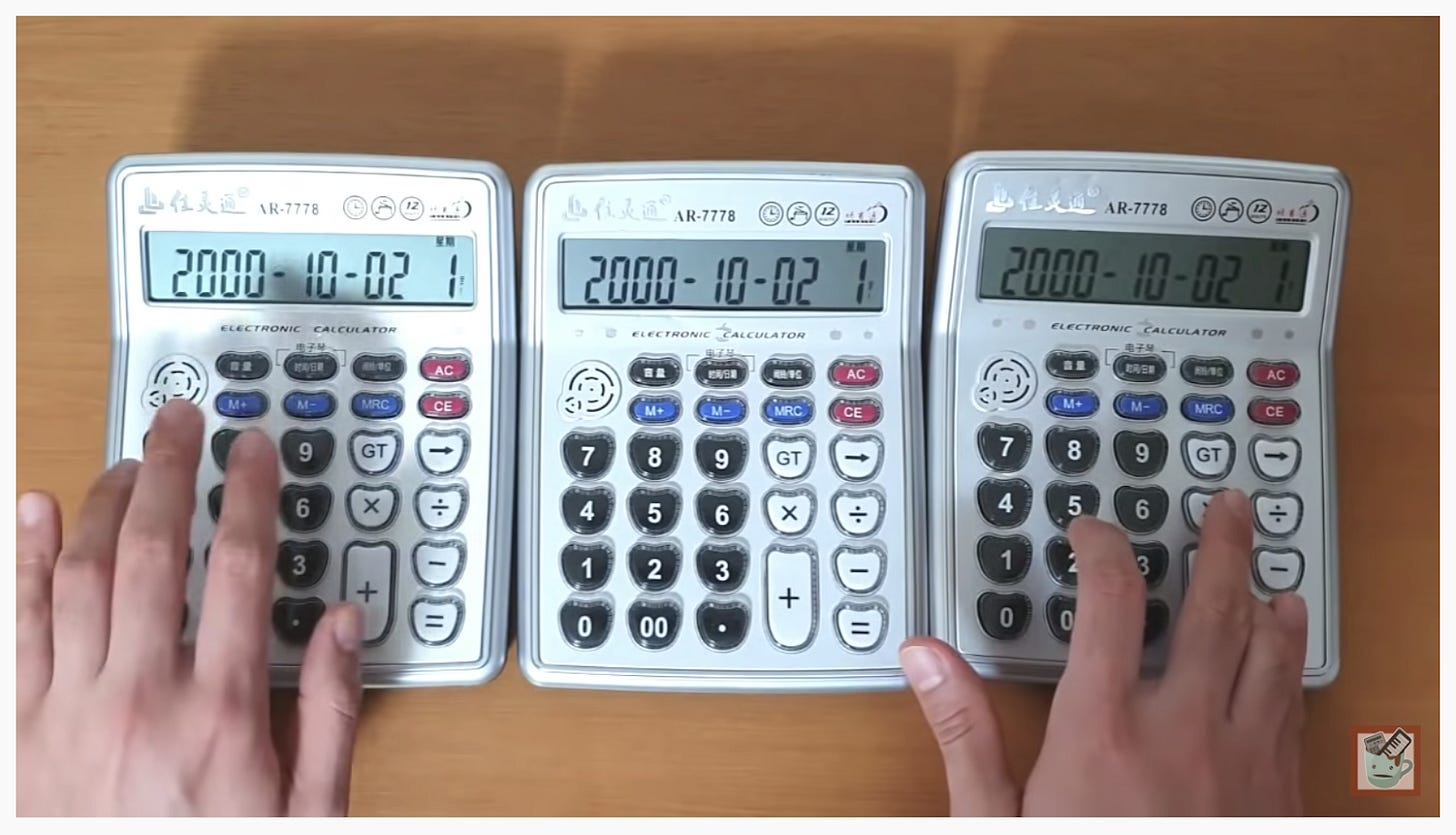 Quick Links: 
Thanks for reading,
Noah (NRB) & Colin (CJN) & Ana (AA)
—
Why is this interesting? is a daily email from Noah Brier & Colin Nagy (and friends!) about interesting things. If you've enjoyed this edition, please consider forwarding it to a friend. If you're reading it for the first time, consider subscribing (it's free!).