Why is this interesting? - The Virtual Racing Edition
On motorsports, gaming, and new opportunities
JR Hildebrand (JRH) is a professional racing driver who's competed in the last nine consecutive Indianapolis 500s in addition to various other forms of motorsport during his career. He is also an adjunct lecturer for the REVS Program at Stanford University where he works with—and keeps a watchful eye over—his future autonomous competition. 
JR here. On Friday March 13th the gears of the global motorsport industry started locking up, and by the next day it had come to a screeching halt in response to the coronavirus pandemic. That weekend was set to be the kickoff of the Formula One and IndyCar seasons, while many other championships across the globe had just begun. As the cascade of postponements and cancellations fell, it left the entire industry scrambling to stay relevant and generate some kind of value to stay afloat. In the absence of racing on-track, motorsport has shifted to the virtual world, and it's just now coming up for air.
It's worth noting that the experience of playing racing games is, and has always been, more true-to-life than gaming in other sports. Simply put, if you're playing NBA2K or MLB The Show, you're not making any of the same physical inputs that you would in a basketball or baseball game. Whereas if you've got a steering wheel and pedals connected to your Xbox, Playstation, or PC, regardless of the realism of the game, you're doing a lot of the same basic things that you would to drive a real car. Add to it the laser-scanned racetracks that clone every bump and crack as they are in real-life, vehicle models built from real-world car data, and force-feedback gaming hardware that mimics the sensation of steering load, brake pressure, and even motion cueing (pitch, roll, bumps, and yaw) and you've got something that's actually very deep in realism.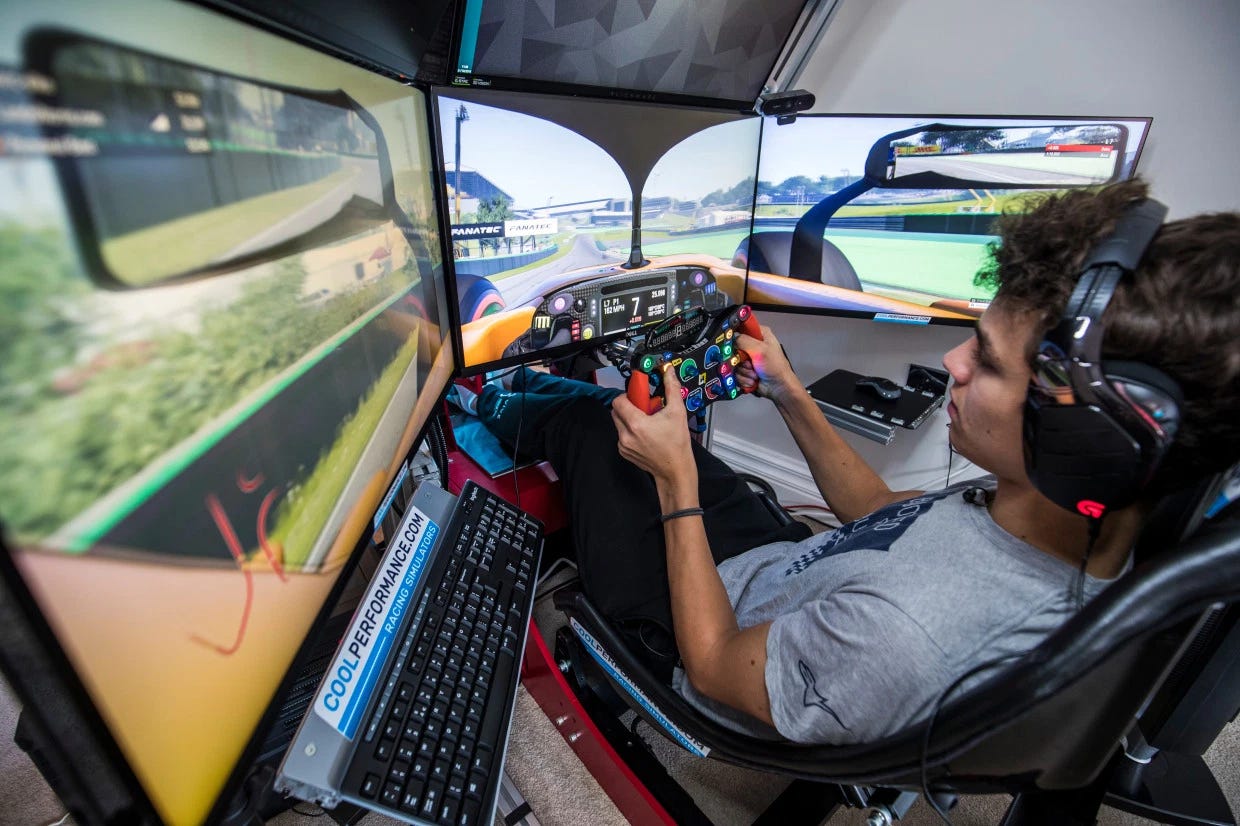 McLaren F1 driver Lando Norris at his home setup
This is a space that's evolved quickly over the last decade, but remained separate from real-world racing competition until now. All the pieces were there—major championships, as well as auto manufacturers, have been licensing their tracks and vehicles for use across various virtual racing platforms for decades. 
There was reason to believe it would all collide. Nissan and Porsche created gaming partnerships to assess and develop talent for their real-world racing programs, NASCAR and F1 both began hosting eSports championships in parallel to their real-life product, and Formula E hosted a big-money virtual e-Prix in Las Vegas pitting the best gamers and sim-racers against their real drivers. Sanctioning bodies, however, have been very careful not to take attention away from "the real thing." But with the real thing suddenly on hold, that hesitation went out the window and these two worlds accelerated toward each other quickly, bracing for impact.
Why is this interesting?
Motorsport sanctioning bodies have by and large replicated what they currently do in the real world to represent their presence virtually. NASCAR and IndyCar both immediately announced their own all-pro virtual championships, using their cars with almost exclusively their drivers (by invitation only) at their tracks. The races broadcast on TV, providing some familiar distribution to fans and visibility to sponsors. The sanctioning bodies presented this as something serious and competitive, so people have responded to it that way—good, bad, or otherwise. It returned some semblance of value to sponsors and partners, but also resulted in drivers scrambling to get a hold of thousands of dollars' worth of equipment and spending hours per day coming to grips with their realistic, but not-actually-real-feeling, virtual race cars. Some came out looking great, some received death threats, and most agreed it was burning them out.
Now free of real-world constraints like budgets, travel, and schedule, those same drivers have been taking full advantage of the freedoms the virtual world has to offer. They're racing cars they've never raced in real-life, often at tracks they've never been to. They've hosted their own events or joined established eSports organizations to compete against other drivers they'd never otherwise race, sometimes across the globe. When designing their own competitions, they often leave the exact format, car, and track combination unknown until everyone's logged in so there's no way to fully prepare, and they're having a blast doing it.
There is a dichotomy in these two approaches. One is controlling and closed off, the other is loose and accessible. One is predictable, one is surprising. One is established, one is experimental. 
Motorsport is absolutely at a critical juncture looking to the future. And not just because of this pandemic. It's built on a television advertising model that's shifting and auto manufacturer support that's quickly redistributing. It's no longer showcasing relevant technologies in the macro fashion it once did, nor is it a platform where human excellence is clearly, unquestionably evident, as modern race cars become ever-more-refined. All of these challenges are addressable, but require potentially significant change and a willingness to try new things; this forced foray into the virtual world has shown us that while the motorsport of today might not reflect much imagination, it is in there. Racers have gone looking for the gnarly, weird, hard-to-drive things at least as much as the spend-20-hours-to-gain-a-tenth-of-a-second things, they've found ways of networking that cut across motorsport's siloed landscape. They're intrigued by the unpredictable and by the chance to see the humanistic element of great drivers more exposed. The interactivity of the virtual space, the ease with which it can be distributed across platforms, has given people a whole new way of engaging with the sport.
So as real-world racing slowly begins to start back up, I'm asking: are we actually learning anything, and are we ready to try some new things? Because it appears that the status quo doesn't represent the best our sport has to offer, and like any industry impacted right now, there's no time to waste in finding the best way forward. (JRH)
Race of the Day:
Keeping with our racing theme today, this modified Honda Civic recently broke records during a quarter-mile run. According to the video, "a top-end Tesla Model S on Ludicrous mode can do 0-60 in about 2.3 seconds." (CJN) 
Quick Links:
Thanks for reading,
Noah (NRB) & Colin (CJN) & JR (JRH)
—
Why is this interesting? is a daily email from Noah Brier & Colin Nagy (and friends!) about interesting things. If you've enjoyed this edition, please consider forwarding it to a friend. If you're reading it for the first time, consider subscribing (it's free!).