Discover more from Why is this interesting?
A daily newsletter for the intellectually omnivorous, from Noah Brier & Colin Nagy.
Over 21,000 subscribers
Why is this interesting? - The Westbrook Edition
On respect, race, and sports
I first met Graydon Gordian (GG) when he was interviewing for a marketing role at Percolate. He had been well-vetted at that point and most of our conversation shifted to Dennis Rodman's Hall of Fame case (we had both recently read the same epic article). While he happens to be the biggest NBA fan I know, that's not really the point of the story. What makes Graydon fun (beyond an infectious excitement for everything) is an ability to navigate nearly any topic and an encyclopedia of stories (I frequently call him the Forrest Gump of the NBA). His Twitter profile photo is also him in a hot dog costume, so there's that. - Noah (NRB) [PS - We'll be taking Monday off for Memorial Day. Back to regularly scheduled interesting on Tuesday.]
Graydon here. NBA coaches and players spend a lot of time interacting with the media. Coaches speak with the press before, during, and after most games. And while players are mostly spared the pre- and in-game chats, the regular season post-game media session is made up of a throng of reporters encircling sixteen freshly showered and half-dressed athletes who just ran up and down a basketball court for 48 minutes. During the playoffs, pressers are more civil and more public, with players sitting at a table atop a small stage taking questions on camera from rows of reporters sitting in front of them.
It was in that setting that Russell Westbrook, the mercurial, hyper-athletic, and famously reckless point guard of the Oklahoma City Thunder, recently rekindled his longstanding conflict with Berry Tramel. Tramel is a veteran reporter for The Oklahoman who earned the ire of Westbrook in or around 2015. A few weeks ago, during the opening round of the 2019 NBA Playoffs, Tramel attempted to ask Westbrook two questions. Instead of listening to them, he spoke over Tramel to his teammate Paul George, with whom he was sharing the stage. He responded to both of Tramel's inquiries with "next question". It was characteristically uncooperative and during the rounds of talking heads shows that follow any incident in sports, was labeled as outright disrespectful. Even more damningly, Golden State Warriors Head Coach Steve Kerr weighed in on the incident, referring to Westbrook's treatment of the media as "dangerous" for the league.
Why is that interesting?
The criticism of Westbrook brings to mind another prominent NBA figure who is famously curt with the media: San Antonio Spurs Head Coach Gregg Popovich. As a lifelong San Antonio fan and former credentialled Spurs blogger, I'm very familiar with Coach Pop, as he is lovingly called around the league. I closely watched all 5 of his NBA championships along with hundreds of his 1,245 wins and plenty of his 575 losses (an exceptional win-to-loss ratio, if that's unclear). And I've interviewed him on a number of occasions. A surly, cerebral veteran of the United States Air Force, who is celebrated for both his impact on the game and its culture, Popovich has been described by NBA reporters as the league's most woke coach, its most sophisticated gourmand, "a national treasure", and "the most interesting man in the NBA".
It's a bit odd that the press lavishes such praise on Pop, given that he is a famously difficult, if not outright disrespectful, subject. Countless members of the media, including your humble author, have been on the receiving end of a tongue lashing from the storied coach (known around the NBA as getting "Popped"). But while Pop can push veteran NBA reporter Doris Burke to "the verge of tears", he receives nothing approaching the pointed criticism of Westbrook. Even in those times he's been called out, it's often been characterized as funny, if not outright lovable.
What makes Pop's treatment of the press all the more confusing is that he is, in fact, pretty woke. He hired the first female assistant coach in the history of the league and embraced the international game, bringing players and coaches from abroad into the league. He speaks as eloquently about white privilege, human dignity, and the need to fight for an inclusive and just society as any figure in sports, if not beyond it. Given his deeply humane politics, it's odd that one of his best known traits is treating reporters like shit.
But the question still remains: Given how similarly Westbrook and Popovich treat the media, why does the media treat them so differently? I'll let Gregg Popovich start my answer off:.
Obviously, race is the elephant in the room and we all understand that. Unless it is talked about constantly, it's not going to get better. "Oh, they're talking about that again. They pulled the race card again. Why do we have to talk about that?" Well, because it's uncomfortable. There has to be an uncomfortable element in the discourse for anything to change, whether it's the LGBT movement, or women's suffrage, race, it doesn't matter. People have to be made to feel uncomfortable, and especially white people, because we're comfortable. We still have no clue what being born white means.
Gregg Popovich is a 70-year-old five-time NBA champion, a millionaire many times over, and white. Russell Westbrook is 30 years old, has never won an NBA championship, has been in the spotlight since he was 18, is a millionaire many times over, and is black. Somewhere in those lists of facts lies the messy truth about how race, age, wealth, and professional success help us judge similar actions differently.
You can't simply say "We respect Pop more because he's won titles and Westbrook hasn't" or "Americans resent young black men who achieve immense financial success, especially those who do so working a job many could only dream of having," although of course both of those are true and contribute to the dynamic.
What you can say is that, the truth is messy, and telling messy truths is not always the sports media's forte. Their preference is to tell simple stories. Stories with good guys and bad guys. I'd say it's pretty clear whom it's easiest to label which. (GG)


Chart of the Day
While we're on the subject of Gregg Popovich: If you need further evidence of his success, consider the fact that the city of San Antonio has the 7th most playoff wins of any American city since 2000, despite having only one team. (GG)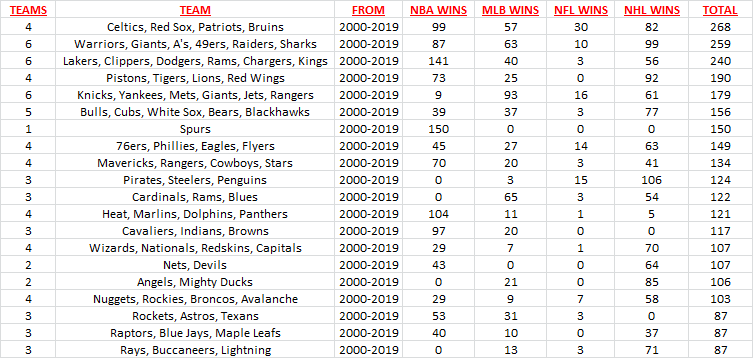 Quick Links:
Thanks for reading,
Noah (NRB) & Colin (CJN) & Graydon (GG)