Discover more from Why is this interesting?
A daily newsletter for the intellectually omnivorous, from Noah Brier & Colin Nagy.
Over 21,000 subscribers
Why is this interesting? - Tuesday, April 16
On golf, Tiger, and Sunday at the Masters
This email is an experiment. Partly to see if Colin and I have the stamina to keep up a daily cadence, and partly to see if we can capture interesting things in interesting ways. Part of that experiment will be, on occasion, playing with themes and tracking down folks to offer insight that we can't muster. For today that theme/insight is all about Tiger Woods. This Sunday on my plane ride home from Montana I was glued to Delta's live TV watching Tiger once again take Sunday at the Masters. Yesterday I asked my friend Jeff Hughes, a playwright, sportswriter, and the most serious golf fan I know, to try and sum up the event. Big thanks to Jeff for the contribution. - Noah (NRB)
Jeff here. On Sunday, Tiger Woods won The Masters. For the first decade of this century that would have been a wholly unremarkable statement. Golf's greatest talent winning golf's most important championship seemed almost a foregone conclusion. But Sunday was different. It had been 11 years since he last won a major championship. 14 years since he last donned the famed green jacket. And yet there he was. A champion again. But this time it was different.
Why is this interesting?
Because very recently Tiger Woods' life came apart in spectacular and public fashion.
Almost exactly three years ago ESPN's Wright Thompson wrote "The Secret History of Tiger Woods", a profile of the golfer that held nothing back. Beyond exposing his hyper-fascination with the Navy Seals (he would run miles in Seal-issued boots), the piece offered detail on the moment it all came apart:
"After Thanksgiving in 2009, his life split open in the most public and embarrassing way -- can you imagine having to talk about your sex life in a news conference with your mom in the front row? -- but that car crash wasn't the beginning of his unraveling. In an odd way, it was the end. Everything he's endured these past seven years, including admitting that his golf career might be finished, is a consequence of decisions he made in the three years after he lost Earl. He'd been hurtling toward that fire hydrant for a long time. On some level, he even understood what was happening to him, or at least was invested in understanding. There was a book in his car the night of the wreck, and it ended up on the floorboard, covered in shards of glass. Its title was Get a Grip on Physics."
In the end the mug shot, the yips, the social awkwardness, and the soul-searching managed to humanize a man who many saw as nothing more than a golfing robot. He was Frankenstein's monster, developed in a lab by an intense father to destroy all the frumpy, out of shape country club boys who'd defined the PGA Tour for every single day prior to Eldrick's emergence at the 1997 Masters. ("Tiger wasn't even Tiger in the '97 Masters media guide: Eldrick Woods was hoping to rebound from missing the cut by four strokes as an amateur in '96.")
Tiger was easy to admire. He was easy to root for. But he was difficult to love because he never seemed to need that love. Seeing him wander out of Butler Cabin at Augusta National Sunday, his hairline receding, his face two decades older than the young man who changed the sport, fans on property chanting his name, it was apparent he was finally able to accept that love. (JH)
Chart of the Day:
FiveThirtyEight on Tiger's return. (NRB)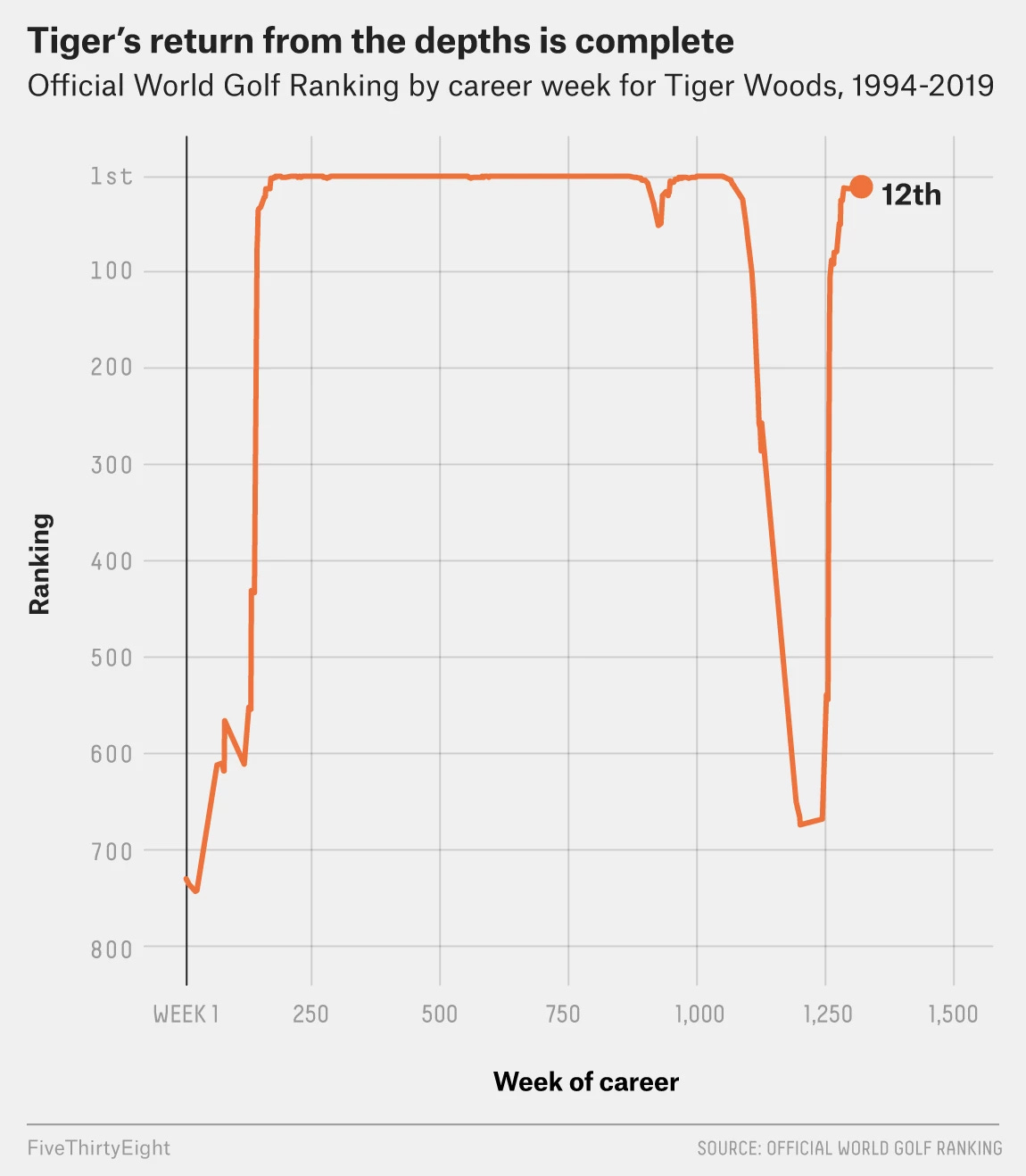 Quick Links:
Thanks for reading,
Noah (NRB) & Colin (CJN) & Jeff (JH)