Discover more from Why is this interesting?
A daily newsletter for the intellectually omnivorous, from Noah Brier & Colin Nagy.
Over 21,000 subscribers
Why is this interesting? - Wednesday, April 24
On memory, reflection, and Educated
Another themed edition. This one is all about books published in 2018. One of the things Colin and I have been talking a lot about is making sure this email isn't reliant on the "news peg": the of-the-moment thing that drives media cycles. So today, for no reason other than there are lots of good books from last year, we're going to revisit some of our favorites. This list is by no means exhaustive (most if the books we read in 2018 were published years earlier), but it's a fun way to highlight a few favorites. - Noah (NRB)
Also: thank you for all of the support, kind notes, and mega interesting links that people have been sending. It is most appreciated. As always, drop a line if you'd like to guest. - Colin (CJN)
Noah here. Nearly every year-end best books list included Tara Westover's Educated, a memoir about growing up in an ultra-religious Mormon household that was completely disconnected from the outside world. She eventually escaped, both physically and mentally, when she went to Brigham Young University (and eventually Cambridge and Harvard). Westover was named to the Time 100 (with a write up from Bill Gates), is giving this year's commencement address at Northeastern University, and has gotten shout outs from both Barack and Michelle Obama in the last twelve months.
Why is this interesting?
While the book is amazing (I read it this year with all the expectations piled on and still felt that way), the majority of reviews I read missed what makes it work. That's because most of them focused, in one way or another, on the similarities between Educated and JD Vance's Hillbilly Elegy, the book every 2017 newspaper article cited as it came to grips with the election of Donald Trump. While I admittedly skipped Vance's book, I find the comparison odd because Educated isn't really a book about poverty or even religion in America. It's much more about reflection and learning and how that happens over time. While it's not quite how I would put it, this New Yorker review comes closest to the book I read:
This story, remarkable as it is, might be merely another entry in the subgenre of extreme American life, were it not for the uncommon perceptiveness of the person telling it. Westover examines her childhood with unsparing clarity, and, more startlingly, with curiosity and love, even for those who have seriously failed or wronged her. In part, this is a book about being a stranger in a strange land; Westover, adrift at university, can't help but miss her mountain home. But her deeper subject is memory. Westover is careful to note the discrepancies between her own recollections and those of her relatives. (The ones who still speak to her, anyway. Her parents cut her off long ago.) "Part of me will always believe that my father's words ought to be my own," she writes. If her book is an act of defiance, a way to set the record of her own life straight, it's also an attempt to understand, even to respect, those whom she had to break away from in order to get free.
But there's something more than that. I suspect part of what makes the book so impressive is that Westover had childhood journals to lean on. She transformed those events using her immense writing skills to tell the story of her life almost entirely non-reflectively (at least until she reaches a point in her life where reflection becomes possible). As she learns more about herself, much of it a result of having her eyes opened in classrooms of higher education, she begins to layer those insights on top of her experiences and reinterpret them: communicating truths about all of us in the process. If she hadn't written those journals, would she have had the ability to recall her experiences as effectively? I think that's unlikely. Memories tend to become colored over time by any number of life experiences, making them less reliable foundations for the development of theoretical foundations. (Westover makes this point a few times in the book, actually.) But in the end it's not just the memories that make the book special, it's the exploration of those memories in a search for truth that feels so raw and real.
This is particularly true as she explores the violence in her childhood, which is particularly affecting because it's written in that mostly non-reflective way I describes. As she explained in a recent interview, "One of the things I wanted to communicate a little bit by telling this story was to help people understand something it took me a long time to understand, which is that people are incredibly complicated, and if someone was only violent, it wouldn't be so hard to walk away." That truth, both related to violence and not, is the string that ties the book together. In the end I suspect what people saw in common with Hillbilly Elegy is the reality that people are complex creatures. But in the end almost every book is about that.
Go read Educated (or listen to the excellent audiobook.) (NRB)
Chart of the Day:
From the Stanford Literary Lab, the changing canon: "Within the MLA, for instance, critical attention has migrated over the years, not only because new authors enter the canon, but because at times former mainstays and mediocrities have switched places. Figure 9 shows a version of this in miniature, in the changing rankings by decade among the authors (from our list) with the 20 highest current MLA scores." (NRB)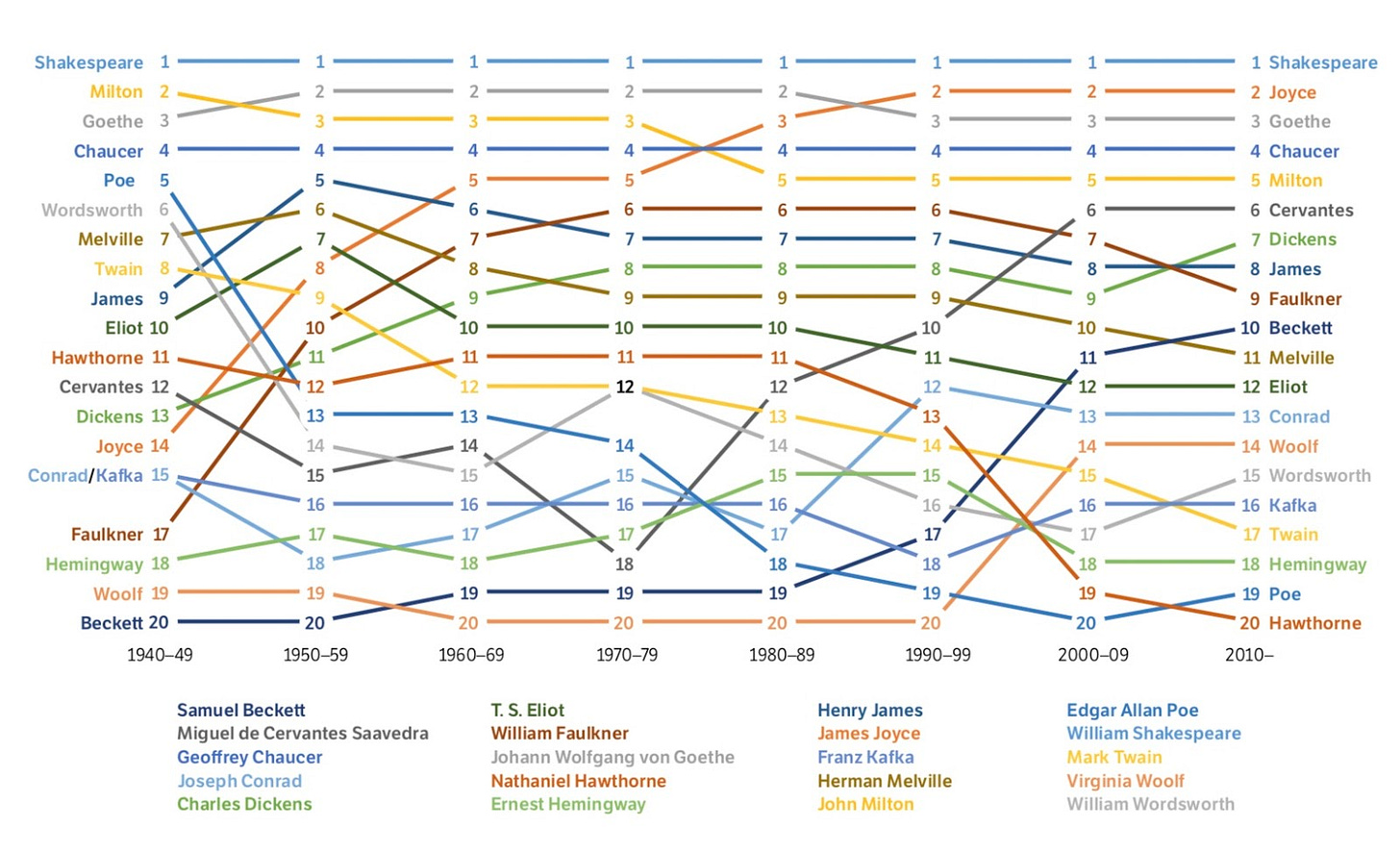 Quick Links:
Thanks for reading,
Noah (NRB) & Colin (CJN)