Discover more from Why is this interesting?
A daily newsletter for the intellectually omnivorous, from Noah Brier & Colin Nagy.
Over 21,000 subscribers
Why is this interesting? - The Mallmann Edition
On Nochebuena, Barbequed lamb, and surpassed expectations
Graydon Gordian (GG) is Group Creative Director at an independent agency in Atlanta, Georgia, where he works with fellow WITI contributor Ryan Anderson. He used to work with Noah, has contributed to WITI previously, and is passionate about a variety of frequent WITI topics, including the NBA, F1, climate change, and marketing/advertising. In college, he worked at P.F. Chang's, so if you are looking for some killer off-menu items at America's premier Chinese-themed bistro, you know who to ask.
Graydon Here. Nochebuena is the Spanish term for Christmas Eve, and in some Latin countries, it's the big show. The 25th is an afterthought compared to the festivities surrounding the night before Christmas. I spent the holiday in Uruguay and experienced the excitement first-hand. It was a warm evening and our neighbors were all outside, cooking asado on the wood fire grills, known as parillas, that are traditional to the area.
Most restaurants are closed on Nochebuena, as nearly everyone spends the evening with their families. But at least one remained open: a restaurant called Garzon, in a small town of the same name about an hour off the coast. The proprietor and head chef of Garzon is none other than WITI favorite Francis Mallmann.
Why is this interesting?
It's hard to impress when someone comes in with exceptionally high expectations, but that's just what Mallmann did. From beginning to end, the meal was as delightful as it was challenging, an unexpected blend of the communal and the performative. It exceeded and undermined so many assumptions around what a restaurant should be, but never lost sight of what a meal could be.
As we arrived, my father and I debated whether or not we were at the right place. He was convinced this dusty, quiet collection of decrepit buildings could not be the location of an internationally known chef's restaurant. But alas, when I saw two lambs splayed out on wooden crosses built above fires raging in the middle of the street, I knew we were not lost.
Garzon is a literal one-horse town. As we stood out in the street, drinking negronis from a make-shift bar that had been set up outside the restaurant's front doors, a young boy rode by on the same dusty cream-colored horse a few times, gawking at the collection of gringos that had come from, by my count, at least 3 different continents to enjoy Mr. Mallmann's food. I knew where our fellow guests were from because the meal began by meeting nearly everyone else who would be dining there that evening. As the waiters passed around empanadas and other amuse-bouche, we were encouraged to momentarily step away from our families and make friends with the rest of the people we'd be dining with that evening. What kind of Nochebuena would it be if you didn't know the names of the other people in the room?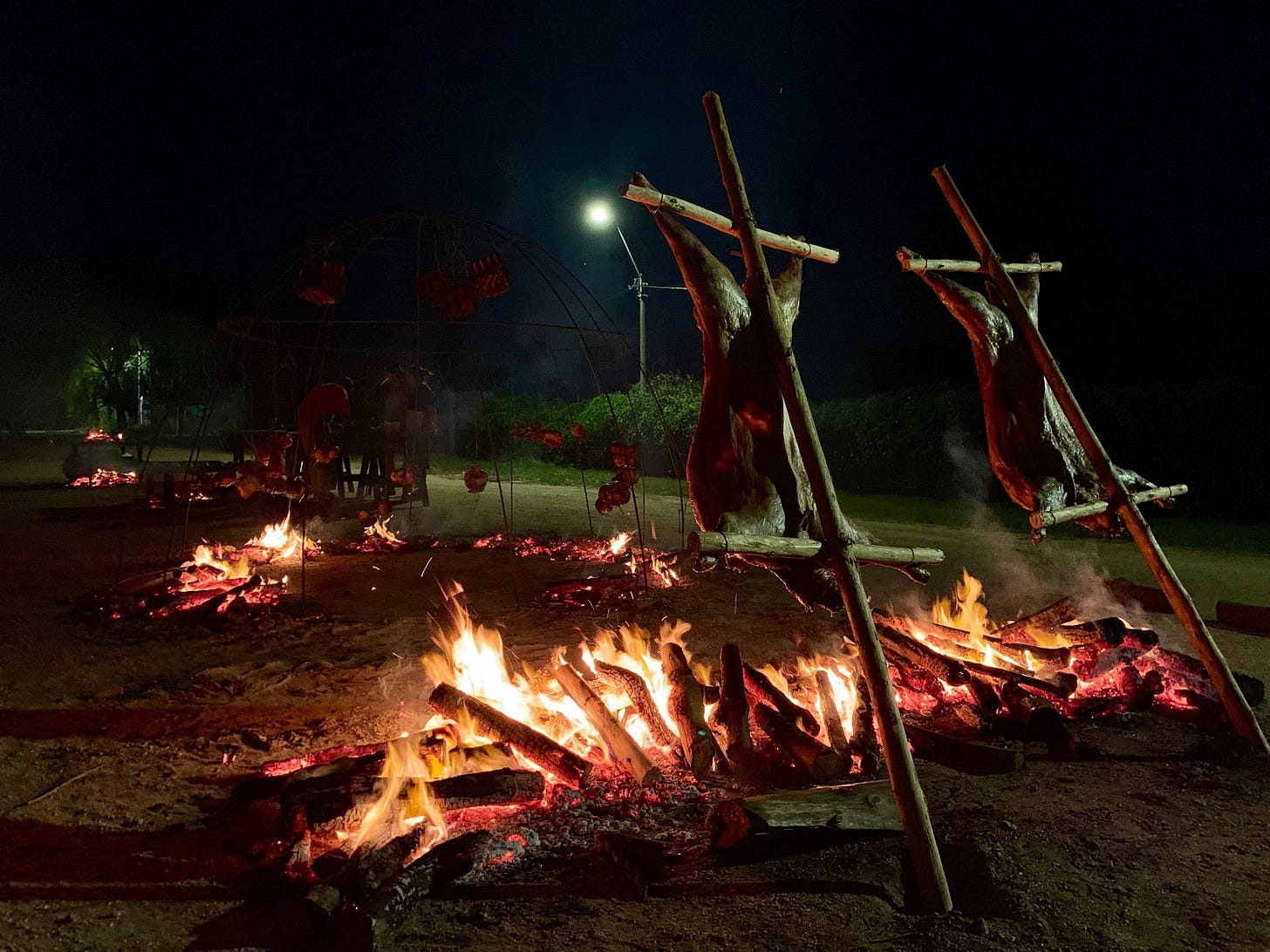 As the sun set, I found myself standing with a young British couple next to the huge fires over which pork, pineapple, lamb and various other food had been cooking for what appeared to be hours. As we petted some happy-go-lucky stray dogs that were making their way around the gathering, I joked that, in the U.S., lighting fires in the middle of the street was frowned upon. The staff had blocked off the street with a few logs but, according to the couple, that wouldn't equate a permit back home in East London. We laughed and made our way back to the bar where new friends from Singapore, San Francisco, and Canada awaited. Mr. Mallmann's magnetism had ensured that, at least for one evening, this wouldn't be just any old small South American town.
After over an hour spent in the street, making new friends and eating a meal's worth of appetizers, we were ushered into a restaurant that could not have stood in starker contrast to the brown, barren street on which we'd been mingling. Inside the walls of Garzon stood a lush garden, overflowing with vegetation and bathed in gentle candlelight. It was an undeniably elegant, thoughtfully constructed scene, made all the more so by the charmingly makeshift setup in which we'd begun the evening.
The meal had all the hallmarks of a best-in-class dining experience: The waiters were warm yet restrained, present the second you needed them and not a moment earlier. The food was simple, ingredient-driven, and plentiful. Well, plentiful is putting it gently. The food my family of 6 was served could have easily fed 15. But it didn't have the boorishness of a restaurant that's making its name by serving meat in uncomfortably large portions. Many of the dishes were measured, and imbued with an invigorating brightness: Lightly salted slices of fresh zucchini. Mallmann's hallmark smashed potatoes and freshly caught white fish. But of course, when the main course came, there was no reason for the chefs to hold back: Huge platters of pork, chicken and of course, the very publicly barbequed lambs were served along heaping piles of onions, shallots, carrots and pineapple, all of it cooked to perfection. It was a meal that I won't soon forget.
As midnight approached, people began to get up from their tables and mingle again. The staff set out champagne flutes, preparing for a midnight toast. Sadly, we couldn't stay. We had a long drive back to the coastal town of La Barra where we were staying, and my mother, whose physical condition requires that she get plenty of rest, had done a valiant job staying up this late. As we finished our drinks (the freely flowing wine would have also been enough for 15), I wandered over to the manager, who was standing next to a table littered with Mallmann's many books.
"What's he like as a boss I asked?" I asked. "Is he fun or is he crazy?"
"He has some crazy ideas, for sure," he said. "And when he's not having a good day, we all know it. But he's great. This is great."

I had to agree. (GG)
Hotel of the Day:
While WITI co-captain Colin Nagy is uniquely passionate about hotels and hospitality, the broader WITI contributor community takes a keen interest in the subject as well. There have been some good conversations about the best hotels we've stayed in and, after my adventures in South America this holiday season, I wanted to make a recommendation.
Hotel Awa, built on the shores of Chile's Lake Llanquihue, is a great hotel. The perfect gateway to explore the country's often overlooked lakes region, it has all the hallmarks of an exceptional hospitality experience: architectural distinction; attentive, at times even heartfelt service; an elevated yet casual food and beverage program; and a view from each and every room that is breathtaking. If you are in Chile, the hotel alone, much less the ecologically diverse and geographically stunning region, is worth the short flight from Santiago. (GG)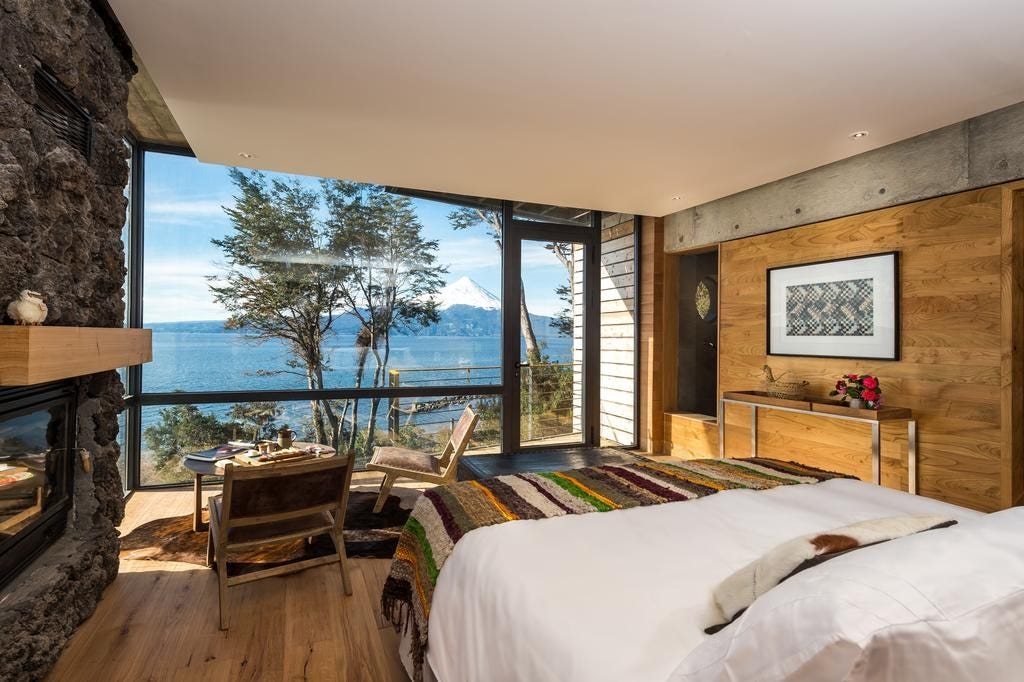 Quick Links:
If you want to try your hand at cooking like Francis Mallmann, here's a rather unique, multi-dimensional grill he designed for Best Made Co. (GG)

While in South America, I read Andrea Wulf's wonderful book on 19th-century scientist Alexander Von Humboldt, The Invention of Nature. Aside from being a joy to read, it came up constantly in conversation with people I met: Streets, parks, oceanic currents, plants, and animals throughout the continent bore his name. (GG)

My wife and I are planning on converting our lawn into a natural, self-sustaining habitat for native flora and fauna, and we think you should think about it too. (GG)
Thanks for reading,
Noah (NRB) & Colin (CJN) & Graydon (GG)
---
Why is this interesting? is a daily email from Noah Brier & Colin Nagy (and friends!) about interesting things. If you've enjoyed this edition, please consider forwarding it to a friend. If you're reading it for the first time, consider subscribing (it's free!).