Discover more from Why is this interesting?
A daily newsletter for the intellectually omnivorous, from Noah Brier & Colin Nagy.
Over 21,000 subscribers
Why is this interesting? - The Micromobility Edition
On e-bikes, economics, and the changing shape of cities
Noah here. I am in Austin for a conference and on Colin's suggestion stayed at the Hotel San Jose, a small converted motor lodge that hotelier Liz Lambert beautifully restored. I've never stayed in this area (about a mile from downtown, over the bridge and up the hill) and was expecting a 25 minute walk up and down Congress each day. But then I got here and saw the bikes and scooters everywhere and thought I'd try that instead. After my first night of conferencing and dinner downtown, I hopped on a pedal-assisted Jump bike and was back to the hotel in five minutes.
Why is this interesting?
Micromobility, a term coined by Apple analyst and electric transportation enthusiast Horace Dediu, is in the midst of transforming cities. What started with docked bike share, has now moved to dockless electric scooters and e-bikes. And while much of the talk is about how they're crowding sidewalks or being vandalized, the reality is that they have the ability to fundamentally reshape the geography of cities. When a 25 minute walk or a ten minute Uber ride (with waiting) turns into a 97 cent e-bike ride, the meaning of proximity starts to transform.
When you look at the average distance of trips across different modes of transport it's clear where the gap is: trips that are long enough to be an annoying walk and short enough to feel like a waste of a car ride. That distance is doable with a regular bike, but if there's a hill you may be huffing and sweating by the end. The e-bike takes all that away, giving you just enough power to make an otherwise intimidating climb into, at worst, a few aggressive pedals.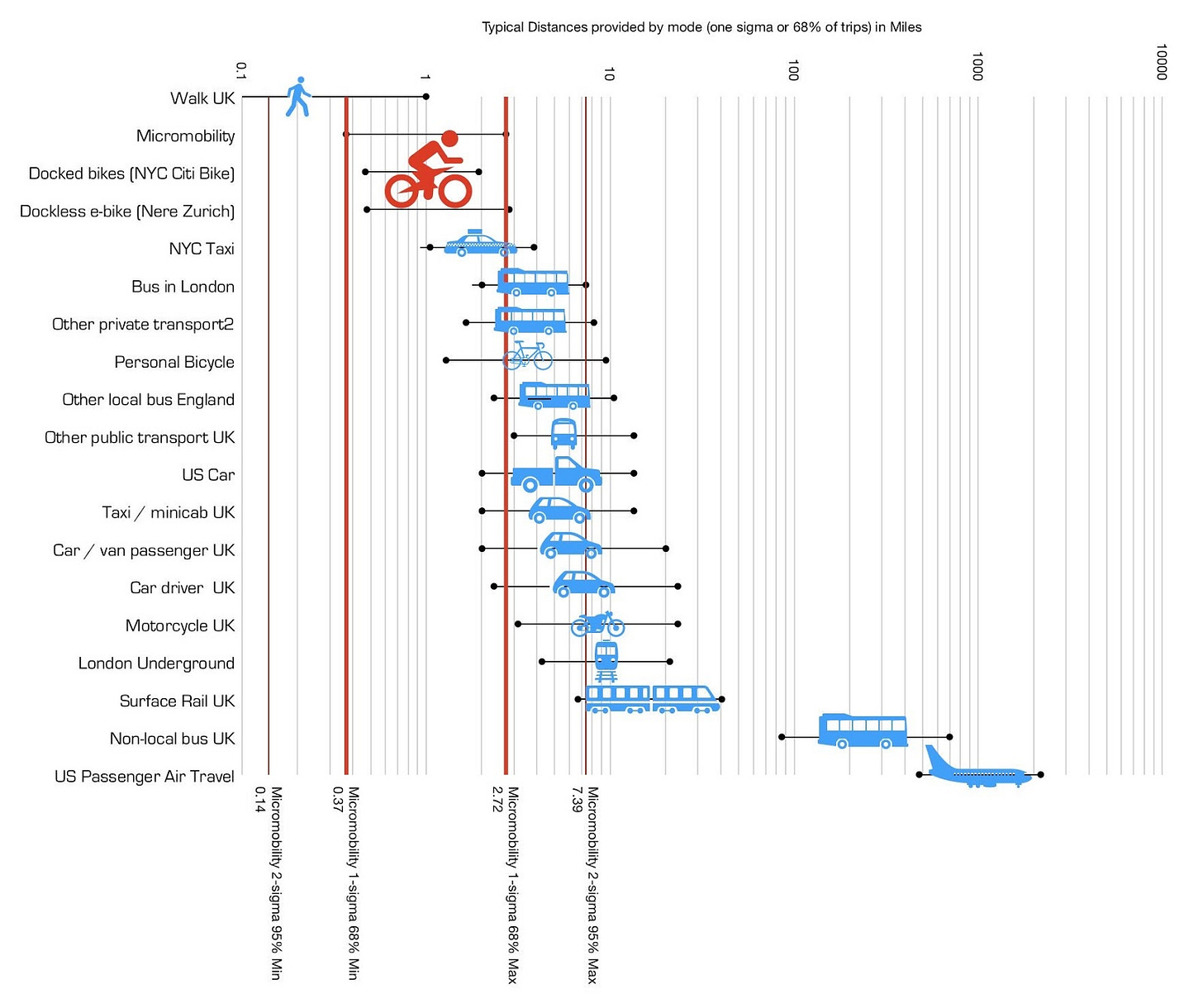 The economics of this new space are interesting enough that both Lyft (who owns Motivate, which operates docked bike share in NYC and SF amongst other cities) and Uber (who operates Jump dockless bike and scooter share) both made it a central part of their stories in their IPO filings. Here's Uber on "new mobility" from their S-1 filing:
We are committed to providing consumers with access to the best personal mobility options to meet their needs. We are investing in new modes of transportation that enable us to address a wider range of consumer use cases and represent a significant opportunity to bring additional trips onto our platform. For example, according to the U.S. Department of Transportation, trips of less than three miles accounted for 46% of all U.S. vehicle trips in 2017. We believe that dockless e-bikes and e-scooters address many of these use cases and will replace a portion of these vehicle trips over time, particularly in urban environments that suffer from substantial traffic during peak commuting hours.
While New York, where Colin and I live, is still woefully behind on options for those who want alternative forms of transportation. Motivate, who operates Citi Bike, recently had to recall all their e-bikes (which they were also charging a weird premium for) because of braking concerns and are only experimenting with non-electric dockless in a small area in the Bronx. The city is thankfully experimenting with some new models, but only outside Citi Bike zones. Motivate has a contract through 2029 which requires them to hit certain thresholds, but hopefully we can find a better solution before then. (NRB)
Chart of the Day:
The evolution of mass media, from radio to present by Redef writer/media analyst Matthew Ball, who featured prominently in my Disney+ write up a few weeks ago. (NRB)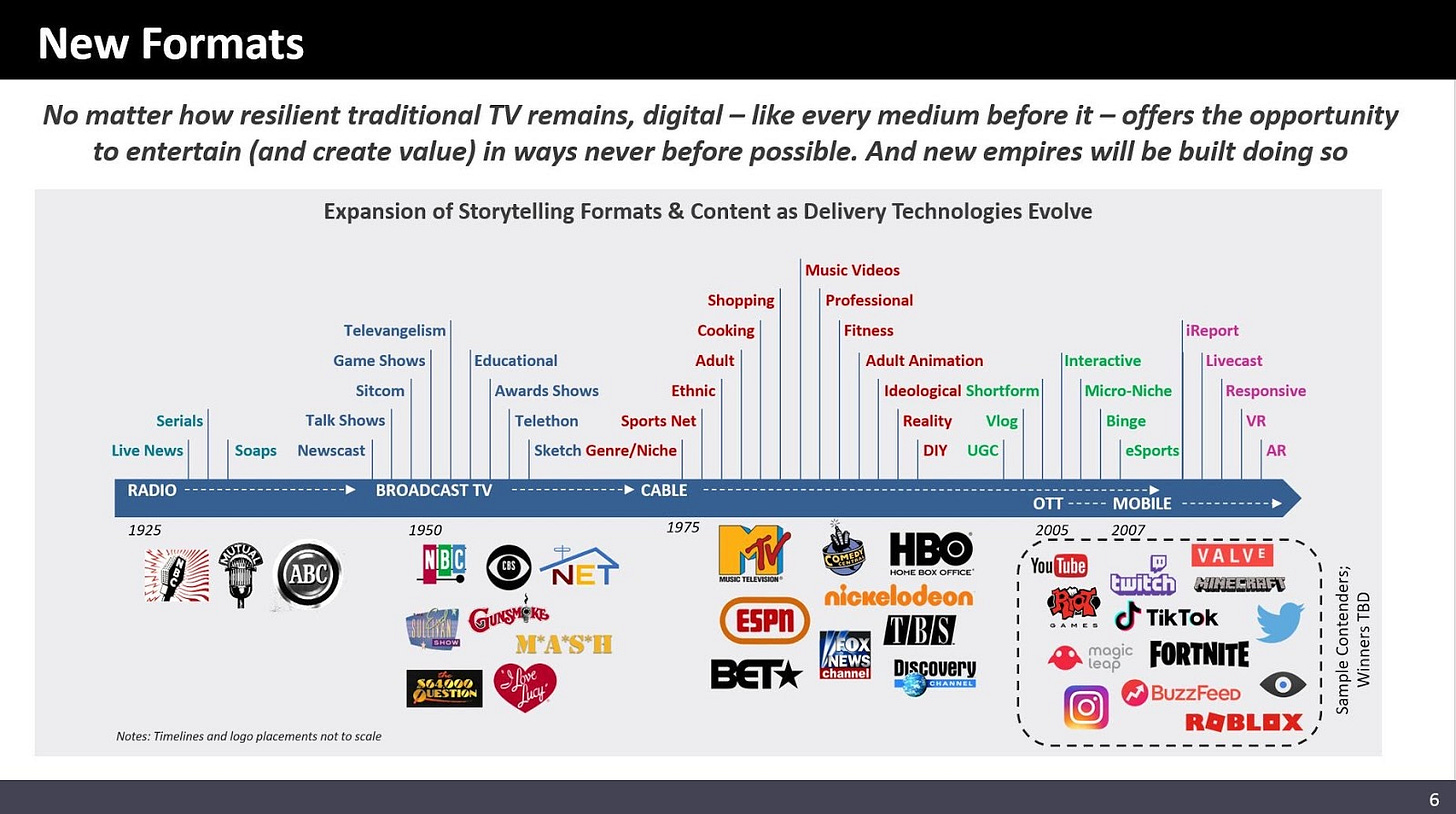 Quick Links:
Speaking of bikes, a study out of Australia quantified the safety of protected bike lanes. "And the roadscape appears to have an effect on how close drivers get to people on bikes. On average, cars left 10 inches (29 cm) less room when cyclists were using painted cycle lanes, 12 inches (30cm) less room when there were rows of parked cars along the curbs, and 15.7 inches (40cm) less room when a road had both parked cars along the curb, then a painted cycle lane. (In other words, cars left cyclists the most room on stretches of road with no painted cycle lanes and no parked cars.)" (NRB)

Alex Kantrowitz from Buzzfeed on Substack, the platform we use to send this email. "What's old is new again. After obsessing over reaching massive audiences to make a living off minuscule online ad rates (which sometimes only pay pennies per thousand readers), individual writers and publications are returning to newsletters to make money directly from their audiences. And it doesn't hurt that newsletters go directly to people's inboxes, freeing them from social media's algorithmic whims." (NRB)

Really interesting interview with Adam Minter, author of the upcoming book Secondhand about what happens to things we get rid of. He offers up this insight: "From that point, I slowly began to understand that people in consumption-based societies assemble their identities via stuff, and become very emotional when those identities – and that stuff- is discarded in ways that don't match their values. Over the years I've come to the conclusion that consumers actually care more about how their stuff is discarded, than how it is manufactured." (Via the always excellent Jay Owens.) (NRB)
Thanks for reading,
Noah (NRB) & Colin (CJN)