Discover more from Why is this interesting?
A daily newsletter for the intellectually omnivorous, from Noah Brier & Colin Nagy.
Over 21,000 subscribers
Why is this interesting? - The Postal Truck Edition
On mail, transport, and the search for a better vehicle for the USPS
Reilly Brennan (RPB) is a partner at Trucks Venture Capital and an adjunct professor at Stanford University. Past contributions to WITI include the Autopilot Edition, the Designing Clean Edition, and the Masked Road Trip Edition. His weekly newsletter about transportation, FoT, is even read by Colin's mom.
Reilly here. While U.S. election vote-by-mail deadlines vary by state, many millions have already been received, and some already counted. It is likely that 2020's mail-in total will be significant—estimates are as high as 80 million ballots, or double the number from 2016.
Consider your ballot, swaddled in its 28 lb. cardstock envelope, making its historic voyage from your kitchen table to your state's tabulation center. It's arguably your most important trip of the year, and in keeping with the times, you'll have to remain at home in athleisure while logistics professionals handle the hard work. Most of those ballots will travel all or part of their journey in trapezoidal marshmallow shuttles known as USPS mail trucks.
Why is this interesting?
The mail truck is everywhere. It moves 500 million pieces of mail per day to 160 million addresses. It's also quite old and overdue for an upgrade: today's fleet of 100,000 USPS mail trucks has an average age of nearly 30 years.
The little trucks are still running because they were built that way. Defense contractor Grumman designed them in the mid-1980s on top of a 1982 Chevy pickup truck engine and chassis, naming it the LLV, orlong-life vehicle. This was a new idea. Prior postal vehicles were mostly standard Jeeps, but the new-for-1987 LLV married a custom design on top with a simple truck underneath. Replacement parts were already available nationwide via GM's vast dealer network.
That design pragmatism prioritized the service and repair of the vehicle, but in exchange mostly neglected the operator. The LLV arrived with no air conditioning, airbags, anti-lock brakes, or even shelves in the rear cargo area. The truck averages 10 miles-per-gallon with standard gasoline, translating into somewhere approaching $1B per year in fuel costs, the largest burn of any civilian fleet in the nation.
Reliable design insights about the vehicle's problems are best found on letter carrier message boards and aftermarket parts retailers. The LLV has terrible traction in the winter, so drivers put bags of sand in the back or buy these jigsaw weights and lay them across the cargo area. To combat the summer heat, carriers buy tiny fans or drive their vehicles into friendly meat lockers during their lunch break.
A walking tour of the common postal truck reveals unusual decisions and a few hidden secrets.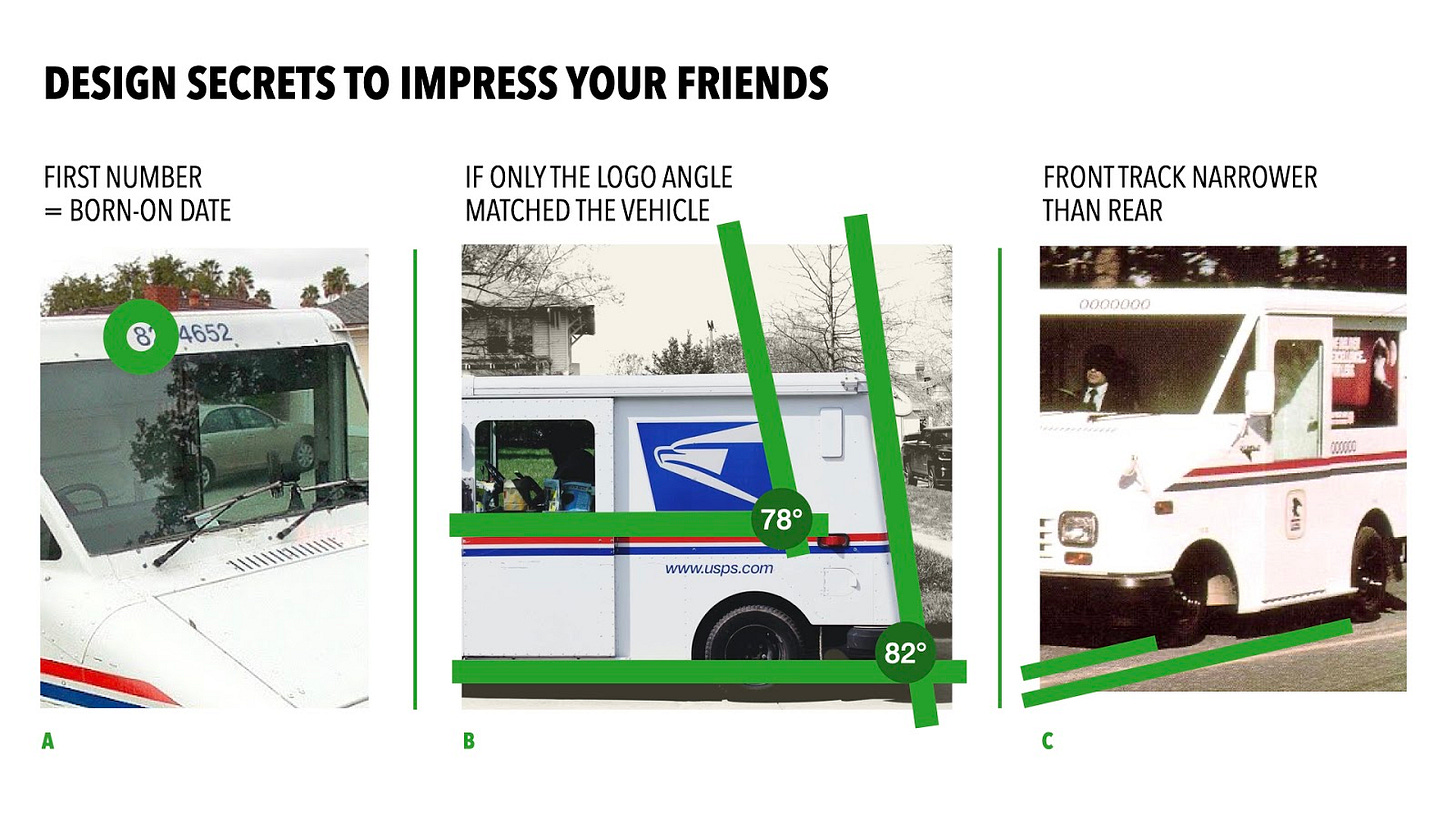 From left: A) mail trucks have no license plate, but each has a registration number: the first digit indicates the year the vehicle was produced in the range from 1987-1994, which is why you'll never see a mail truck with a registration number beginning with a 5 or 6. B) Mail truck enthusiasts have wondered for decades if the USPS logo matched the vehicle's rear body angle. Unfortunately and frustratingly, the answer is no. C) As right-hand drive vehicles with poor rearward visibility, designers attempted to reduce reverse maneuvers by creating a tighter turning radius. This was done by making the front wheel track narrower than the rear.
It's clear that a new vehicle is needed. A few prototypes are underway after USPS first opened up a call for entries in 2015 for a "Next Generation Delivery Vehicle," but budget delays pushed a contract decision back to sometime within the next year—maybe. Today's fleet is so old it's more costly each passing day, and some vehicles are catching fire unexpectedly.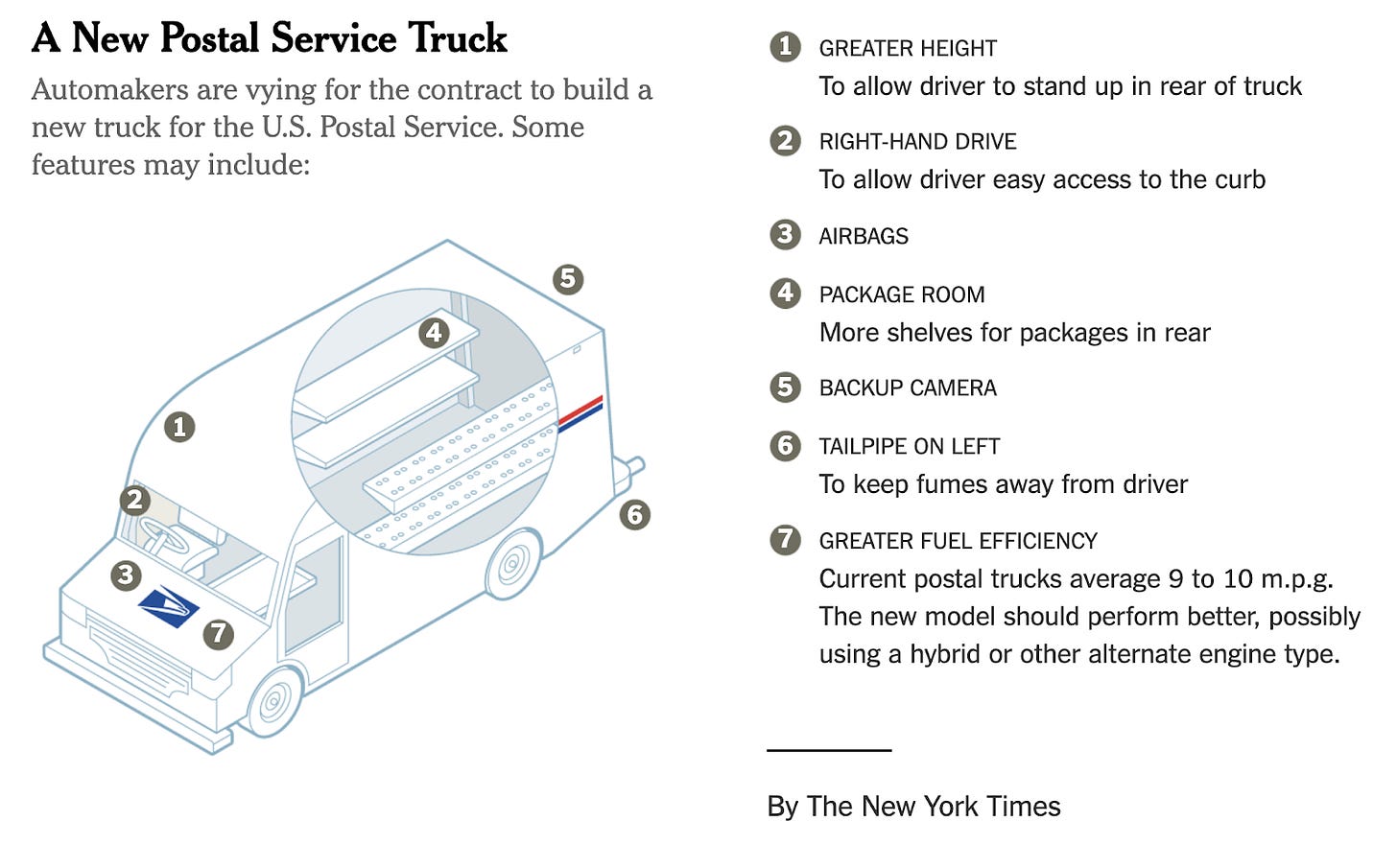 2015 New York Times illustration outlining areas of improvement for the next-generation mail truck.
I would echo this call from David Roberts to build the next fleet with electric powertrains—it would reduce both maintenance and fuel costs. Doing so would also keep pace with Amazon's plan to electrify its fleet using new vans built by the Michigan startup Rivian. Other interesting ideas include equipping the go-anywhere vehicles with cameras to create a mapping/streetview database that would make Google's offering feel like media mail.
The next postal vehicle is almost here. Until then let's appreciate how this year's unusual, confusing, and problematic election cycle has a most appropriate chariot.
Photo Caption of the Day:
From the NYT piece Sharks Wash Up on Beaches, Stabbed by Swordfish. (Via Edith) (NRB)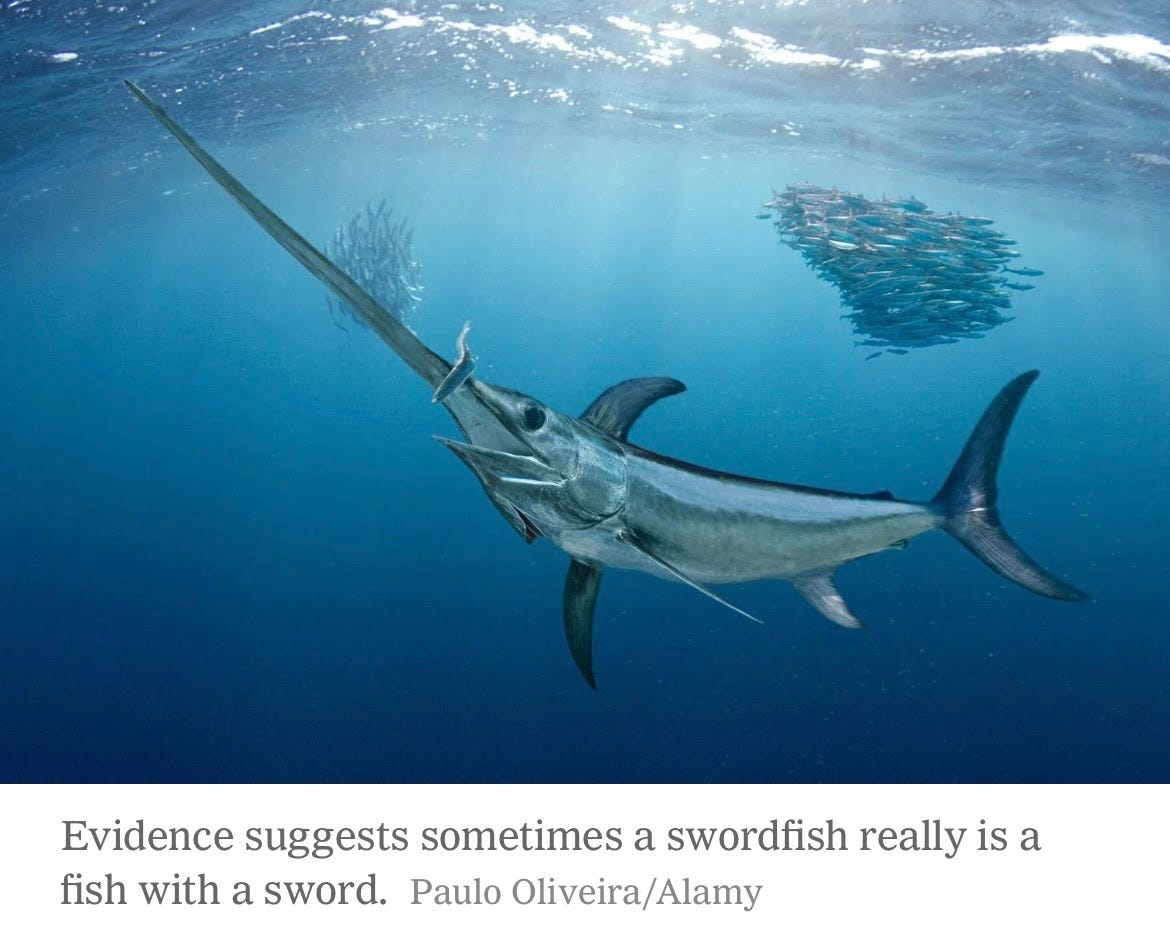 Quick links:
Thanks for reading,
Noah (NRB) & Colin (CJN) & Reilly (RPB)
---
Why is this interesting? is a daily email from Noah Brier & Colin Nagy (and friends!) about interesting things. If you've enjoyed this edition, please consider forwarding it to a friend. If you're reading it for the first time, consider subscribing (it's free!).