Discover more from Why is this interesting?
A daily newsletter for the intellectually omnivorous, from Noah Brier & Colin Nagy.
Over 21,000 subscribers
Why is this interesting? - The Jazz Legend Edition
On death, an American art form, and its future
Graydon Gordian (GG) runs the creative team at a digital agency in Atlanta, Georgia, where he works with fellow WITI contributor Ryan Anderson. He used to work with Noah, has contributed to WITI on a couple of occasions, and is passionate about a variety of frequent WITI topics, including the NBA, F1, climate change, and marketing/advertising. The height of his musical career was when he and a buddy won the high school talent show with a sloppy but impassioned rendition of Thelonious Monk's "Blue Monk."
Graydon here. On April 15th jazz saxophonist Lee Konitz died from complications related to COVID-19. While not a household name, he was a giant of the jazz world. The last surviving member of The Miles Davis-led Birth of the Cool sessions—a series of iconic recording dates in the late '40s and early '50s that would eventually be compiled under an album of the same name—he helped define, expand, and eventually challenge the cool jazz style which dominated West Coast clubs in the '50s. His darting yet smooth phrasing, gentle deconstruction of jazz standards, and inherent adventurousness influenced horn players as diverse as Art Pepper, Paul Desmond, Ornette Coleman, and Anthony Braxton.
Konitz is just the latest in a long list of jazz greats to succumb to the coronavirus. Pianist Ellis Marsalis Jr., patriarch of "the first family of jazz," as he and his children have become known, died in early April. Afro-jazz luminary Manu Dibango died in late March. Trumpeter Wallace Roney. Pianist Mike Longo. Saxophonist Marcelo Peralta. Bassist Henry Grimes. Guitarist Bucky Pizzarelli. The list of COVID-19 victims who made meaningful contributions to the evolution of jazz is growing tragically long.
Why Is This Interesting?
There is a widespread perception by both its admirers and detractors that the best days of jazz are behind it. To love jazz is inherently to love the history of jazz. The fact that so many greats would be older, and therefore among the population most vulnerable to COVID-19, comes as no surprise given that the genre's most meaningful contributions to American culture are accepted to have been made between the '30s and '60s. And while those contributions are widely respected, the veneration of jazz is a backhanded compliment. No genre in the messy process of growing and evolving gets the kind of uncritical reverence jazz receives: the academic posts, the presidential medals, the lifetime achievement awards. It's all an attempt to preserve or, worse, eulogize an art form that many presume to be in irreversible decline.
And yet, even in this moment of institutional adoration, the complex, highly racialized history of jazz rears its ugly head. As numerous media outlets have covered with increasing righteous indignation, COVID-19 is disproportionately impacting the black community. The jazz musicians who have died because of coronavirus are as diverse as the music itself. But, given the dominant role African-Americans have played in the history of the genre, it's hard to imagine that food insecurity, housing segregation, medical discrimination, and the other factors contributing to this shameful trend aren't at least partly responsible for the growing number of jazz greats to fall victim to the disease.
It's a complex feeling, when someone whose cultural contributions you appreciated, or perhaps even loved, dies. There can be genuine sadness, and but also some guilt or embarrassment: a lingering sense that whatever grief you are experiencing is somehow stolen from those who knew and, in a much truer sense, loved that person. But as one of the countless recipients of the gift of their talent, it's only natural to want to honor that gift, acknowledge their influence, and safeguard their legacy.
For those of us that love jazz, when a famous jazz musician dies, those feelings of sadness can be all the more acute. Each musician's obituary can read like an obit for the genre itself. You could easily get the sense that, once a critical mass of these musicians have died, jazz might simply cease to exist. But while I am honored to commemorate these men and women, I refuse to eulogize the genre they helped to shape, not out of stubbornness, but out of genuine optimism. 
Jazz is quietly resurgent. In the bars of London and the studios of Los Angeles, a new, daring generation of musicians is preserving the legacy of individuals like Lee Konitz the best way they know how: by pushing the music into uncharted territory. Musicians like Kamasi Washington, Thundercat, Yussef Dayes, Shabaka Hutchings, and the Ezra Collective are breaking free of the stuffy, stay-in-your-seats style that has dominated jazz ever since it retreated into the comforting confines of institutions like Lincoln Center. Finally, thankfully, we are again asking where we are going, not reminiscing on where we have been. (GG)
Album of the Day:
Lee Konitz's Motion, recorded in 1961, is an often overlooked but nonetheless invaluable member of the jazz canon. Featuring Elvin Jones, most famous for his role as drummer in the John Coltrane-led quartet that recorded A Love Supreme among numerous other jazz classics, and bassist Sonny Dallas, the album is a modern jazz masterpiece. Free-flowing yet forceful, it strikes the perfect balance between the open-ended imagination that would define the next decade in jazz and the more accessible musicality that had typified the cool jazz and hard bop era. The trio format gives the album a stripped down quality that allows each musician to really demonstrate his talent. I had been listening to jazz for many years when I first heard it, and it immediately became a favorite. (GG)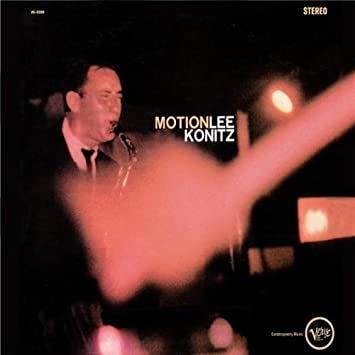 Quick Links: 
Thanks for reading,
Noah (NRB) & Colin (CJN) & Graydon (GG)
—
Why is this interesting? is a daily email from Noah Brier & Colin Nagy (and friends!) about interesting things. If you've enjoyed this edition, please consider forwarding it to a friend. If you're reading it for the first time, consider subscribing (it's free!).