Discover more from Why is this interesting?
A daily newsletter for the intellectually omnivorous, from Noah Brier & Colin Nagy.
Over 21,000 subscribers
Why is this interesting? - The Richest Game Edition
On soccer, relegation, and Sky Bet Championship Playoff Final
Ryan Anderson (RJA) is making his second appearance in WITI after previously writing about Video Assisted Review. He is a marketing director based in Atlanta, GA, and is in a competition against his coworker Graydon Gordian for who can write the most WITIs. At various points in his life he has done much more interesting things like being a professional poker player and helping lead the grassroots fan movement that brought an MLS team to Atlanta. He also writes an irregularly published newsletter called Proper Tack that touches on all these topics and more.
Ryan here. When you win a contest you expect a reward. Sometimes that's just a trophy or medal of some sort, but often there is a monetary component to the prize as well. Every player on the Super Bowl winning team receives $118,000. The Boston Marathon winner gets $150,000 in prize money. A baseball player receiving the full postseason player share, which goes to World Series champions, made an extra $382,358 last year.
There's even a basketball tournament called, simply, The Basketball Tournament, that any team can apply to enter, and culminates with a 24-team winner-take-all tournament for a $1 million prize.
But this all pales in comparison to what will happen today. Today there will be a game where the winning team will get well over $200 million. 
Why is this interesting?
Today is the Sky Bet Championship Playoff Final. What is that, you say? It's the playoff for the 3rd and final spot to earn promotion from the now comically corporate-named English Football League Championship ("The Championship" for the rest of this WITI), or the second-highest level of professional soccer in England.
Before we get too far into this, let's discuss promotion/relegation, and the concept of a sporting pyramid. Non-Americans and those who are familiar with this, feel free to skip down a few paragraphs.
The professional model for much of the world's team athletics is known as the pyramid. Each level has its own season-long competition, and the best teams move up to the next level for the following season. In order for this to work, the worst teams also have to move down to the previous level. All of the leagues you've heard of are probably the "top of the pyramid" leagues like The Premier League in England, La Liga in Spain, Bundesliga in Germany, and Serie A in Italy.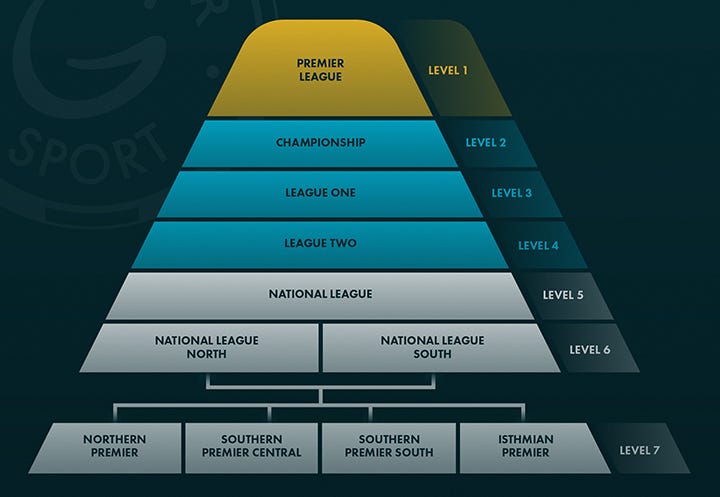 In England, the top-2 finishers in The Championship automatically qualify for promotion to the Premier League. Leeds United, who deserve a WITI all of their own, and West Brom have already secured those two spots. The final slot is awarded based on a 4-team playoff between the teams finishing 3rd, 4th, 5th, and 6th during the season. 
Today at 2:45PM ET is the culmination of this playoff. Fulham, a Premier League mainstay in the early 2000s and top-flight participant as recently as 2019, will face Brentford, a team that has not played a First Division game since 1947. The winner of this match will earn the third and final promotion spot into the 2020-21 Premier League, England's top flight league and the richest league in sports. 
Because of how the Premier League splits TV revenues this means that a newly promoted team will have a VERY SUDDEN increase in funds. In the 2019 season, the lowest earning club in the Premier League received £96 million, or approximately $125 million, in revenue sharing from TV rights. And that's before any tickets or merchandise were sold. Teams want to keep that revenue, so they are going to spend it on new players, better coaches, whatever they think will help them win.
And the reward is not just the money received from coming up either. Because suddenly chopping £100 million ($131 million) off a team's finances would lead to crippling debt, massive asset fire sales, and general turmoil, teams that get relegated from the Premier League also receive a cushioning payment on the order of £40 million ($52 million). This is a one-time payment rather than an annual distribution, but it can help you keep some of those new players around for a year and hopefully earn your way back up.
Add this together with the increased visibility, ticket prices, and merchandise sales that come with being a Premier League team and now you have a game that is worth over $200 million to the winner.
To add to the intrigue, the two clubs playing today are bitter rivals going back to the 1920s whose stadiums are separated by a 4-mile walk along the Thames in West London. So tune in to see what real pressure looks like. (RJA)
Watershed Map of the Day:
A map of the watersheds for all of the world's major river systems. (RJA)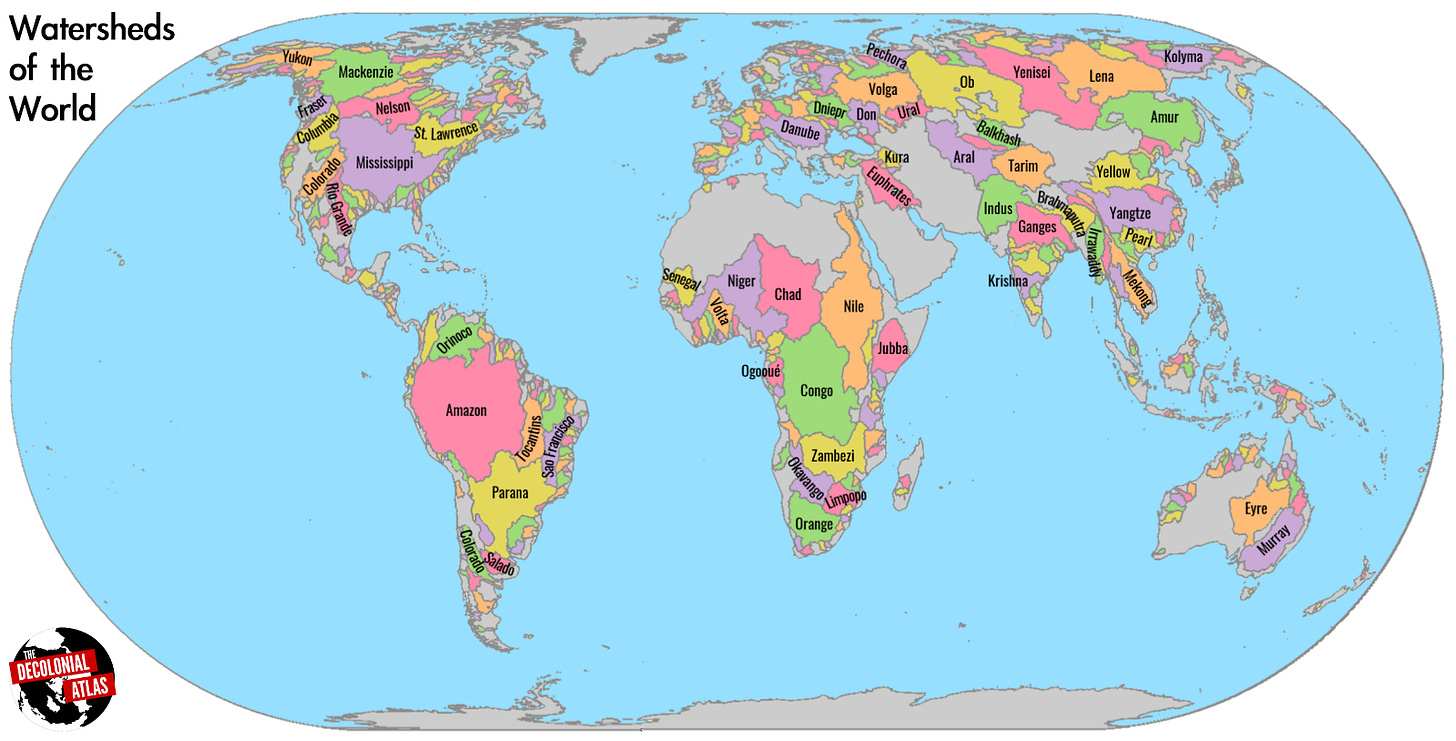 Quick Links:
Thanks for reading,
Noah (NRB) & Colin (CJN) & Ryan (RJA)
---
Why is this interesting? is a daily email from Noah Brier & Colin Nagy (and friends!) about interesting things. If you've enjoyed this edition, please consider forwarding it to a friend. If you're reading it for the first time, consider subscribing (it's free!).